Top Best Low End Bass Guitars
The bass guitar is a musical instrument that has been popular for decades. Even though it is much more difficult to learn to play than the regular one, it still attracts millions of musicians around the world due to its unique tone and incredible looks. However, if you have ever chosen a bass guitar or looked at prices on various sites, then you understand that this is quite an expensive purchase. However, what if your budget is tight and you can't afford a multi-thousand dollar instrument?
If you're looking for a good cheap bass guitar, you've come to the right place. Low end bass guitars can be a great option for players who are on a budget or just getting started on the instrument. There are many good cheap vintage bass guitars out there that won't break the bank, but still offer great sound and playability. In this post, we'll look at some of the best low end bass guitars on the market and what you should look for when shopping around.
Can You Get a Good Cheap Bass Guitar?
Many musicians are used to the fact that a good quality instrument costs a lot of money. However, with the advent of technology, the quality of budget bass guitars has also become much better. If earlier you needed at least $700 to buy a good and high-quality musical instrument with a decent sound, now you can find models from $200. Of course, you won't get the same quality from these instruments as you get from guitars that cost several thousand dollars, but at the same time, two ways are quite worthy, especially for beginners.
That is why today we decided to dispel the myth that a good bass guitar costs fabulous money. From best unknown bass guitars to cheap jazz bass guitars, we'll look at different models so you can (and find) exactly what you need.
Top Best Low End Bass Guitars
Here are our top picks:
1)Ibanez SR300E
Most likely, there is not a single musician in the world who has never heard such a company as Ibanez. For many years, this brand has been producing quality instruments with incredible sound. However, few people know that Ibanez also has budget models for musicians of all levels.
That is why today we want to introduce you to the Ibanez SR300E – a guitar that will surprise even an experienced musician. First of all, we would like to point out that this bass captures a huge amount of possibilities in terms of musical styles.
If you're a fan of rock or metal, this bass will do just fine in those genres thanks to the high output PowerSpan Dual Coil humbuckers that produce the most powerful and rough sound while maintaining note clarity.
However, with just one push of a button, you can switch the pickups into single coil mode. This way you get traditional, or even old school tones that are suitable for calmer and less aggressive styles. That is, if you are looking for, for example, cheap funk sound bass guitars, then the Ibanez SR300E will be a good solution.
Apart from that, we would also like to point out that this bass even has a low-end enhanced single coil mode which helps boost the bass frequencies. Also noteworthy is the an active EQ, which, in combination with a pickup system, will allow you to achieve any tone.
Speaking about this model, it is impossible not to mention the body of the guitar, which is light and comfortable, regardless of the position in which you play. Another feature of the Ibanez SR300E is the cutouts, thanks to which you can easily access any fret on the fingerboard.
Despite the low price, the hardware is also of high quality. So, if you are looking for a good modern classical style instrument that can handle almost any musical genre, the Ibanez SR300E is your best choice.
2)Sterling SUB Ray4
Another of the best economy bass guitars that we would like to present to you is the Sterling SUB Ray4, which is a cheaper version of the Music Man Sterling Bass.
Despite the fact that this guitar is equipped with only a single humbucker, it will be able to reproduce completely different tones, from metal to jazz or funk, without any problems.
While testing this model, we also couldn't help but notice the on-board active EQ, which is also great for tone shaping and helps cut or boost both high and low frequencies. So with the Sterling SUB Ray4, you get a wide variety of tones.
Speaking about this model, it is also worth noting that it stays tuned for a very long time and plays great right out of the box. Special attention should be paid to a slim neck profile, which is perfect for any musical style. We can safely classify this model as the best cheap jazz bass guitars due to its beautiful appearance and incredible sound.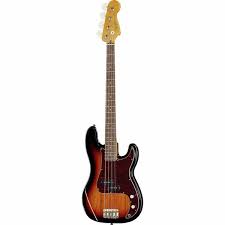 3) Squier Classic Vibe '60s P-Bass
If your budget is limited, but at the same time you dream of buying a legendary model, then most likely you need to pay attention to the iconic Precision. Many musicians know that this was one of the first solidbody bass guitars that hit the market with its sound back in the 80s.
For now, even if your budget is limited, you can still enjoy the classic sound of this model in the form of the Squier Classic Vibe '60s Precision Bass.
First of all, we want to draw attention to the fact that this bass produces the deepest and warmest possible tone, which sounds as good as possible in the mids. The Squier Classic Vibe '60s P-Bass features a single pickup as well as a volume and tone knob so you can experiment and shape the sound however you like.
We also couldn't help but notice Squier's build quality, which is incredible for a model at this price point. The '60s P Bass is also a great option for vintage and old school players, regardless of their musical style.
4)Yamaha TRBX 305
A distinctive feature of this model is that it is available in both 4 or 5 string formats, which will be a definite advantage for bassists who are looking for a bass with 5 strings. The Yamaha TRBX 300 bass is also equipped with ceramic magnet-equipped pickups so you can get the most clean, strong yet deep tone.
This bass is extremely versatile so you can play anything from jazz to metal. Moreover, since this model has an active EQ, you can achieve both an overdriven bass sound and a dynamic clean tone.
Speaking about the design of this guitar, we first of all wanted to note the mahogany body, which also has curves in the right places, which provides maximum comfort when playing.
Whether you prefer to practice standing or sitting, the comfortable body and slim neck profile will give you maximum pleasure. So, the Yamaha TRBX 305 is a great musical instrument that is great for both rock and jazz, and reproduces the purest sound that will not leave you indifferent.
5)Gretsch G2220 Electromatic Junior Jet II
The latest model, which we will introduce you to today, is incredibly stylish and, despite its budget, will charm you with both its sound and appearance. Gretsch is a company that produces very beautiful instruments with a pleasant sound and a reasonable price, so many beginners or intermediate players prefer this brand.
With Gretsch, you can choose a model for $500 or less that will suit both metalheads and fans of indie, rock or jazz. Today, we will talk about the budget, but at the same time high-quality model Gretsch G2220 Electromatic Junior Jet II.
First of all, we'd like to point out that this bass has a pair of single-coil pickups that will help you get a nice vintage tone.
However, at the same time, the three-way pickup selector will allow you to experiment with sound and get both a warm sound and a bright harsh tone for various musical styles. Apart from this you will also get a tone control alongside the volume for further instrument tuning.
We also couldn't help but notice that the Gretsch G2220 Electromatic Junior Jet II is the short scale instrument, which has a slightly different feel, but if you are a beginner or an intermediate player, it will give you extra comfort.
The single cut body shape will also allow you to easily access the frets, and the comfortable neck profile will allow you to experiment with playing styles. So, if you're looking for a stylish yet versatile bass, the Gretsch G2220 Electromatic Junior Jet II is definitely worth checking out.