BEST 3/4 SIZE ELECTRIC GUITARS FOR KIDS
Looking for the best 3/4 size kids electric guitar for your little rock-star? You're in luck! Take a quick read through this article and I'll point out which beginner electric guitar is the best choice for your child, depending on budget and musical tastes.
As I've mentioned in a previous article on selecting the right sized guitar for your child, a 3/4 sized instrument is on average about right for kids aged 8 years and older. However, as electric guitars are a little easier to handle than acoustics, a slightly younger child should also be able to handle a 3/4 size option with no issues.
There are 3 guitars that I recommend above all others as being the best 3/4 size kids electric guitar options, and all are available in a wide variety of different colors. Scroll down to the bottom of the page for a detailed look at each one. For those of you who are on a tight budget, I have also included a couple of options which are more affordable.
1) Squier Mini Stratocaster
The Squier Mini Strat is a superb beginner electric guitar, and will handle almost all genres of music with ease. It's essentially a scaled down version of its bigger brother – the Squier Bullet Strat. Potentially the most famous guitar shape ever, the Strat's contoured body and lightweight woods make for a super comfortable first guitar.
It features a hardwood body with a maple neck and rosewood fingerboard. Three singe-coil pickups connected to a 5-way selector switch ensures that your little rockstar will have plenty of different sounds to play with. The 22.75" scale length (the distance between the nut and bridge) makes it absolutely perfect for small hands to get to grips with.
The guitar is available in a choice of black, red or pink (extra colors are available in bundle packs, see link below), so there's sure to be something to suit everyone's preference here. At such a low price point, the Squier is a fantastic, and versatile choice.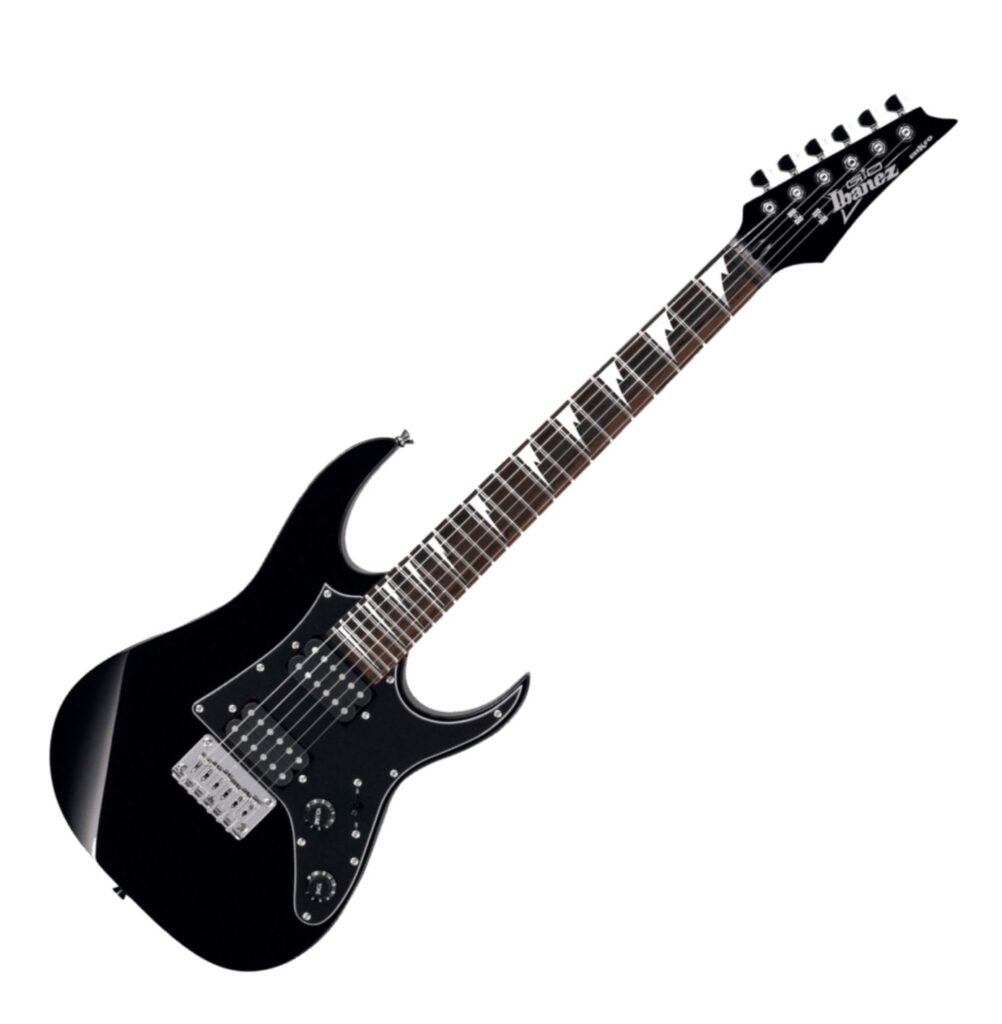 2) Ibanez GRGM21BKN
The Ibanez GRGM21 miKro is your gateway to metal and hard rock, with a combination that can serve you well in almost any situation.
Its specialty definitely lies within heavier genres such as thrash or death attic tracks for those who want their sound more heavy-handed than melodic but still love some melody here and there!
And that's why this guitar is so popular with players of all styles!
3) Jackson Minion Series
The Jackson Minion series is a brand new line of 2/3 scale guitars which are absolutely amazing for young metalheads and shredders. Although listed with a 2/3 scale, the scale length on these is actually 22.5", so they fall neatly in between the Squier and the Epiphone above.
We have two models to choose from – the Dinky, and the ultra-pointy Rhoads. They're both essentially the same guitar with different shaped bodies attached. Poplar bodies are coupled with a maple neck and rosewood fingerboard. For extra metal vibe, the fingerboard features shark-fin inlays. Powerful humbucker pickups ensure that searing solos and chunky riffs are flavor of the day.
To give you an extra seal of approval, I personally have the neon pink Dinky model in my own collection. It's super fun to play, is a lot of guitar for the money, and just look at that retina scorching color! It's certainly a conversation starter!
If you're unsure about what type of guitar you child will need, there's a couple of points you may like to consider to ensure that you choose the best 3/4 size kids electric guitar for your child…
Electric vs Acoustic
For various reasons, many new players wrongly feel that they have to start out on an acoustic guitar before 'advancing' on to electric. However while an acoustic might be a simpler instrument in terms of the tools you have at your disposal, there's no significant advantage to beginning on either option. The best option is always going to be to buy whatever guitar it is that your child ultimately wants to play. After all, your budding shred virtuoso probably isn't going to have much gratification on an acoustic!
A nice advantage to starting out on an electric is that the strings are generally lighter, and closer to the fretboard. Couple that with their thinner necks and you've got yourself a pretty comfortable playing experience.
Single-Coils vs Humbucker Pickups
There are two different styles of electric guitar that you'll probably want to consider for your child. Single-coil pickup equipped guitars (such as a Fender Stratocaster or Telecaster), or Humbucker pickup guitars (such as a Gibson Les Paul or Jackson Dinky). Ultimately the decision comes down to which style of music your child would like to play.
Single-coil guitars tend to be good all-round options, being able to handle all styles of music with the exception of very high gain (heavily distorted) music. Their tone tends to be bright and jangly, which lends itself well to less overdriven styles of music.
Humbucker equipped guitars can also handle all styles of music, but tend to have a thicker, warmer tone which is appreciated by players who like to rock. Players who prefer a cleaner sound will usually prefer the brighter sound of a single-coil guitar such as a Stratocaster.
If there is a specific style of music that your child is into, look at what their favorite artists use and follow the same route.
Best 3/4 Size Kids Electric Guitar
Unlike with 1/4 or 1/2 sized guitars, one of the options I recommend below will potentially be a guitar for life. They make fantastic travel guitars and are also perfect for smaller framed individuals with petite hands.
Best Beginner Guitar Amplifiers
Unless you've opted for one of the complete bundle kits above, you'll probably want an amplifier in order to let your new guitar make some sounds, right? Your little rock-star most likely isn't going to be gigging any time soon, so with that in mind, a 10-20 watt amp is going to be more than enough power for bedroom practice.
My top choice for an affordable, versatile beginner amp is the Blackstar ID:Core 10, which you can read about in our beginner guitar amp article.
On a tight budget, my top choice would be the Sawtooth ST-10 at around half the price of the Blackstar. Unlike the Blackstar, it doesn't have any in-built effects or a tuner, but it will offer enough grunt to handle most styles of music. As a bonus, it also comes bundled with a quality cable and pick sample pack!
Accessories
Unless your guitar comes bundled with them, here are a few extra accessories you may also like to consider. Some you'll definitely need, and the rest are handy optional extras.
Cables – You'll need at least one to hook your guitar up to your amp!
Picks – Grab a sample pack to find which size works best for you.
Strap – You can't sit down all the time!
String Winder/Cutter – Half the time it takes you to restring.
Tuner – I highly recommend inexpensive clip-on headstock tuners.
Guitar Stand – Keep it safe when not in use.
If you feel that you need any of these, click here to see a list of my personal choices.
Strings for 3/4 Size Electric Guitars
Because of the shorter scale length on a ¾ scale guitar, the strings will require a lower tension in order to obtain the correct pitch. This means that your strings might have a slightly more 'floppy' feel than on a full sized guitar tuned to standard pitch. As a result the guitars will be softer on the fingers, but it will also be easier to accidentally bend strings out of tune.
For that reason I'd suggest using a set with a gauge of at least 010-046 to begin with, and go heavier if you feel it necessary. A popular choice would be Regular Slinkies.
Because you never know when a string is going to snap, it's a good idea to have at least one spare set handy at all times. If you can, pick up another pack or two with your new guitar.
There you have it folks! The best 3/4 size kids electric guitar for your child should be somewhere on this page – good luck!