Looking for the best half size kids classical guitar? Smaller classical guitars are fairly easy to find, but which one is the best for your child? Our in-depth guide will clue you in!
We've put together a separate guide which will help you choose the right sized guitar for your child, but in general, a half size kids classical guitar is roughly the right size for 3-8 year olds (around 3'10" to 4'6″).
Avoid the Toys!
As there is quite a bit of choice out there, it might be tempting to just head down to your local Best Buy and grab whatever they have on sale. Please don't do this!
These ultra-cheap 'guitars' are essentially just toys. They won't hold their tuning, the strings will be too high, and even if you do manage to get them in tune, they'll most likely sound awful. You might save a few bucks, but it's almost guaranteed that your kid will become fed up and lose their motivation to learn.
Do yourself and your child a favor and pick up one of the real guitars that I recommend below. Don't worry – they're all still very affordable!

1) Yamaha CGS102A
Yamaha are famed for putting out guitars that punch well above their price tag – and the CGS102A is no exception.
In terms of sales it is the world's best half size kids classical guitar!
It's the smallest guitar that Yamaha currently makes, with a scale length of just 21 inches and a body depth of only 3-3/4″.
Couple that with its light weight and this becomes the perfect instrument for serious young guitarists.
Main features include a spruce top, meranti back and sides, a nato neck and rosewood (sonokeling) fretboard.
There is no doubt that this guitar is legit.
Hit the button above for current pricing information.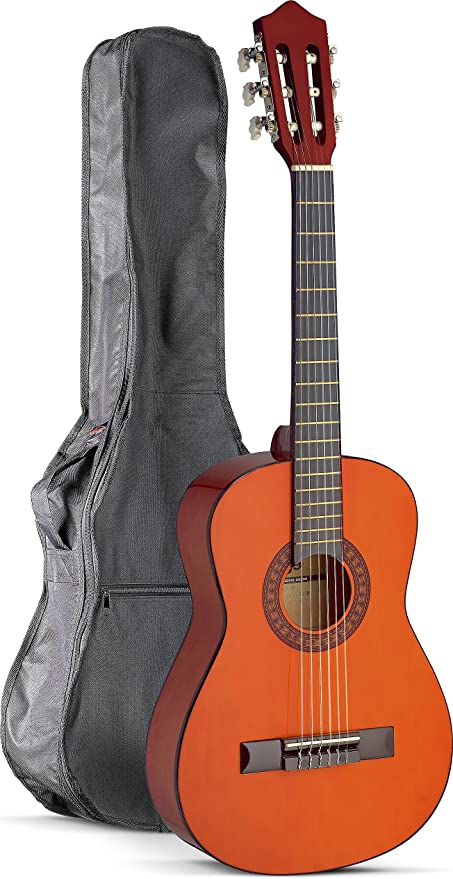 2) Stagg C510
Appearance is an important motivational tool! If you think that your child would rather a 1/2 size classical guitar in finishes other than plain natural, then the Stagg C510 could be the choice for you.
At the time of writing the Stagg is available in 9 different colors, including 3 special models featuring awesome cartoon graphics.
They're a little cheaper than the Yamaha above, but realistically this just is because the Stagg name doesn't carry as much prestige as the former does.
Main features on the C510 include a basswood top, back and sides, coupled with a nato neck and painted maple fingerboard.
Click the button above to see what colors are currently in-stock.

3) Hohner HAG250P Classical
Without venturing into toy territory, the cheapest best half size kids classical guitar I can happily recommend is the HAG250P from our friends at Hohner.
Hohner is a well respected name in the guitar industry, having been in business for over 150 years now.
This affordable little classical is made in the appearance of a dreadnought acoustic.
Main features include an agathis body coupled with a mahogany neck and hardwood fretboard.
It has a short 19 inch scale length and weighs less than 5 pounds, making it ideal for young players.
Hit the button above for current pricing information.
Bonus Gadgets
Thought you were finished? Not quite! Before you head to the checkout, there are a couple more inexpensive accessories that you might like to pick up at the same time. For example you'll probably want a clip-on headstock tuner, and maybe a stand to keep the guitar safe when not in use.
Check out our beginner accessories for guitar guide to make sure you get off to the best possible start.
A Note on Tuning Stability
When looking at the guitars I've suggested above, you might notice a few reviewers complaining about various aspects of the guitars, for example tuning stability. This is to be expected with entry level guitars as most people who buy them are going to be unfamiliar with guitar maintenance. So don't write them off just because one person decided it didn't sound good enough!
On the issue of tuning stability – this is also likely down to inexperience. By their very nature, nylon strings take a little time to stretch out and accurately hold their tuning. Give it a few days of re-tuning and you'll be set.
Nylon String Classical or Steel String Acoustic?
Some people suggest that new players should begin on a classical guitar, largely because the nylon strings are easier on the fingers.
I don't agree with this at all. All guitar strings will irritate the fingers to begin with – but you know what? Calluses form and that problem is quickly dealt with. There's no point in buying a budding Ed Sheeran a classical guitar – it'll only serve to frustrate them. Make sure to purchase whichever instrument is most suitable for the style of music that they want to play.
And that's all she wrote! I hope this guide has helped you to find the best half size kids classical guitar for your budding young musician.