BEST 1/2 SIZE ELECTRIC GUITARS FOR KIDS
Searching for the best 1/2 size kids electric guitar for your budding young rock-star? If you've read our guitar sizing guide, you'll know that these are suitable for children around 3-8, or around 3'10" to 4'6″.
If you need something a little bigger for a slightly older child, be sure to check out our 3/4 size electric guitar guide.
When looking for 1/2 size kids electric guitars the choice isn't exactly overwhelming, so it can be tempting to opt for a cheaper option which is more readily available. Realistically, these ultra-affordable 'guitars' are essentially toys that are absolutely horrible to own and play. Avoid them and your child will thank you later on.
The option I recommend below is definitely not a toy, but is still very, very affordable. It is perfect for young children or for use as a smaller travel guitar.
As I've mentioned in a previous article on selecting the right sized guitar for your child, a 3/4 sized instrument is on average about right for kids aged 8 years and older. However, as electric guitars are a little easier to handle than acoustics, a slightly younger child should also be able to handle a 3/4 size option with no issues.
There are 3 guitars that I recommend above all others as being the best 3/4 size kids electric guitar options, and all are available in a wide variety of different colors. Scroll down to the bottom of the page for a detailed look at each one. For those of you who are on a tight budget, I have also included a couple of options which are more affordable.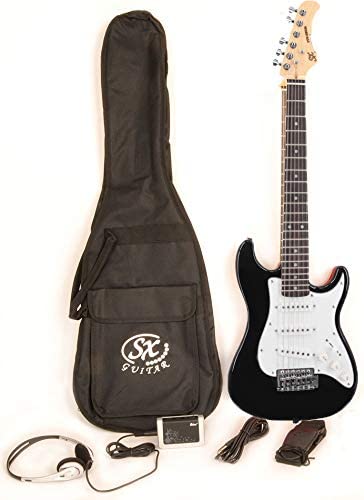 1) SX RST Package
These scaled down Stratocaster style guitars are absolutely perfect for young budding musicians and are very inexpensive to pick up.
As is common with many Strat style guitars, the RSTs feature a basswood body with maple neck and rosewood fingerboard. It is around 4″ shorter and 3″ narrower than a standard guitar, ideal for smaller hands or for use as a travel guitar.
Bundled into this half-size electric guitar package is everything needed to get started. A handy headphone amplifier (headphones included) allows for quiet practice. There's also a cable, strap, gig-bag, and even a few lessons to get you started. If you decide you'd also like a traditional amp to jam out on, check out our beginner guitar amp guide for suggestions.
2) Donner DSJ-100 Junior Starter Package
The junior electric guitar series is a great option for those who are just starting out and want something that will be easy on their hands. The smaller size of this instrument makes it less overwhelming to learn how play, while still allowing you plenty enough space in order execute barre chord fingerings or sweep picking techniques with ease!
The DSJ-100 has everything you need to become the next guitar hero! All of our guitars are equipped with picks, cables and a gig bag. The mini electric is perfect for beginners because it's shorter scale will make your strings more tensioned so they stay in tune easier than if were on an acoustic or normal size bass string set up–and we recommend tuning them as close 1/2 step higher than what usually comes outta there (that sounds about right).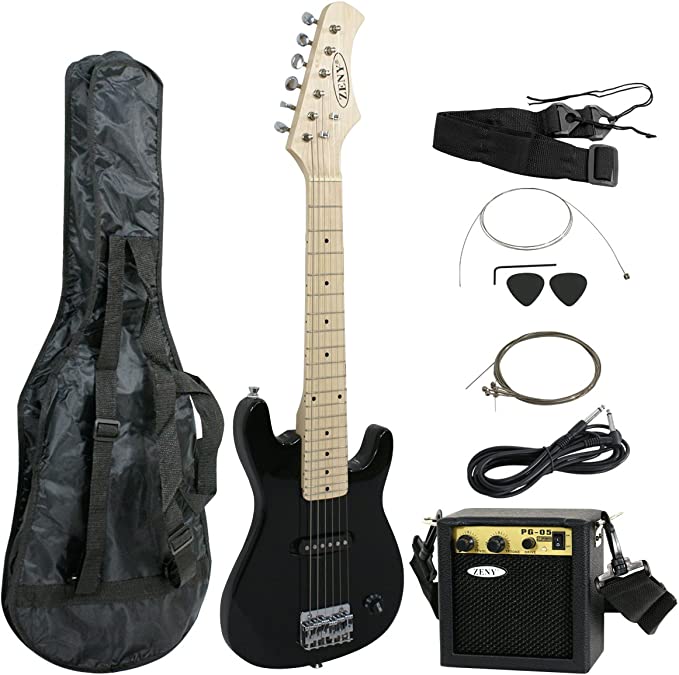 3) Zeny 1/2 Size Guitar Package
Your little one will be the ultimate guitar pro in no time with this right-handed electric kid's starter kit. With everything they need to get started including a 5 watt amplifier, cable cord and shoulder strap along with replacement strings for beginners who aren't quite ready on heading out into public yet!
The sleek black finish makes it easy enough even if your child wants more than just practice hours at home or school – so go ahead take advantage of these great deals today while supplies last before shipping runs low again.
Why a Strat?
The Stratocaster is the most popular guitar style in the world, and offers up numerous benefits for new players.
Versatility. You can play pretty much anything besides the heaviest of metal on a Strat. Three singlecoil pickups will provide a huge arsenal of tones at the flick of a switch.
Comfort. The contoured body ensures that you can sit for hours with one of these without any sharp edges digging into your ribs. They also tend to weigh less than most other electric guitars, making them easy to wear with a strap for longer periods.
Extras
The half size electric guitar package I've recommended above does come with practically everything you'll need to get started, but there are a few inexpensive accessories that you may also like to pick up. For example you might want to grab a tuner and a selection of plectrums with your new guitar pack.
Head over to our beginner guitar accessories guide for the low-down.
Starting out on Electric Guitar
I often get questions from parents who have been told that a nylon string classical is the best style of guitar to begin on. The reason you are told that is because nylon strings are slightly easier on the fingers.
Here's what you should do. Let them play whatever instrument they want to play. There is absolutely no point in giving a budding Steve Vai a classical guitar. It will only serve to frustrate and potentially dissuade your child from continuing to learn and play.
All guitar strings will irritate fingers at first (less so with nylon), but you know what? The body adapts! Quickly!
It might take a little longer to get used to the steel strings of a 1/2 size kids electric guitar, but they are far more comfortable to hold and play when compared to an acoustic guitar once they get past this hurdle.
As Porky Pig would say, "Ble, ble, ble, that's all folks!" Hopefully this guide has served its purpose and you've now managed to pick up the perfect 1/2 size kids electric guitar!