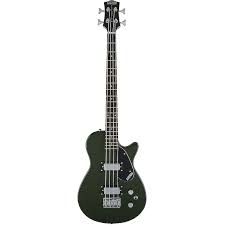 Gretsch G2220 Junior Jet Bass II: A Comprehensive Review
Introduction
The Gretsch G2220 Junior Jet Bass II is a bass guitar that has gained significant attention from both amateur and professional musicians due to its affordability, playability, and tonal versatility. This review will provide an in-depth analysis of this instrument's features, sound quality, and overall performance from both a beginner's and a professional's perspective.
Design and Build Quality
The Gretsch G2220 Junior Jet Bass II is a visual delight with a classic appeal, reflecting the iconic heritage of Gretsch. Available in a variety of glossy finishes including black, walnut, and tobacco sunburst, this bass guitar caters to a wide range of aesthetic preferences.
Built from lightweight basswood, the body of the G2220 is designed for comfortable play over extended periods. The bolt-on maple neck and walnut fingerboard contribute to the instrument's durability, while offering a smooth, fast playing experience. The short 30.3-inch scale length is a significant advantage for beginners, making it easier to navigate the fretboard and reduce hand fatigue.
Sound Quality
In terms of sound, the G2220 Junior Jet Bass II stands out with its broad tonal range. Equipped with two mini-humbucking pickups, this bass captures everything from deep, resonant lows to punchy mids and clear highs. The individual volume controls for each pickup and master tone control offer ample sound shaping options.
For beginners, the simplicity of the controls is a boon, reducing the learning curve associated with more complex setups. Professionals, on the other hand, will appreciate the tonal flexibility these controls provide. Regardless of your musical style or background, the G2220 can deliver a full-bodied, rich sound that fits seamlessly into any genre.
Playability
When it comes to playability, the G2220 Junior Jet Bass II scores highly. The slim neck profile coupled with the shorter scale length ensures an easy-to-handle instrument, suitable for players at all levels. Beginners will find this bass particularly accessible, while professionals will enjoy the fast, fluid action it enables.
The four-saddle adjustable bridge contributes to stable tuning and precise intonation, while the die-cast tuners add extra tuning stability. Whether you're practicing at home or performing live, the G2220 promises a reliable performance.
Viewpoint of a Professional
From a professional's perspective, the Gretsch G2220 Junior Jet Bass II serves as a dependable mainstay. Its robust construction is built to endure the rigors of regular gigging and touring. The versatile sound palette it offers makes it adaptable to various music genres and playing styles.
The dual mini humbuckers deliver a robust, full-bodied sound, allowing professionals to explore a wide spectrum of tones. The easy-to-use controls further enable fine-tuning of the sound to suit specific musical contexts.
Viewpoint of a Beginner
For beginners, the Gretsch G2220 Junior Jet Bass II is an excellent starting point. Its short-scale design and slim neck profile make it comfortable and easy to play, significantly reducing the learning curve. The simple control layout allows for intuitive operation, making it less intimidating for those new to the instrument.
The affordable price point of the G2220 makes it an attractive option for beginners who are hesitant to invest heavily in their first instrument. Yet, despite its affordability, it doesn't compromise on sound quality or build, providing beginners with a solid foundation to develop their skills.
Conclusion
The Gretsch G2220 Junior Jet Bass II is a remarkable instrument that offers great value for money. Its vintage aesthetics, solid construction, and versatile sound make it a worthy contender in its price range. Whether you're a beginner looking for your first bass or a seasoned pro in need of a reliable workhorse, the G2220 is a fantastic choice. Its combination of playability, sound quality, and affordability make it a standout option for any bassist, regardless of skill level or musical style.