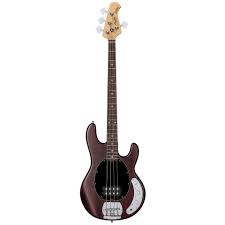 Sterling SUB Ray4 Electric Bass Guitar Review
The Sterling SUB Ray4 is a budget-friendly electric bass guitar that has been making waves in the music industry for its impressive features and outstanding performance. This 1000+ word review will delve into every aspect of this popular instrument, from its design and build quality to its sound and playability. By the end, you should have a comprehensive understanding of whether the Sterling SUB Ray4 is the right bass guitar for you.
Design and Build Quality
The Sterling SUB Ray4 is a product of the collaboration between Music Man, a renowned American guitar manufacturer, and Sterling by Music Man, their more affordable subsidiary. The SUB Ray4 is designed to look and feel like the iconic Music Man StingRay bass, which is known for its unique sound and distinctive design.
Upon first glance, the Sterling SUB Ray4 exudes a sleek, modern aesthetic with its glossy finish and stylish curves. The body is made from basswood, a lightweight and resonant wood that contributes to the overall comfort and ease of playing. The bolt-on maple neck features a satin finish, providing a smooth and fast playing experience. The 21-fret rosewood fingerboard comes adorned with white dot inlays, which add to the instrument's visual appeal.
As for hardware, the SUB Ray4 boasts a fixed bridge that ensures excellent sustain and solid tuning stability. The open-gear tuning machines are reliable and precise, allowing you to keep your bass in tune throughout your playing sessions. Additionally, the bass comes equipped with a single humbucking pickup, which we'll discuss further in the Sound section below.
Overall, the Sterling SUB Ray4's design and build quality are impressive, especially considering its affordable price point. It's an attractive and well-built instrument that caters to both beginners and experienced players alike.
Playability
One of the most important aspects of any musical instrument is its playability, and the Sterling SUB Ray4 doesn't disappoint in this regard. The basswood body is lightweight and well-balanced, making it comfortable to play for extended periods without causing fatigue. The slim, satin-finished maple neck allows for fast and smooth movement up and down the fingerboard, while the 21 medium-jumbo frets are well-dressed and evenly spaced.
The SUB Ray4's setup is generally good right out of the box, with a low action that facilitates easy playability. However, some players may prefer to make minor adjustments to the setup to suit their personal preferences.
The fixed bridge design offers excellent sustain and tuning stability, ensuring your bass remains in tune even during aggressive playing. The open-gear tuners are precise and reliable, contributing to the instrument's overall playability.
In summary, the Sterling SUB Ray4 is a highly playable bass guitar that is suitable for players of all skill levels. Its comfortable design and quality construction ensure a satisfying playing experience every time you pick it up.
Sound
The Sterling SUB Ray4 is equipped with a single humbucking pickup, which is designed to replicate the iconic sound of the Music Man StingRay. This pickup configuration provides a powerful and punchy tone with plenty of low-end and mid-range presence.
One of the standout features of the SUB Ray4 is its 2-band active preamp, which allows you to shape your tone with precision. The bass and treble controls offer a wide range of tonal possibilities, from warm, rounded lows to bright, cutting highs. This versatility makes the SUB Ray4 suitable for various music genres, from rock and metal to funk and jazz.
The pickup and preamp combination delivers a clear, articulate sound with excellent note definition, even when playing complex bass lines. The impressive sustain provided by the fixed bridge further enhances the instrument's sonic capabilities.
While the Sterling SUB Ray4 may not entirely match the tonal richness and complexity of its more expensive Music Man counterparts, it does an admirable job of capturing the essence of the iconic StingRay sound at a fraction of the cost.
Value for Money
The Sterling SUB Ray4 offers exceptional value for money, providing a high-quality instrument with impressive features at an affordable price point. Its design, build quality, playability, and sound are all top-notch, making it an excellent choice for both beginners and experienced players who are looking for a reliable and versatile bass guitar without breaking the bank.
Of course, there are other budget-friendly bass guitars on the market, but few can match the SUB Ray4's combination of performance, aesthetics, and affordability.
Conclusion
The Sterling SUB Ray4 is an outstanding electric bass guitar that delivers on all fronts. Its sleek design, solid construction, comfortable playability, and versatile sound make it an attractive option for players of all skill levels. For those seeking the iconic Music Man StingRay tone without the hefty price tag, the SUB Ray4 is an excellent alternative that won't disappoint. Whether you're a beginner looking for your first bass or an experienced player searching for a reliable workhorse, the Sterling SUB Ray4 is a fantastic choice that offers remarkable value for money.