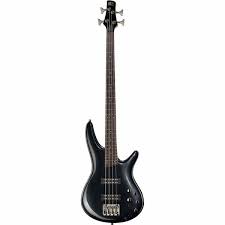 Ibanez SR300E Electric Bass Review: A Versatile and Affordable Powerhouse
The Ibanez SR300E electric bass is a popular choice among bassists of all levels, offering a versatile sound and comfortable playability at an affordable price point. With its sleek design and impressive range of tonal options, the SR300E has become a staple in the world of electric basses. In this comprehensive review, we will dive deep into the features, build quality, sound, and overall performance of the Ibanez SR300E to help you decide if it's the right bass for you.
A Brief History of Ibanez
Ibanez is a Japanese guitar manufacturer with a long-standing reputation for producing high-quality instruments. Since their inception in 1957, they have been known for their innovative designs and commitment to craftsmanship, which has led to collaborations with some of the biggest names in music, such as Steve Vai, Joe Satriani, and Paul Gilbert. The SR series has been a popular line of basses within the Ibanez family, with the SR300E being one of their most successful models to date.
Design and Build Quality
The Ibanez SR300E is a solid body, 4-string electric bass that features a mahogany body and a 5-piece maple/rosewood neck. The body is designed with comfort and playability in mind, sporting a contoured shape and a double-cutaway for easy access to higher frets. The body is finished in a high-gloss paint job, with various color options available, including Iron Pewter, Metallic Gray, and Candy Apple.
The neck of the SR300E is thin and fast, with a smooth satin finish that makes it easy to glide up and down the fretboard. The 24-fret rosewood fingerboard features medium-sized frets and white dot inlays, providing a comfortable playing experience for bassists of all skill levels. The bolt-on neck construction ensures a solid connection between the body and neck, which contributes to the overall resonance and sustain of the instrument.
The hardware on the Ibanez SR300E is reliable and durable, featuring die-cast tuning machines and an Accu-cast B120 bridge. The bridge is adjustable, allowing players to easily set their preferred string action and intonation. Additionally, the bass comes equipped with D'Addario EXL165 strings, which provide a balanced and versatile tone right out of the box.
Electronics and Controls
One of the standout features of the Ibanez SR300E is its versatile electronics system, which offers a wide range of tonal possibilities. The bass is equipped with two PowerSpan Dual Coil pickups, designed by Ibanez specifically for the SR series. These humbucking pickups deliver a punchy and powerful sound that is well-suited for various musical styles.
The SR300E also features Ibanez's unique Custom Electronics 3-band EQ with a 3-way Power Tap switch, allowing players to shape their tone with precision. The 3-band EQ includes controls for bass, mid, and treble frequencies, while the Power Tap switch offers three distinct tonal options: humbucking mode, single coil mode, and power tap mode. This combination of controls gives bassists the ability to dial in their ideal sound, whether it's a deep, thunderous low end or a bright, cutting attack.
Sound and Performance
The Ibanez SR300E is a versatile instrument that can cover a wide range of musical genres, from rock and metal to jazz and funk. The PowerSpan Dual Coil pickups provide a clear and powerful sound, with plenty of low-end thump and a tight, focused midrange. The high-end response is crisp and articulate, making it easy to cut through a mix when needed.
The Custom Electronics 3-band EQ and Power Tap switch offer an impressive range of tonal options, allowing players to easily adapt their sound to different playing situations. The humbucking mode provides a full, powerful tone with plenty of low-end punch, while the single coil mode offers a brighter, more defined sound that is reminiscent of classic J-style basses. The power tap mode combines the best of both worlds, blending the clarity of single coil pickups with the power and warmth of humbuckers.
The playability of the Ibanez SR300E is also top-notch, with its sleek neck profile and contoured body making it comfortable to play for extended periods of time. The double-cutaway design allows for easy access to higher frets, while the medium-sized frets and smooth fingerboard make it easy to navigate the neck with precision.
Conclusion
Overall, the Ibanez SR300E electric bass is an excellent choice for bassists looking for a versatile and affordable instrument that doesn't sacrifice quality or performance. With its comfortable design, powerful electronics, and wide range of tonal options, the SR300E is a reliable workhorse that can handle any musical situation. Whether you're a beginner just starting out or a seasoned pro looking for a reliable gigging bass, the Ibanez SR300E is definitely worth considering.