Top Best Bass Guitars For Small Hands
The bass guitar is an absolutely unique musical instrument that is preferred by millions of musicians around the world. However, each person has their own physiological characteristics, so it is very important to choose the right tool that suits them. So, if you have small hands, it is most likely difficult for you to choose the right model. Often, traditional bass guitars have a larger scale than electric guitars, which means the frets will be wider. Does this mean you can't play bass with small hands? Of course not!
Now the market for musical instruments is as big as it can be. Manufacturers offer different options for left-handers, short people, people with small hands and other features. That is why finding the right bass guitar for you will also not be a problem. You can look for models with a shorter scale or thinner neck to make your practice as comfortable as possible. Below we have analyzed the market and collected the top bass guitars for person with small hands. Explore the options and choose the one that suits you best!
Top Best Bass Guitars For Small Hands
Here are our top picks: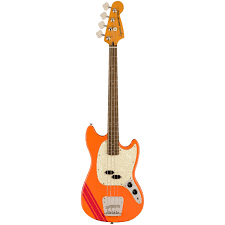 1)Squier Classic Vibe Mustang
We decided to start our top bass guitars for small hands with a model that is perfect for Fender fans. Squier is a subsidiary of the brand, so you can get the classic Fender sound by purchasing from the model. However, why would this model be a good option for small hands?
The first thing we would like to draw your attention to is the C-shaped maple neck, the cap of which the playing of this musical instrument will be as comfortable as possible, especially for those with small hands. In addition, it is worth noting a real bone nut, which will significantly improve not only tuning stability, but also tone.
Another distinguishing feature of the Squier Classic Vibe Mustang is the split single-coil pickup with alnico magnets, which was invented by Fender. This is what will help you get an incredible powerful sound that is suitable for most musical styles. In addition, this pickup is positioned to capture the full tone of the Mustang Bass, and the volume and tone controls will help you customize the sound to your liking.
We want to give special attention to its shorter 30″ scale length, which will also be most convenient for short hands, as such a neck offers easier playability. What's more, this guitar is also great for kids and teenagers, but even if you're an experienced player, you can still enjoy the neck smoothness and great sound.
So, if you are looking for one of the bass guitars for small hands, definitely check out the Squier Classic Vibe Mustang Bass '60s. By purchasing this model, you will get a classic body with a unique shape, as well as an incredibly smooth neck with a short scale that is ideal for small hands.
2)Ibanez GSRM20RBM 4 String
Another incredible model that certainly deserves your attention is the Ibanez GSRM20RBM 4 String. Ibanez is a brand that has become famous for their quality guitars with incredible sound, and this model is no exception.
First of all, we would like to point out that this is a compact 4-string bass with a root beer metallic finish, which is a great option for anyone who is looking for a smaller and lighter instrument with a lot of low-end punch. If you are a young musician or an experienced guitarist with back or neck problems, this model is also an incredible option due to its size.
Speaking about the Ibanez GSRM20RBM, we would first of all like to mention its electronics, namely one J-style pickup and one P-style pickup, which will help you get incredibly diverse and distinct tones.
The poplar body will also give you good balance and comfort. It is also worth paying special attention to the fact that despite its compact size, this model produces a fairly massive sound that is perfect for various musical styles.
The slim neck profile of this model will also give you incredible playing comfort, especially if you are a musician with small hands. What's more, the 28.6" scale is extremely comfortable for any hand size, and thanks to the B10 bridge, you get incredible long-term stability. So, the Ibanez GSRM20RBM rightfully takes its place among the good bass guitars for small hands thanks to its comfortable lightweight design and incredible tone.
3) Music Man StingRay Ray4
What makes the StingRay stand out is that it is the first production line bass with an active EQ (built-in). That is why a huge number of musicians around the world have used this model for recording or live performances.
We included this model in our top of the best bass guitars small hands, as this guitar is not only light and comfortable, but also produces the best possible sound. This model also has a unique egg-shaped pickguard.
First of all, we would like to point out that this bass itself is quite beautiful. The body is made of basswood, which is most commonly used to make cheaper basses. Although it won't sound as bright as the mahogany body, it's still a great tonewood.
Also the body is finished in black, thanks to which this tool has such a beautiful design. In addition, we would like to note that since it is softwood, it is quite light, which is ideal for a beginner or even one of the best bass guitars for petite women, since this model weighs under nine pounds.
The last thing we would like to point out about this model is its 2-band preamp which will offer you a lot of tonal variety and is a great option for different musical styles. So when you purchase the Music Man Sterling StingRay Ray4, you'll get the iconic StingRay design, incredible build quality, and good quality tone.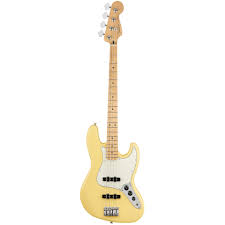 4)Fender Player Jazz Bass
If you have money and want to buy a good quality musical instrument, we strongly recommend that you pay attention to such a model as the Fender Player Jazz Bass.
We consider this guitar to be one of the best models for small hands, thanks in large part to the slimmer C-shaped neck on the J-Bass, which tapers towards the nut and makes playing as comfortable as possible. Since the neck on the P-Bass is thicker and has wider string spacing (1.5" nut width), people with short arms will have no problem.
Also, we would like to mention that the J-Bass is quite versatile and suitable not only for different musical genres, but also for any occasion, such as recording, performing or rehearsing at home.
In addition, we want to draw your attention to the fact that this model has dual Alnico single-coil pickups, thanks to which you can get a wide range of sounds. Apart from that, you can also experiment with the sound using the 3 knobs (one for each bridge pickup volume, neck pickup volume, and tone). Thus, you can achieve both a bright warm tone and a growly sound.
The Fender Player Jazz Bass is an incredible guitar as it has a classic-styled alder body, flawless construction and an incredibly comfortable slim neck. So, if you are looking for one of the best bass guitars for girl hands or a musician for small hands, then the Fender Player Jazz Bass is the one for you.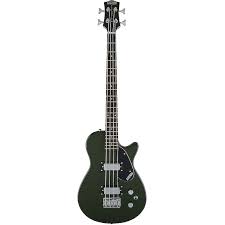 5)Gretsch G2220 Junior Jet Bass II
The last of the bass guitars that we will introduce you to today is also famous in the music world due to its classic appearance, but at the same time aggressive design. The Gretsch Electromatic Junior Jet II is a well-built bass that has powerful enough pickups to ensure you get exactly the sound you want.
First of all, we'd like to point out that this model has a basswood body that gives you great resonance, as well as a maple neck with a walnut fingerboard and Synthetic bone nut.
We would like to pay special attention to the electronics of this model, namely dual mini humbuckers and die-cast tuners. This model is as easy to use as possible, so even if you are a beginner musician, you can get used to it quickly enough.
Another great feature of the Gretsch G2220 Junior Jet Bass II is the 30" scale combined with a sleek D-shape neck. This combination is incredibly good for guitarists with small hands, as they get incredible playing comfort.
So, if it weren't for the biggest Fender or Ibanez fan and you're looking for something different for your musical experiments, the Gretsch G2220 Junior Jet Bass II is a great guitar that meets all the needs of musicians with small hands.
Final Word
As you see, although physiological characteristics require more careful selection of a musical instrument, the market still has a large number of options for you. If you are a guitar player with small hands, do not despair, as you will find a model that will suit your desires and needs in any case. We hope that our top was useful for you, and see you soon!