BEST 3/4 SIZE ACOUSTIC GUITARS FOR KIDS
Looking for the best 3/4 size kids acoustic guitar? A 3/4 sized acoustic guitar will make a perfect beginner guitar for a child aged 8 and over (around 4′ 6" plus), or even just as a petite option for players with smaller hands.
We also have a guide for 1/2 size acoustic guitars for even younger kids!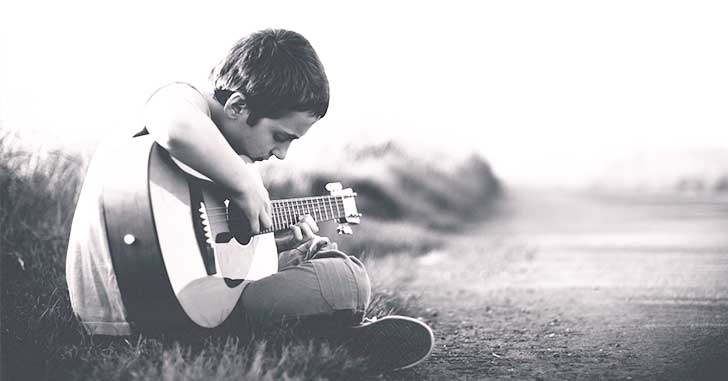 Yamaha JR-1

Yamaha APXT2
Scroll down a little for a more detailed look at each of these 3 guitars. If you have a little more money to spend, I've also suggested a couple of higher-end options which you may like to consider if you need the absolute best 3/4 size kids acoustic guitar.
Steel String Acoustics vs Nylon String Classical Guitars
Due to the higher action on a steel-string acoustic, fingers have to be pressed down slightly harder, which can result in sore fingertips. Because of this, many parents will opt for a classical guitar due to the nylon strings being easier on fresh fingers. However, as most kids will ultimately want to play steel-string acoustic, it's definitely best to get this physical obstacle out of the way early on.
It's also worth noting that both instruments are designed for their own specific play-styles. For example, a classical has a thicker, wider neck profile because it is played with the thumb behind the neck. This will make it slightly more uncomfortable if used like a steel-string acoustic which is generally played with the thumb curved around the neck.
Best 3/4 Size Kids Acoustic Guitar
Yamaha JR-1 – Most Popular Choice

1) Yamaha JR-1
The Yamaha JR-1 is the world's best selling 3/4 size, and is the perfect beginner guitar for any young player. Yamaha is famed for producing instruments that punch way above their price point, and this little gem is no exception. It is modelled after the company's legendary FG Series acoustics and is big on sound and quality.
It features a genuine spruce top with meranti back and sides, nato neck and rosewood fretboard. The 21-1/4″ scale length is going to be absolutely ideal for smaller hands, and it even comes with a gigbag for easy transport.
At such a bargain price, and with so many quality features, it's really going to be difficult to beat the Yamaha without spending a lot more cash. Many, many players will rate it as the best 3/4 size kids acoustic guitar. The single downside to the JR-1 is that it is only available in a natural finish, although for an extra $30 you have the choice of upgrading to the JR-2 which comes in natural and sunburst.


2) Yamaha APXT2
A scaled down version of Yamaha's most popular full sized acoustic! If you liked the Yamaha JR-1 above, but wished it came in some more exciting colors and with a few extra bells and whistles, then you are going to love the Yamaha APXT2 3/4 size kids electro-acoustic guitar. This model is available in 4 great colors, has a cutaway for improved upper fret access, and is equipped with electronics to allow amplified play. For under $200, this little gem is sure to tick all of the right boxes.
The APXT2 features a spruce top with meranti back and sides, and like the Yamaha JR-1 above, a nato neck with rosewood fingerboard. The fully bound body gives it the appearance of being a much more expensive guitar. It has a nice, short scale length of 22.8″, making it perfect for smaller hands. On-board ART electronics and a System68 pickup allows you to plug into an amp or computer, and a built-in tuner ensures that you are always playing in perfect pitch. For added value, the APXT2 comes bundled with a quality Yamaha gigbag.
Absolutely ideal for younger kids or for use as a small travel acoustic guitar. In addition to the 4 guitars shown above, it's also available with upgraded exotic wood tops. See them all by clicking the button below.
Getting Tuned Up Easily
Although some acoustic guitars will come with built-in tuners, none of the instruments suggested here are equipped with electronics. For that reason, I highly recommend picking up a cheap tuner to ensure that you are playing in correct pitch.
An endless supply of free online tuners are available, however I don't advocate these, as a beginner's ear is going to be nowhere near good enough to tune accurately. My first guitar came bundled with a set of pitch pipes – and that guitar never sounded quite right! A guitar which is even just slightly out of tune could potentially discourage a new player.
The most affordable and handy option will be a clip-on headstock tuner – my favorite is the Snark SN-8 pictured above. At around $10 this little gadget is a must-have, and will stay with you for life. Simply clip it on to your guitar's headstock and it will tune (very accurately) via vibration. Every guitarist should have one of these.
Best 3/4 Size Acoustic Guitar Strings
Because these guitars have a shorter scale length (the distance between the nut and bridge), the strings don't require quite as much tension to reach the correct pitch. This could mean that the strings have quite a loose feel depending on the gauge of strings that you use. Looser strings are more comfortable on the fingers, but will also mean that it is easier to accidentally bend the string out of pitch, resulting in slightly 'off' sounding chords.
To compensate for the reduced string tension in standard tuning, some guitar teachers recommend using alternate tunings on smaller guitars. However I really wouldn't suggest this as everything learned will be lost when moving up to a full sized guitar in standard pitch.
Start out with a set of light strings at first (such as my favorites) and see how you get on. I'd recommend picking up at least one spare set with your new guitar as you never know when one of those pesky high strings will snap!
If your child finds that the strings are too 'floppy', a better option is to simply use a heavier gauge of strings to introduce more tension. These will be a little harder on fingers at first, but at the end of the day, all strings will initially cause sensitive fingertips. I find that it usually takes around a week or two of play for the sensitivity to subside.
So there you have it folks – I hope this helped you find the best 3/4 size kids acoustic guitar!