Top Lightest Bass Guitars
At the moment, the bass guitar market is as diverse as possible and offers a huge number of options for people with any features. If you are left-handed, or for example have short arms or short stature, you will in any case be able to find a model that suits your desires and needs. In the same case, if you are a beginner or a young musician, you will most likely be better off getting a light bass guitar. If you travel a lot and are often on the road, but you need to take a guitar with you, then you also need the most lightweight instrument.
Also, best light weight bass guitars are perfect for children or musicians who have back problems and cannot play standing up for a long time. While traditional bass guitars are heavy and cause shoulder fatigue with prolonged use, these top light weight bass guitars will help you choose the lightest and most comfortable guitar to practice with. Now there is just a huge number of models for musicians who are looking for comfort and mobility.
Top Lightest Bass Guitars
Here are our top picks: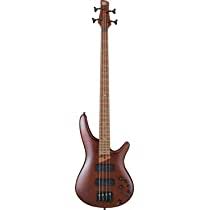 1)Ibanez SR500E
Ibanez is a world famous guitar brand, but most people don't associate it with bass guitars. However, this company has been offering excellent quality bass guitars to guitarists for a long time. What's more, Ibanez also offers one of the best lightweight bass guitars, the SR500E.
First of all, we would like to note that this model has a super slim body, which significantly reduces the weight of the tool. Moreover, this bass has a comfortable neck for the fastest playing. Thus, the thinner body allows this bass to fit snugly and comfortably against your body, and the neck is much easier to grip, which is also a definite plus.
Speaking about the sound of the Ibanez SR500E, it is also as smooth as possible. While the Bartolini BH2 humbuckers make this model more suitable for rock or metal, the guitar is still capable of playing almost any genre. What's more, if you don't get the sound you want, you can still tweak the sound thanks to its controls.
In addition to the standard balance and volume knobs, you also get three EQ knobs to really customize the tone you want. The Ibanez SR500E is also one of the best lightest bass guitars as it has an EQ bypass switch so you can play either active or passive voice.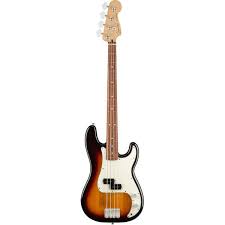 2)Fender Player Precision
If you are looking for one of the lightweight hollow body fender bass guitars, then the Fender Player Precision is your best bet. This model is based on everyone's favorite P bass and in many ways corresponds to their level.
In terms of build and playability, the Fender Player Precision is largely the same size as its big brother, but the nut is a bit narrow. The neck also has a modern C shape neck with medium jumbo frets.
Speaking of all the P basses from Fender, they are as easy and comfortable to play as possible. However, you should also pay attention to the fact that they are somewhat larger and will not be the best option for children or players with small hands.
Player Precision basses are also lighter than regular models, weighing in at around 8.4 pounds. If we mention the tone of this model, it is certainly worse than the Professional series, but still much better than many basses in the same class.
P basses are also famous for their rich, full and versatile sound, so no matter what genre you prefer, you can get the sound you want. However, this model is best suited for rock and blues. So, if you wanted to find one of the best lightweight fender bass guitars, Player Precision would be the best option for your needs.
3) Gibson SG Standard
Are you looking for bass guitars under 7 lbs? We have found a solution! The Gibson SG Standard is a great bass guitar that looks great and sounds amazing.
This model is similar in many ways to the traditional Gibson SG electric guitar, as it has the same body shape and headstock. However, it differs in that it has a shorter neck.
Speaking of the humbuckers of this model, they give this bass a sharper tone, making it better suited to rock than other musical genres.
We rank this model as one of the best lightweight bass guitars, as it weighs only 7 lbs, which makes playing as comfortable as possible.
Speaking about the shortcomings of this model, we would like to draw your attention to the fact that there are only tone and volume knobs, so this bass will not be too versatile.
However, if you're already into rock, this is one of the best light bass guitars you can find. We would also like to point out that this guitar is quite expensive and is therefore intended for more professional players or advanced musicians.
However, if you have the money and want a good quality lightweight bass, you won't find anything better than the Gibson SG Standard.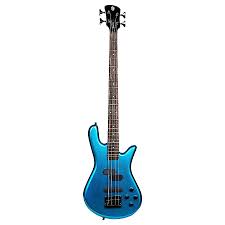 4)Spector Performer 4
After the expensive Gibson SG Standard, we couldn't help but include a budget model in our top light bass guitars list, namely the Spector Performer 4. This model is a great option for musicians on a budget, as it not only has a beautiful appearance, but also has excellent playability.
The design of the Spector Performer 4 will appeal to musicians who love minimalism and the absence of harsh flashy details. However, we would also like to point out that under this modest appearance lies a well-made and great-sounding instrument.
The case of this model is quite smooth and has a wide contour at the back. However, at the same time, the neck is thick enough to provide a firm grip, while still being smooth enough for fast and comfortable playing.
While the Spector Performer 4 isn't the lightest guitar on our list (about 8.5 lbs), it's still lighter than traditional basses.
We also tested this model and found that it is still light enough for long gaming sessions, and the weight is evenly distributed, which reduces the load on the shoulders.
Also the Spector Performer 4 is a versatile bass, unlike the previous model we talked about. Although this guitar is also more suitable for rock or metal, it can play other genres such as jazz and blues without any problems.
This effect is largely due to the P and J pickups, each of which also has a volume and tone knob. Thus, you will be able to customize the sound as much as you like.

5) Squier Classic Vibe '70s
Classic Vibe '70s – a model that is in many ways similar to the famous Fender Player (the body and neck shape are almost the same).
First of all, we would like to point out the neck of this model, which is The last of the best lightweight bass guitars that we will present to you is the Squier slightly thicker than the Player. However, at the same time, it has a bit more grip, despite being less fluid.
Speaking of weight, the Squier Classic Vibe '70s is comfortable for both seated and standing play at around 7.5 lbs.
So, if your priority is to go for a light bass guitar, but you can't afford a Gibson SG, then you should definitely go with the Squier Classic Vibe '70s. The sound of this model will undoubtedly be lower quality than the Fender, but it is still good enough for a beginner or intermediate player.
Also, as the model's name suggests, the Squier Classic Vibe '70s has a more classic vintage sound, so the guitar will sound fantastic if you prefer old school jams.
So, if you're looking for a light and versatile bass that will help you reproduce classic vintage tones and give you the highest quality and best sound for a reasonable price, then there is nothing better than the Squier Classic Vibe '70s.
Final Word
Recently, light bass guitars have become increasingly popular due to the fact that they cover a huge number of problems of modern guitarists. They reduce the load on the shoulders and back and make the game as comfortable as possible. Also, such guitars are an excellent option for both beginner musicians and children.
If you too faced similar problems and were looking for a light, but at the same time high-quality bass guitar with a good sound, then we hope that our top lightest bass guitars helped you choose what you wanted.