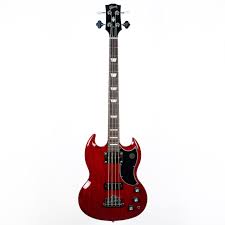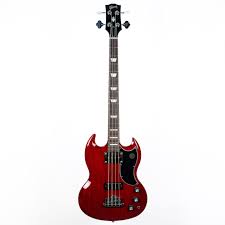 Gibson SG Standard Bass Review: A Classic and Powerful Electric Bass
The Gibson SG Standard Bass is a legendary instrument with a rich history that dates back to the 1960s. Known for its iconic design, powerful sound, and comfortable playability, the SG Standard Bass has been a favorite among bassists of all skill levels and genres. In this comprehensive review, we will discuss the features, construction, sound, and overall value of the Gibson SG Standard Bass to help you decide if it's the right bass for your needs.
Overview
Gibson is a renowned brand in the world of musical instruments, and their bass guitars have always been at the forefront of innovation and quality. The original SG Standard Bass was introduced in 1961 as a replacement for the iconic Gibson EB-0 and EB-3 basses, offering a more modern and stylish option for players. The current SG Standard Bass carries on this tradition, combining the classic design and sound of the original with modern updates and enhancements for today's musicians.
Construction and Design
The Gibson SG Standard Bass features a double-cutaway body shape with the iconic "horns" design that sets it apart from other basses. The body is made from mahogany, a tonewood known for its warm and resonant tone with excellent sustain. This choice of wood gives the SG Standard Bass a powerful sound that can easily fill a room or cut through a mix.
The neck is also made from mahogany, providing strength and stability while maintaining a smooth and fast playing feel. It features a 20-fret rosewood fingerboard with trapezoid inlays for easy navigation. The 30.5-inch scale length makes the neck more comfortable and accessible for players with smaller hands or those who prefer a more compact playing feel.
The hardware on the SG Standard Bass is solid and reliable, featuring a three-point adjustable bridge that allows for easy adjustments and stable tuning. The Grover Shamrock tuners are smooth and accurate, ensuring that the bass stays in tune even during extended playing sessions.
The SG Standard Bass is available in a variety of finishes, including Heritage Cherry and Ebony, allowing players to choose the look that best suits their personal style.
Electronics and Sound
The Gibson SG Standard Bass comes equipped with a versatile pickup configuration, featuring a Rhythm SG Bass pickup in the neck position and a Lead SG Bass pickup in the bridge position. These humbucking pickups are designed to deliver a powerful and punchy sound with excellent clarity and definition, making them perfect for a wide range of musical styles and genres.
The control layout includes separate volume knobs for each pickup, a master tone knob, and a three-way pickup selector switch, allowing players to easily shape their sound to suit various genres and playing styles. The passive electronics also contribute to the overall warmth and richness of the SG Standard Bass's tone.
Playability
One of the key selling points of the Gibson SG Standard Bass is its playability. The comfortable neck profile, combined with the 30.5-inch scale length, makes it easy for players to navigate the fingerboard and perform complex techniques with ease. The double-cutaway body shape also provides easy access to the higher frets, allowing for greater freedom when playing melodic lines or solos.
The medium jumbo frets and smooth fingerboard make playing the SG Standard Bass a breeze, even during extended practice sessions or performances. The lightweight and ergonomic design ensure that the bass is comfortable to hold and play for long periods without fatigue.
Value for Money
Considering its features, construction, and sound quality, the Gibson SG Standard Bass offers excellent value for money. While it may be more expensive than some entry-level basses, the SG Standard Bass provides a level of quality and performance that justifies its price tag. For those who are looking for a professional-grade instrument with a classic design and powerful sound, the SG Standard Bass is an excellent option.
Final Thoughts
The Gibson SG Standard Bass is an outstanding choice for bassists who want a classic and powerful electric bass with modern enhancements. Its combination of iconic design, versatile electronics, and exceptional playability make it a powerful and inspiring tool for creative musicians.
Whether you're a seasoned pro looking for a reliable and stylish gigging bass or a beginner who wants to invest in a high-quality instrument that will last for years, the SG Standard Bass is an excellent option that delivers impressive performance and value for money. With its rich history and wide range of tonal possibilities, the Gibson SG Standard Bass is a legendary instrument that deserves a place in any bassist's collection.