Top Best Musicman Bass Guitars
The bass guitar is an incredibly musical instrument that enjoys popularity and recognition all over the world. Almost no band can do without a bass guitar and its unique tone, which is why many musicians spend weeks or even months looking for the perfect bass.
Whether you're an aspiring musician or a professional performer, chances are you've heard of the original Music Man StingRay electric bass at least once in your life. This model is a legend, at least because a huge number of world-class bassists have used it on recordings and concerts. Since this model was released back in 1976, a huge number of other fantastic bass guitars have been created that deserve your attention. Thus, if you are interested in buying ernie ball music man bass guitars, then our top is exactly what you need.
Top Best Musicman Bass Guitars
Here are our top picks:
1)StringRay 5 (30th anniversary)
StringRay 5 is an incredible guitar that is one of the world's most innovative bass designs. This model appeared back in 1986, and to perpetuate this event, Music Man decided to introduce the StringRay 5 to the world, dedicated to the thirtieth anniversary of this model.
The body of this guitar is made of ash wood and has a transparent cream-color finish. Also noteworthy is the neck, which is made of roasted figured maple. The maple/rosewood fretboard is decorated with a white binding and stainless steel frets.
Speaking of the StringRay 5, it's also worth mentioning the pickup, which is exclusive to this model and provides great power and articulation. Also Music Man made a new preamp for this model.
So, if you've been looking for one of the best ernie ball musicman bass guitars, we definitely recommend that you take a look at the legendary StringRay 5.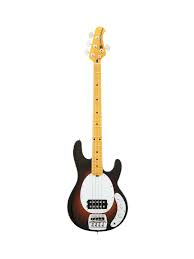 2)Old Smoothies
Another of the best music man bass guitars that we want to talk about, got its name due to its smooth tone, and reminiscent of the popular sound of Music Man StringRay – Old Smoothie.
This model features the one-of-a-kind custom made 10 pole piece Alnico pickup design that no bass player is indifferent to. Also Old Smoothie has an incredible design of alder body, headstock and pickguard shape.
Another distinctive feature of this model is its 34-inch scale maple neck and fingerboard, as well as high profile narrow frets, so you can play this musical instrument for as long as possible without getting tired.
Speaking of electronics, Old Smoothie has 2-band active EQ and hardware. So, if you're looking for one of the best ernie ball bass guitars with incredible smooth tone and quality build, don't hesitate to get Old Smoothie.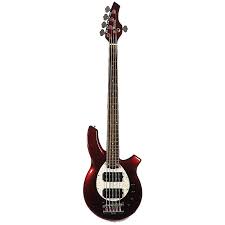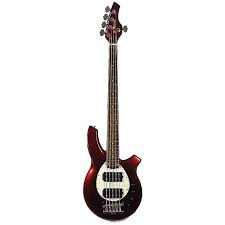 3) Bongo Bass
If you are looking for one of the ernie ball bass guitars that is everything you would expect from a bass guitar, then the Bongo Bass is definitely your favorite. This model is not only well balanced and comfortable, but also offers excellent resonance and good effortless playability.
The Bongo Bass has a basswood body with the double cutaway design and is a great build. The neck of the guitar has 24 frets and provides easy access even for high frets.
It should also be noted that this model is available in single humbucking, double humbucking and humbucking single configurations. In addition, Bongo Bass is equipped with its 4 band EQ, neodymium pickups and 18V active preamp.
In this way, you can get a powerful combination for incredible tonal diversity. This model is available in Firemist Gold and Firemist Purple finishes, both with black hardware. So, if you need MusicMan bass, then we advise you to pay attention to Bongo Bass.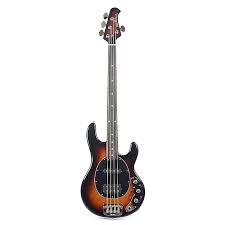 4)StringRay 4 NeckThrough
StringRay 4 NeckThrough is another great music man bass guitars that gives you access to the iconic StringRay sound. In addition, this model has an excellent resonant design, which you will receive with the neckthrough design.
Also, speaking about this model, it should be noted that you will get excellent access to the upper register frets without any problems, making the game as comfortable as possible.
We would also like to draw your attention to the fact that StringRay 4 is equipped with an updated low noise preamp, which provides a full and reliable tonality while maintaining the crisp attack that is important for many bass players.
StringRay 4 also has a 3 piece maple neck through ash body with rosewood fretboard. This is how you can get a solid tone and more sustain.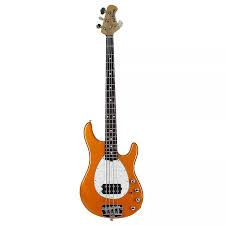 5) Sterling 4
If you're on the lookout for ernie ball bass guitars that offer a more aggressive sound, then you should definitely get the Sterling 4. This model features the StingRay's 11" radius fingerboard profile, but also features ceramic pickups.
Also the Sterling 4 has a much smaller body and narrower neck width than the StingRay. While studying this model, we also noticed its ceramic pickups, which give you a more aggressive sound and a strong midrange presence.
Speaking of the Sterling 4, one can't help but notice a 3 way switch and optional pickups in the neck position, which add to this model's versatility. So, if you're in need of one of the highest quality yet aggressive musicman bass guitars for sale, consider the Sterling 4.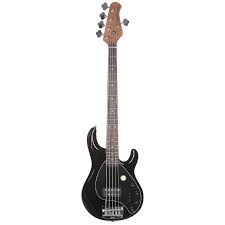 6) Sterling 5
Are you looking for black music man bass guitars? In this case, Sterling 5 will certainly appeal to you. Of course, a distinctive feature of this model is that it has five strings, so it is not suitable for every bass player.
Sterling 5 is a powerful enough model that will not leave indifferent both the novice musician and the professional.
Speaking of this guitar, we would also like to mention its ergonomic slimmer Sterling design, which is ideal for short players. In addition, the Sterling 5 has 9 volt active 3 band EQ, as well as a 3 position pickup selector switch and a ceramic humbucker (with hum canceling phantom coil come standard).
So, if you are looking for a good quality MusicMan guitar with 5 strings and a powerful sound, then there is nothing better for you than the Sterling 5.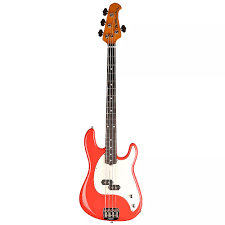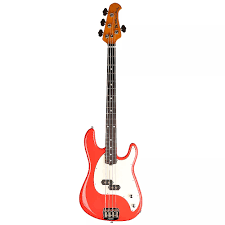 7) Cutlass Electric Bass
If you've been thinking about getting an of passive bass, then you should definitely check out the Cutlass Electric Bass. This model has a 7.5" neck radius (just like the Classic StingRay).
Talking about its sound, this model has a rich vintage tone suitable for most musical styles. Also Cutlass Electric Bass has more modern appointments that provide the most comfortable playing.
Speaking of this model's configuration, we also can't help but note the an old school split-coil humbucking design, which provides a more rounded tone.
Another distinguishing feature of this model is the top-loading bridge which is made from hardened steel and has a new oversized headstock. So, if you want a vintage yet versatile bass sound, you should definitely check out the Cutlass Electric Bass.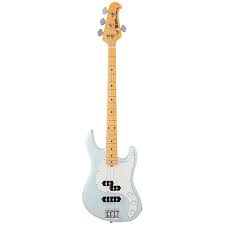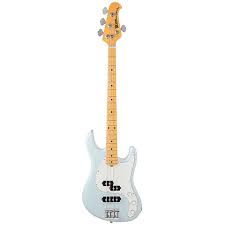 8) Caprice Electric Bass
Another passive bass that we want to bring to your attention is the Caprice Electric Bass. This model has the same neck radius as the Cutlass' (7.5"). However, unlike this model, the Caprice Electric Bass has an extra pickup that is closer to the bridge and allows you to mix two different voicings.
Speaking of the Caprice Electric Bass, this model is also extremely versatile as it offers you a huge variety of tones. You can purchase this model if you are looking for a passive bass with an additional pickup or if you need a model that provides a wider range of tones.
Conclusion
Choosing a bass guitar is always a rather laborious process that takes a lot of energy. You need to pay attention to a huge number of functions in order to choose the most suitable model for you. Whether you're looking for ernie ball bass guitars sale or cheap music man bass guitars, the decision can be tricky.
We compiled our top in such a way as to capture a wide variety of models. While some Musicman guitars are extremely versatile, others are only suited to specific musical genres. Pay close attention to your features and the things you are looking for in a guitar. We hope our list of the best Musicman bass guitars was as useful as possible and you were able to find a model that is perfect for you.