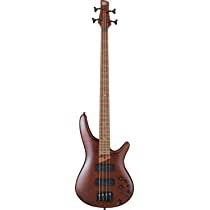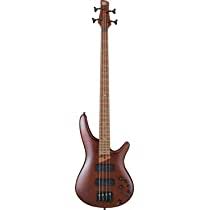 Ibanez SR500E Electric Bass: A Comprehensive Review
Introduction
In the world of electric bass guitars, Ibanez has carved a niche for itself with its Soundgear (SR) series. Today, we're focusing on one of the standout models from this series – the Ibanez SR500E.
Design and Construction
The SR500E is crafted from Okoume, a tonewood known for its warm and fat low-end response. It's a lightweight wood that offers excellent resonance and sustain. The body is sleek and contoured, making it comfortable to hold and play for extended periods.
The neck is a 5-piece Jatoba/Walnut combination, resulting in a robust and stable neck that withstands the rigors of aggressive playing. With a thin neck profile, the SR500E is designed for speed and comfort, allowing your hand to move effortlessly across its 24 medium frets.
Pickups and Electronics
The heart of the SR500E's sound lies in its Bartolini BH2 pickups. These dual-coil style pickups have a lower resonant frequency, providing a balanced, warm response with a tighter bottom end and a fuller midrange.
The SR500E also features an Ibanez Custom Electronics 3-band EQ with a 3-way mid-frequency switch, offering a wide scope for tone shaping. Whether you prefer a smooth, jazz-like tone or a more aggressive, punchy rock sound, the SR500E can deliver.
Playability
Ibanez has always prioritized playability, and the SR500E is no exception. The slim neck and deep cutaways allow easy access to the higher frets, making it ideal for both rhythm and solo playing. The string spacing is perfect for fingerstyle players, but it doesn't alienate pick players either.
Aesthetics
The SR500E is available in a variety of finishes, including Black Planet Matte and Brown Mahogany. The high-quality finish and the abalone oval inlays add a touch of elegance to this bass guitar.
Value for Money
The Ibanez SR500E is classified as a mid-range bass, but its features and performance could easily put it in a higher price bracket. It offers excellent value for money, especially for those who are looking for a versatile and reliable bass guitar that won't break the bank.
User Reviews
User reviews for the SR500E have been overwhelmingly positive. Users praise its lightweight design, comfortable playability, and the versatility of its sound. Whether they're playing jazz, rock, or metal, users report that the SR500E exceeds their expectations.
Conclusion
Overall, the Ibanez SR500E is a fantastic electric bass that combines style, comfort, and versatility. Whether you're a beginner or a seasoned pro, the SR500E is a worthy addition to any musician's arsenal.