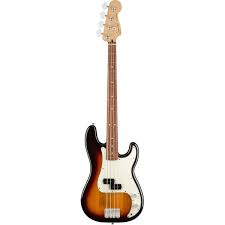 In-Depth Review of the Fender Player Series Precision Bass Guitar
The world of bass guitars is rich and diverse, but few names command as much respect and reverence as Fender. In this review, we'll be taking a close look at one of their latest offerings – the Fender Player Series Precision Bass guitar. This instrument is designed to offer the classic Fender style and tone, but with modern features and improvements that make it an ideal choice for today's musicians.
Right off the bat, the Fender Player Series Precision Bass boasts a solid alder body that is both sturdy and resonant. The body is finished in glossy polyester, adding an extra layer of durability while also giving the instrument a sleek, polished look. The guitar is available in various colors, including the classic Sunburst, Black, and Polar White, so you can choose according to your aesthetic preferences.
The neck of this bass guitar is made from maple, a material renowned for its bright tonal qualities and durability. The neck profile is a modern "C" shape, providing a comfortable grip for different hand sizes and playing styles. It's topped with a 20-fret pau ferro fingerboard, which not only looks stunning but also offers a warm tone and smooth playing experience.
One of the standout features of the Fender Player Series Precision Bass is its pickup configuration. It comes equipped with a Player Series split single-coil Precision Bass pickup, which is known for its punchy and powerful tone. This pickup delivers the classic P-Bass tone that has been a staple of countless records across various genres.
When it comes to hardware, the Player Series Precision Bass is fitted with a 4-saddle standard bridge. This design allows for precise intonation adjustment for each string, ensuring that your bass always sounds its best. The open-gear tuning machines provide reliable tuning stability, while the knurled flat-top control knobs give you precise control over your tone and volume.
In terms of playability, the Fender Player Series Precision Bass is a joy to play. The slim neck profile and the smooth fingerboard make it easy to navigate the fretboard, whether you're playing simple basslines or more complex runs. The action is set up perfectly right out of the box, with the strings sitting at a comfortable height above the frets.
Sonically, this bass guitar is versatile and impressive. From deep, growling lows to punchy mids and clear highs, the Player Series Precision Bass can cover a wide range of tones. Whether you're playing rock, jazz, blues, or any other genre, this bass can deliver the goods. The pickup provides a good balance of clarity and warmth, and it responds well to changes in your playing dynamics.
There are a couple of potential downsides to consider, though. Firstly, the weight of the bass might be an issue for some players, especially during long gigs. Secondly, some users have reported minor finish flaws, but these are rare and don't affect the instrument's performance.
In conclusion, the Fender Player Series Precision Bass is a top-notch instrument that lives up to the Fender name. It combines classic design elements with modern features, resulting in a bass that is versatile, playable, and great sounding. Whether you're a beginner looking for your first quality bass or a seasoned player in need of a reliable workhorse, the Player Series Precision Bass is worth considering. Despite a couple of minor drawbacks, the overall quality and performance of this bass make it a fantastic investment for any bassist.