TOP Best Guitar Amps For Metal
When it comes to finding the best heavy metal guitar amps, it can be a really tricky task, as you have to take into account a lot of the genre-specific details. While you can turn almost any amp into a good guitar amp for metal if you purchase a distortion pedal, the sound will still be significantly different. Thus, if it is important for you to convey exactly the specific sound of the metal genre, then of course you need to study best guitar amps for heavy metal.
Speaking of metal guitarists, their main concern is to find a direct signal path, so it's important to choose an amp that's designed with lower tunings, extreme gain setting and tight EQ. This way musicians can easily add drive or shape EQ. Also, when looking for reliable guitar amps for metal, it is important to pay attention to the manufacturer, as many brands in themselves mean good quality, time-tested. Our top metal electric guitar amps are a great solution for those musicians who don't know what features to look for.
What You Should Know Before Buying the Best Guitar Amp For Metal?
Before purchasing any electric guitar amplifier, it is important to remember exactly where you will be using it. For example, if you plan to practice at home, there is no need to buy a huge 200 watt amplifier that will make your neighbors call the police. In this case, you will need to purchase a small quality compact amplifier that will help you get a metallic sound at home. However, if you are planning to rehearse with a band and also perform in clubs or festivals, then you will need a more powerful monster that will provide you with the necessary metal tone and will be loud and powerful enough.
In addition, you should also pay attention to the specific characteristics of a particular amplifier. Now there are a huge number of heavy metal guitar amps, heavy metal guitar amps, hard rock guitar amps and more on the market. Your musical style will tell you which amplifier to choose. Also, don't forget about the cost: even if you can't spend a lot of money on the best heavy metal guitar amps, you can still find a huge number of good options for a reasonable price.
Top Best Guitar Amps For Metal
In our list of the best metal guitar amps, we've taken into account everything a metal guitarist could want and selected a variety of models to suit every budget.
1) Orange Micro Dark
We decided to start our top good metal guitar amps with a model that is the most suitable option for rehearsing at home. The Orange Micro Dark weighs only 1.72 lbs, which means it fits in a lot of space and is portable enough to be taken anywhere.
However, even though this guitar amp is tiny, don't underestimate it as it is capable of producing sizzling guitar tones. Orange Micro Dark is also often referred to as one of the best small high gain guitar amps.
Even if you're a beginner and have only been playing the guitar for a short time, it's worth noting that the set is pretty simple. First of all, it is worth mentioning that Orange Micro Dark is a single-channel hybrid amp with a solid state power section.
It also has excellent dynamic response thanks to a single 12AX7 tube. Speaking of the control panel, it has knobs for shape, gain and volume. We boldly refer Orange Micro Dark to the best high gain guitar amps, since during the tests we came to the conclusion that its power is enough even for small concerts, and an emulated headphones output will allow you to practice at any time convenient for you.
Before buying this amplifier, you should also know that it has a buffered effect loop on the back. So, if you are looking for a small but powerful amplifier with good high gain, then Orange Micro Dark is what you are looking for.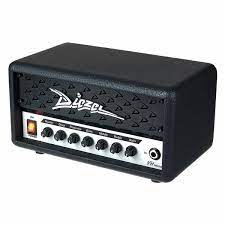 2) Diesel VH Micro
Our top guitar amps for rock and metal continues with another unique model that is an alternative to the Diesel VH4, an amplifier that costs over $4,000. A huge number of metalheads have been talking about an affordable version of the same amp as it's perfect for metal, and now they can get the Diesel VH Micro.
This is a great alternative to the Diesel VH4 which packs 30 watts of power and gives you the chance to get the unique Diesel tone for a reasonable price.
The Diesel VH Micro is as light as possible as it weighs only 1.8 kg, but at the same time it has the necessary power for both home rehearsals and small gigs.
What's more, many tops rank this amp as the best high gain guitar amps due to its tones. It's important to mention that the Diesel VH Micro has a three-band EQ, master and gain volume controls, and also deep and presence controls (which offer in-depth tonal sculpting).
Thus, the Diesel VH Micro can be safely classified as a classic metal guitar amps, as it is an impressive powerful studio instrument of good quality, offering a compact and good sound.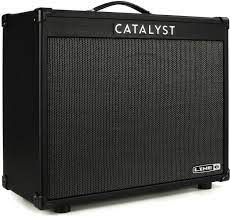 3) Line 6 Catalyst 100
If you love modeling combo amps and are looking for a reasonably powerful model, then the 100 watt Line 6 Catalyst 100 would be a great option for you. Moreover, you should feel free to purchase this option if you want your amplifier to combine effects, tones and amplification.
While it's hard to categorize it as the best guitar amps metal (because it wasn't made specifically for that musical style), it still offers you 6 Original amp designs built on Helix technology. What's more, the Line 6 Catalyst 100 offers 18 effects that include delay, modulation, pitch, and a dedicated reverb section.
This amp made our top good amps for rock and metal because it has USB, a traditional amp control layout, MIDI and a direct output so you could send your signal to a PA or recording setup.
What's more, the Line 6 Catalyst 100 has an FX loop and power amp input that allows you to use the cab as a powered speaker. Buying the Line 6 Catalyst 100, you will learn a huge number of effects and functions for your money.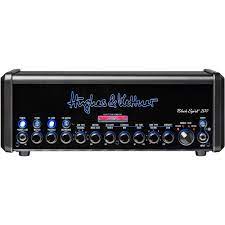 4) Hughes & Kettner Black Spirit 200
If you are looking for guitar metal amps with changable wattage, then Hughes & Kettner Black Spirit 200 is your best bet. The first thing to note is that it offers 200 watts of power, but it can be switchable down to 20W and 2W.
While solid-state amps don't have the best reputation right now, the amp market is changing and now you can get the best solid state amps ever. The Black Spirit 200 is often included in the top 10 heavy metal guitar amps due to its sheer number of features ideal for the metal guitarist.
We consider this model to be one of the best best rock/metal guitar amps as it reproduces 4 channels – crunch, clean, ultra and lead, which had fully programmable volume, gain and EQ knobs.
What's more, Hughes & Kettner Black Spirit 200 has a boost, raft of digital effects, programmable effects loop and Red Box DI cabinet emulation. Also noteworthy are the tones of this amp, which are truly impressive thanks to H&K's all-tube offerings.
5) Friedman BE-100 Deluxe
Still dreaming of high gain amps for guitar? Rounding out our top modern heavy metal guitar amps is another incredible 100 watt model that's enough to keep you performing and constantly improving your guitar skills, the Friedman BE-100 Deluxe.
We have categorized this amp as a great top metal guitar amps as it is renowned for its incredible build quality, durability and incredible sound.
You probably know that the best guitar amps for metalcore have many channels and this model has three available. Friedman BE-100 Deluxe has 2 overdrive channels, so this model can be safely attributed to the best high gain cheap guitar amps.
Channels 1 and 2 will also be ideal for distortion, as they offer impressive levels of filth. The Friedman BE-100 Deluxe weighs in at over 19kg, so if you're looking for a compact hard rock guitar amps, you might want to take a look at the other models on our list.
However, if the most important factor for you is incredible sound and awesome gain, then the Friedman BE-100 Deluxe will be your best choice among the best hard rock guitar amps.