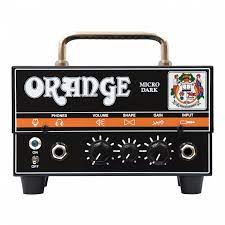 The Orange Micro Dark Review – Finding the Pros and Cons
Looking for a small, yet powerful guitar amplifier that can deliver a tone that is both rich and impressive? Then you might want to check out the Orange Micro Dark. Weighing only 1.72kg, the Micro Dark provides a sound that can rival much bigger amplifiers. But is it really worth the investment? In this Orange Micro Dark review, we will look at the pros and cons of this little beast, to help you make an informed decision.

Build and Design
The Orange Micro Dark is built with great attention to detail. It features a sturdy steel enclosure that can survive wear and tear. The amplifier also includes a headphone jack, which is perfect for practicing without disturbing others. The front panel is straightforward and easy to navigate, featuring knobs for Gain, Shape, and Volume. On the back, there are inputs for the speaker, fx send, and return.

Sound Quality
The sound quality of the Micro Dark is impressive, considering its size. The amplifier delivers a clean and crisp sound with impressive bass response. It's also designed to push the preamp tube hard, giving it a warm, crunchy sound that many guitar players love. The Micro Dark is an excellent choice for guitarists who are into rock and metal music.

Pros:
First off, let's talk about what makes the Micro Dark stand out. One of the biggest advantages of this amplifier is its sheer power, which is impressive for an amp of its size. The 20-watt hybrid amp features a 12AX7 preamp tube and a solid-state power amp section, giving it a unique sound, which works great for rock, metal, or heavy blues music. It also has a Footswitchable Attenuator, which allows you to switch the amplifier from 20 watts to 1 watt, giving you the ability to use the amp at home without disturbing your neighbors.

Another pro of the Micro Dark is its portability. The amplifier's lightweight and small size make it ideal for musicians who are always on the go, as it can easily fit into a gig bag.

Cons:
Although the Micro Dark is a great amplifier, it's not without its flaws. The amplifier lacks some features that many guitar players look for in a high-end amp. For instance, it doesn't have built-in reverb or effects loop, which means that you'll need to purchase separate pedals if you want to achieve these features.


Conclusion:

Having reviewed the Orange Micro Dark, it's safe to say that this amplifier packs a lot of punch for its size. It's a great choice for guitarists who are looking for a lightweight, portable amplifier with a great sound. However, it's not ideal for every guitarist, especially those who require built-in reverb and volume for larger venues. Overall, the Orange Micro Dark is a solid choice for guitarists who are into rock and metal music and want a compact amplifier without compromising on the sound quality.