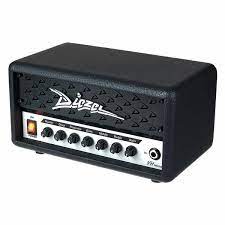 The Diesel VH Micro Amp Review – The Perfect Portable Amp for Musicians
Musicians are always looking for the best equipment to enhance their sound and performance. This is especially true when it comes to amplifiers. Diesel VH Micro Amp is a popular option in the market, and we decided to review it. This small-sized amp has gained quite the reputation among gigging musicians. But is it as good as people claim it to be? Let's take a closer look at this amp and explore its pros and cons.

Design and Build Quality
One of the most significant advantages of the Diesel VH Micro Amp is its compact and portable design. It is small enough to fit in a backpack and lightweight enough to carry around quickly. The perfect portable device for rehearsals, the stage, or even jamming sessions. The sleek design of the amp makes it the perfect addition to your gear if you need to travel frequently. A small downside to its design is that it's literally too small, which means there is only one input available.

Sound Quality
The sound quality of the Diesel VH Micro Amp is above average. The quality of sound you get is dependent on the instrument and settings. The EQ helps you fine-tune your sound, making it suitable for different musical styles. Also, the 3W output is enough to fill a small room, and there is no distortion even at high-volume settings.

Price
The Diesel VH Micro Amp is more budget-friendly than some of its competitors in the market. You can get this amp at a reasonable price compared to other amplifiers with the same level of output. This is an excellent opportunity for musicians just starting with their careers who are looking to balance affordability and quality.

Versatility
Despite its small size, the Diesel VH Micro Amp packs a big range of sounds. It comes with 3-band EQ and gain controls, offering various sounds to choose from. The 3W output surprisingly packs a lot of punch, enabling you to achieve an optimum volume for your musical needs. You can play blues, rock, jazz, and even pop on this amp. Also, the clean channel is an excellent feature for anyone looking to get a solid clean tone.
Conclusion

Overall, the Diesel VH Micro Amp is an excellent choice for musicians looking for a portable and affordable amplifier. It delivers quality sound within its range, making it worth considering if you are on a budget. While it has some limitations, it is perfect for personal use and small gigs. We highly recommend it for any musician who wants to improve their sound quality without going over their budget. We hope this review has been informative, and we are confident that you will make an informed decision based on the pros and cons discussed in this article.