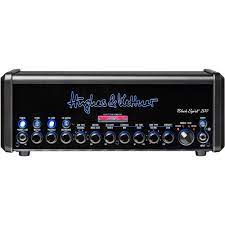 Hughes & Kettner Black Spirit 200 Review: Pros and Cons
If you're a music enthusiast or a professional musician, you know that a good amp is essential for a perfect sound. An excellent guitar amp doesn't just provide volume but improves the tone, dynamics, and soundstage of your guitar. The Hughes & Kettner Black Spirit 200 is one of those best amps out there. It's a compact amp that boasts a potent sound while occupying a small footprint. But is it worth investing in? This blog post provides all the pros and cons of the Hughes & Kettner Black Spirit 200, so you can decide whether it's the right guitar amp for you.

Portability and Versatile
The Hughes & Kettner Black Spirit 200's portability makes it favorable for guitarists that are always on the move. It's an all-tube amp, yet it's incredibly lightweight and compact, making it easy to transport. If you're traveling to a gig or studio, the Black Spirit 200 won't take up much space in your car, so you won't have to worry about mobility issues.
The Hughes & Kettner Black Spirit 200 is incredibly versatile, which allows you to fine-tune your sound to your unique preference. It offers two boost modes (Hi and Lo) and four different channels (Clean, Crunch, Lead, and Ultra). It also has customizable power controls that let you modify your output from 1 to 200 watts depending on your playing environment. Whether you're a heavy rock guitarist or a country blues player, you can create your ideal soundscape with this amp.
Sound Quality
Arguably the most crucial aspect of a guitar amp, the Hughes & Kettner Black Spirit 200 delivers outstanding sound quality. It has four different channels and a switchable boost that generate infinite possibilities for experimentation. The Clean channel and Crunch channel are fantastic, with clean and crisp tones that fare well in both studio recordings and live performances.

Price
The Hughes & Kettner Black Spirit 200 is an investment. This amp is expensive, which can be discouraging to musicians on a tight budget. It's a high-end guitar amp that caters to serious musicians who prioritize sound quality over cost. However, given the incredible sound quality, portability, and versatility of the amp, it's worth the investment.

Conclusion:

In conclusion, the Hughes & Kettner Black Spirit 200 is an outstanding amp that targets guitarists who are particular about their sound quality and tone. It's lightweight, portable, versatile, and delivers excellent sound quality. While it's a bit noisy on high gain and expensive, with our review, we considered these limitations as less important than its positive qualities. The amp's cons aren't dealbreakers, and if you're a serious musician, the Black Spirit 200 is a worthy investment. If you're looking for an excellent guitar amp with endless tonal possibilities, the Hughes & Kettner Black Spirit 200 is a must-have.