TOP ELECTRIC GUITARS UNDER $300
The guitar is one of the most popular musical instruments in the world. It's also very versatile, with many different playing styles and genres being made possible by its six strings.
Whether you're a beginner or an expert looking for your next ax, choosing between all the different types of electric guitars out there can be difficult, to say the least. There are so many makes and models available that it's easy to get overwhelmed. And this doesn't even take into account all the various price points you could choose from!
But don't worry – we're here to help! In this guide, we'll show you some of our favorite choices for great electric guitars under $300. You won't have to break the bank to get a quality instrument that will last you for years to come.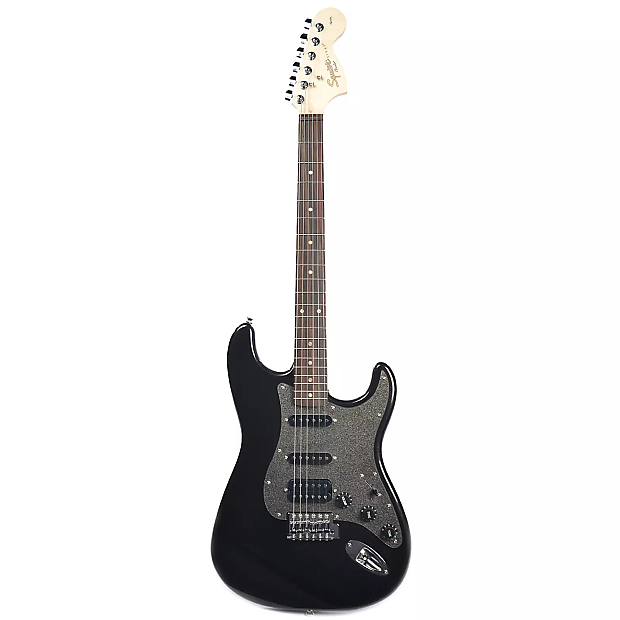 Squier by Fender has been on the scene for a long time now, but I feel like it's finally getting some recognition.
Maybe it's because the economy is hitting everyone hard or maybe it's due to today's sub-genre of rock music, but more bands are starting to use budget guitars. So all of our little brothers and sisters can also learn how to play without wasting half their rent money on gear.
I'm pretty cheap when it comes to gear myself, but I always had my eyes on an American-made Stratocaster HSS with a maple fretboard.
The only problem was that used ones were going for around $700 which is more than what some people pay for monthly rent! It wasn't until recently when Squier announced the release of the Affinity Series Stratocasters that I became interested in checking these out.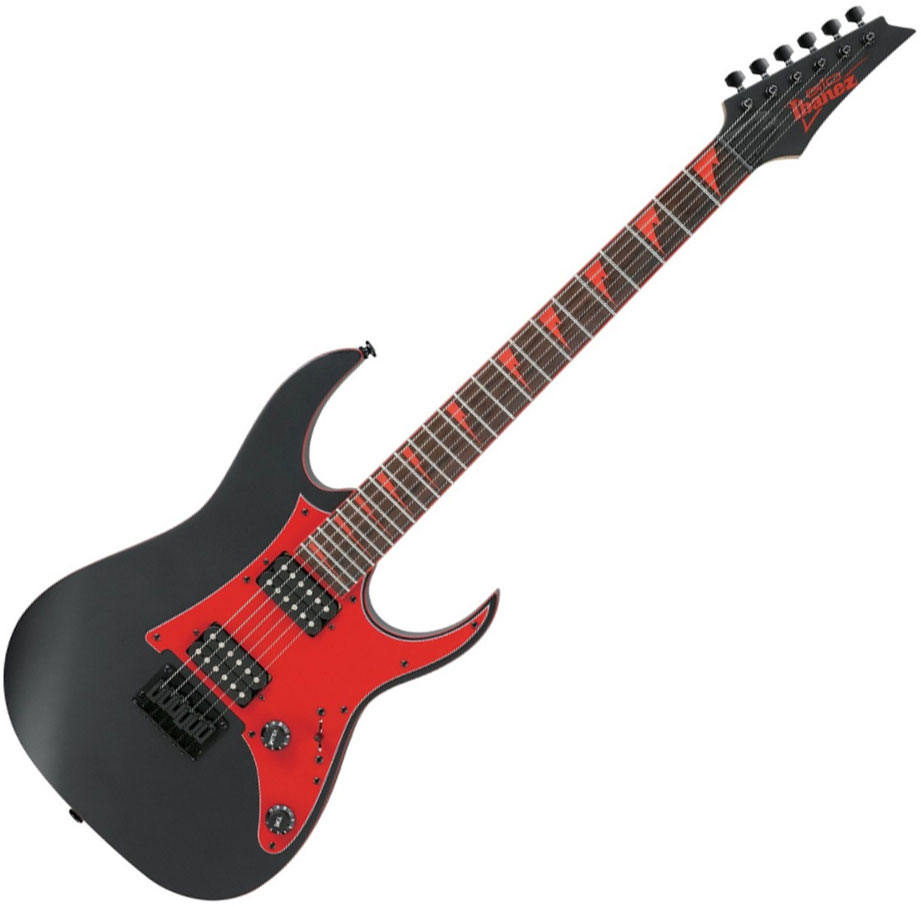 This guitar is perfect for an intermediate player, it has a ton of features that some guitars almost twice as much don't have. The body is basswood. Basswood is not as heavy as it sounds and is very resonant.It makes the string vibration more efficient allowing those lower frequencies to really come through. It also increases sustain(how long notes ring) which is great for palm muting and rumble chords.
The neck of this guitar is made from maple with a rosewood fingerboard. Maple gives a nice bright tone while rosewood adds smoothness to the overall sound giving it a richer tone. Not only does maple give you a brighter tone but it can also give you a little more attack to your sound, especially if you are playing with distortion. The neck features jumbo frets for comfortable chording and shredding licks.
This guitar has 24 jumbo frets which give you more room for quick chord changes as well as soloing. It also makes higher fret access much easier.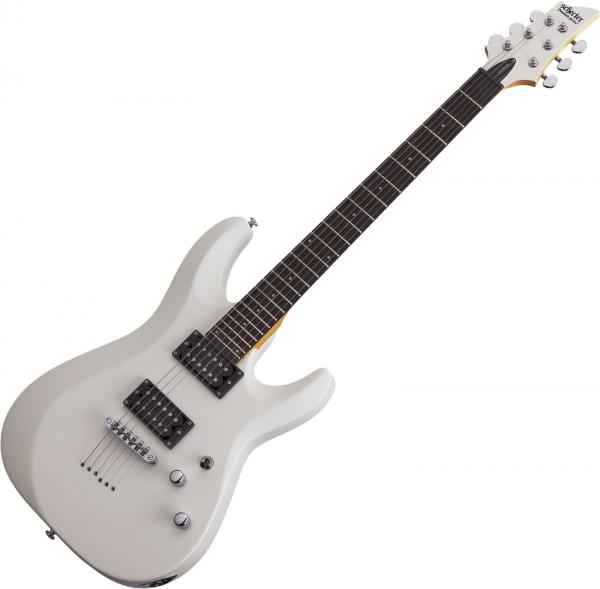 3) Schecter 432 C-6 Deluxe
The Schecter 432 C-6 Deluxe is straight out of the box a true rock guitar. I have always found that anything with the name "C" means serious business for any guitarist. You can easily find yourself shredding hours away to your favorite songs with this bad boy. It features two Duncan Designed humbuckers, Grover tuners, and set-neck construction. It has a mahogany body with a maple top, adding some sparkle to its looks as well as providing an amazing tone which is right up my alley!
The finish is called "emerald green", but it's more like a seafoam green color to me (I'm not complaining). And the pictures don't do it justice. Here are some close-ups. Also, it has a real Floyd Rose bridge so you can dive with no problems. The finish is great quality, I've had this guitar for nearly 2 years and there is barely even any marks on the back of the neck where your hand slides up and down.
All in all, I would give this 6 string monster an eight outta 10! For only $400.00 bucks with an amazing warranty, you'd be crazy not to pick one up.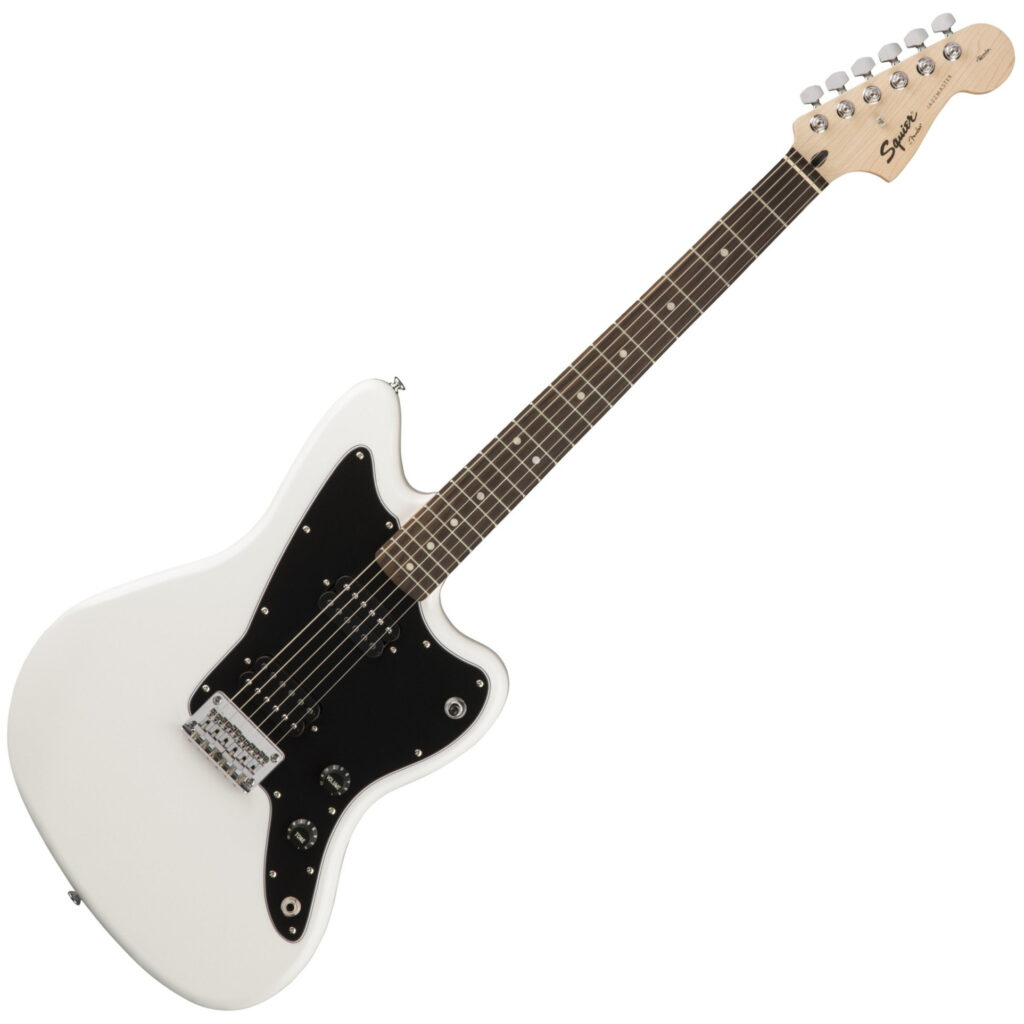 4) Squier by Fender Affinity Series Jazzmaster
Even though Squier Affinity Series Jazzmaster is not a vintage reissued guitar, it does feature many design elements that are clearly inspired by the original designs. For example, while body sides are flat and cut almost parallel to the ground giving Jazzmaster/Jaguar their distinctive look, fretboard has an offset contour which makes it more comfortable when you lay your hand on it. I would definitely rank this neck among the best I've played – perfect combination of slim profile with slightly wider "C" shape radius. It's also really fast thanks to satin finish without being too slippery.
The one-piece maple neck features skunk stripe running all the way through its length. While neck is not as thick as the one on my PRS SE Custom, it's definitely thicker than Fender Standard Series.
I would say that Squier Affinity Jazzmaster has neck profile and heft similar to the neck on Jackson Dinky. It might be a little thicker than what you would expect from a traditional "C" shape but it does not feel awkward at all.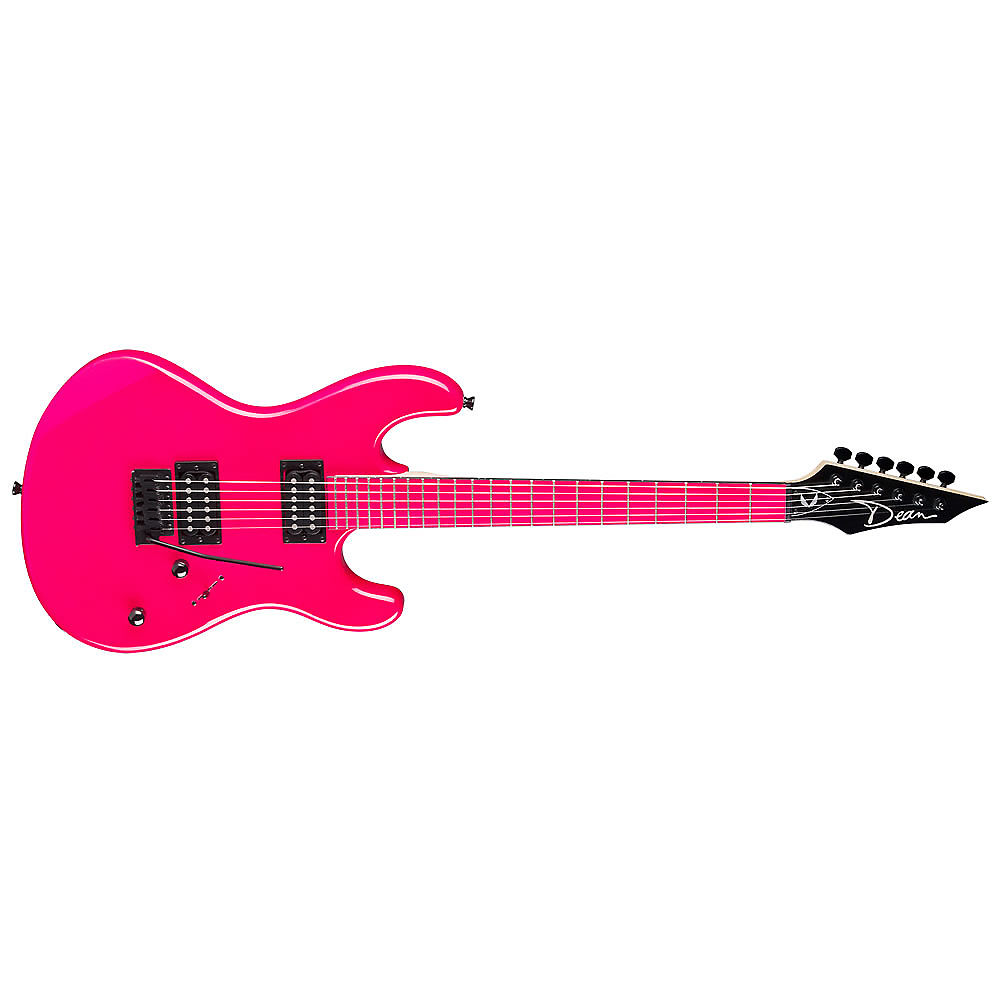 5) Dean Custom Zone
The PAC112V version has been discontinued from production but can still be found at some retailers. There are several variations of this model that have slightly different styling, hardware and electronics setup. In this review I'll take a look at the 112V's features and how it stacks up to other entry level guitars in its price range.
This guitar is available with either a humbucker or twin humbucker configuration, though both guitars feature a HSS pickup layout since the humbuckers share a tone control.
The guitar is packed in a standard Yamaha box and includes the guitar, an accessory kit, strap, cable and warranty information. A gig bag would have been nice but considering this is not always included with lower priced guitars I can forgive this omission.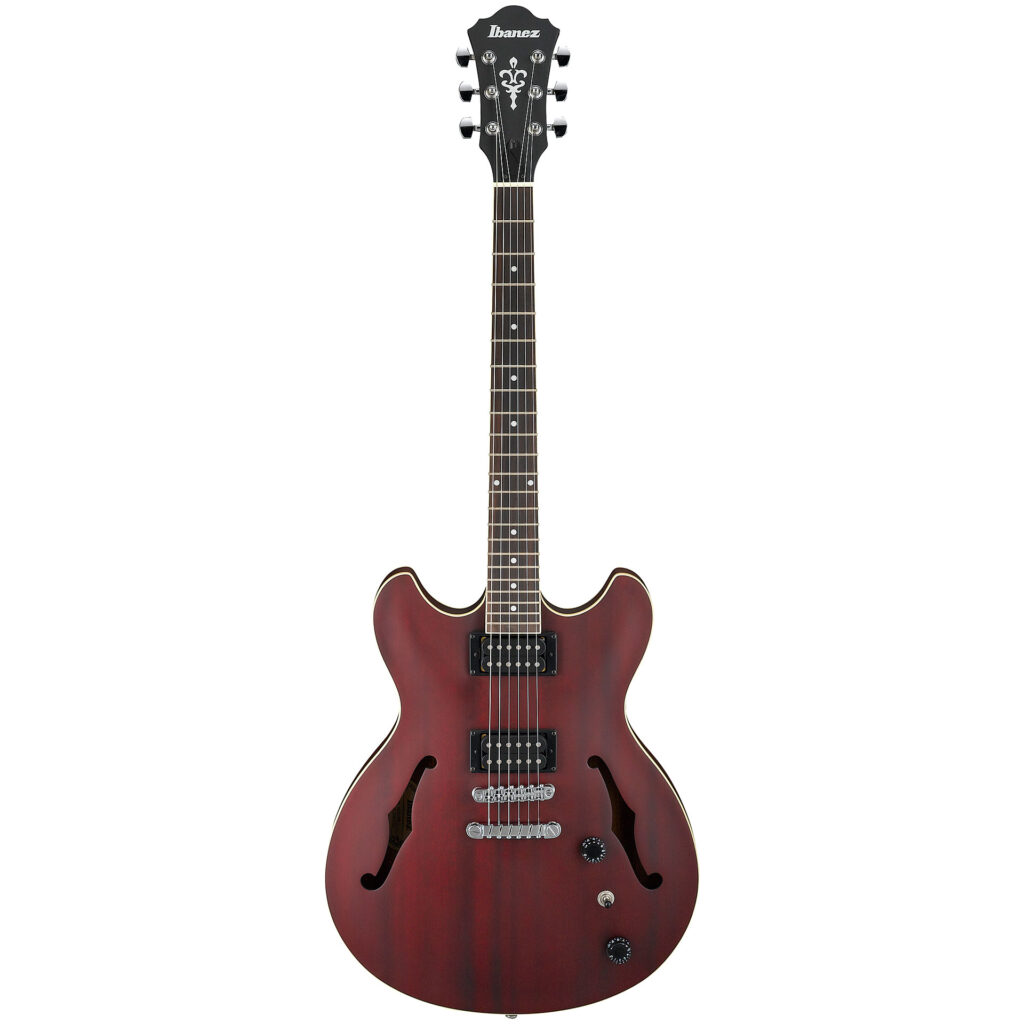 6) Ibanez Artcore AS53
The Ibanez Artcore AS53 electric guitar is a great option for those who are looking for an affordable instrument that still offers quality features.
This guitar has a mahogany body and neck, rosewood fingerboard, and dual humbucking pickups. It also comes with die-cast tuners and a Vintage Sunburst finish.
One of the things that makes the Ibanez Artcore AS53 so popular is its versatile sound. The dual humbuckers provide plenty of power and tone, making it ideal for a wide range of styles.
Whether you're playing blues, country, rock, or metal, this guitar can handle it all.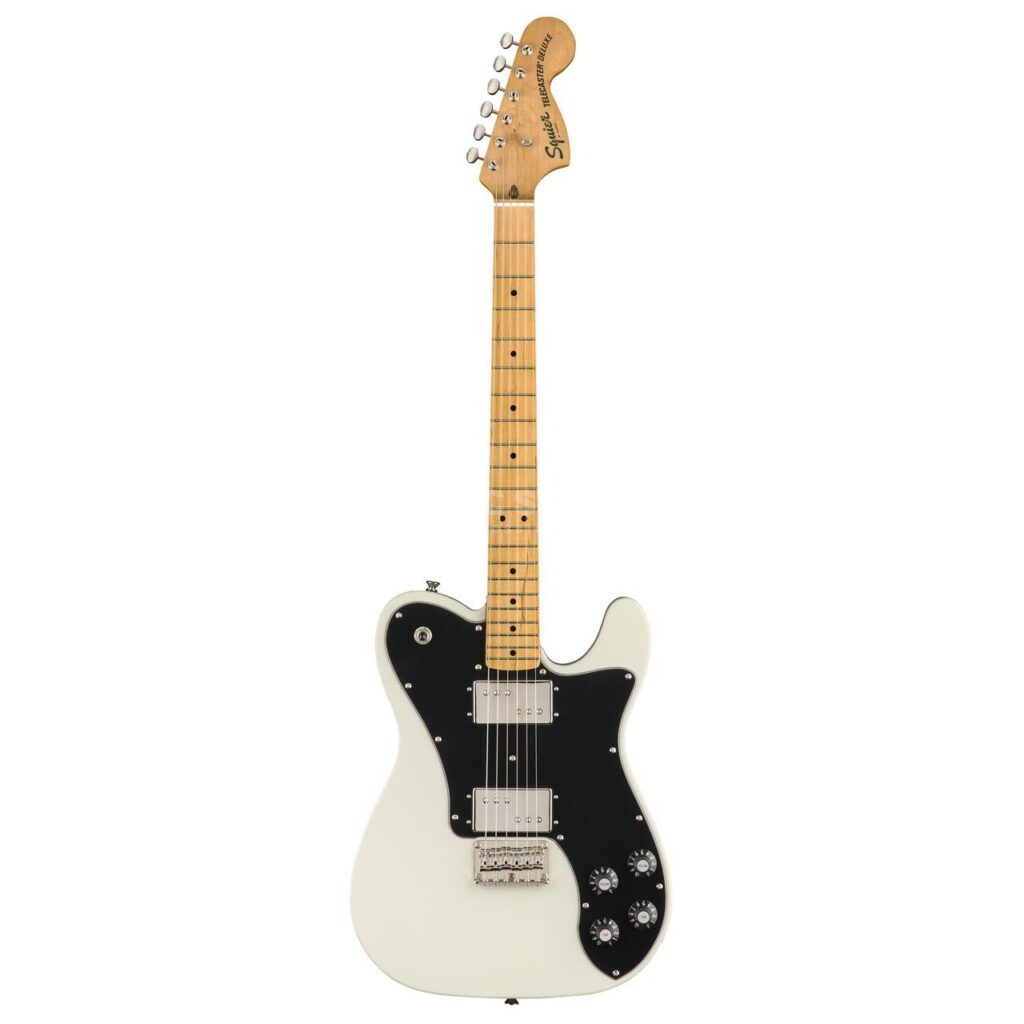 7) Squier by Fender Affinity Series Telecaster Deluxe
The body is made from solid alder, which gives this Telecaster a nice and full sound and also makes it heavy but not too heavy. Solid alders aren't used often for telecasters so this is an advantage over other brands where you can find more expensive telecasters with similar features but made from lighter woods like maple or basswood.
One thing I was very impressed about were how good the sides of the body were finished! Usually on guitars in this price range I have found that the sides are usually put under much less time and effort because it's not very visible, but Squier didn't cut any corners here. The finish is absolutely flawless!
The neck is made from maple with a small "modern C" shape. It has 21 medium sized frets. The fretboard radius isn't listed in the specs on the website but to me it feels like 12″ which is quite big for a telecaster, especially at this price point. This makes bending notes much easier than other guitars I've played. And even though I prefer thinner necks I can still play fast legato passages with ease on this one due to the well-rounded profile of the neck. This guitar doesn't have a vintage tinted neck finish but the matte satin finish feels nice to play.