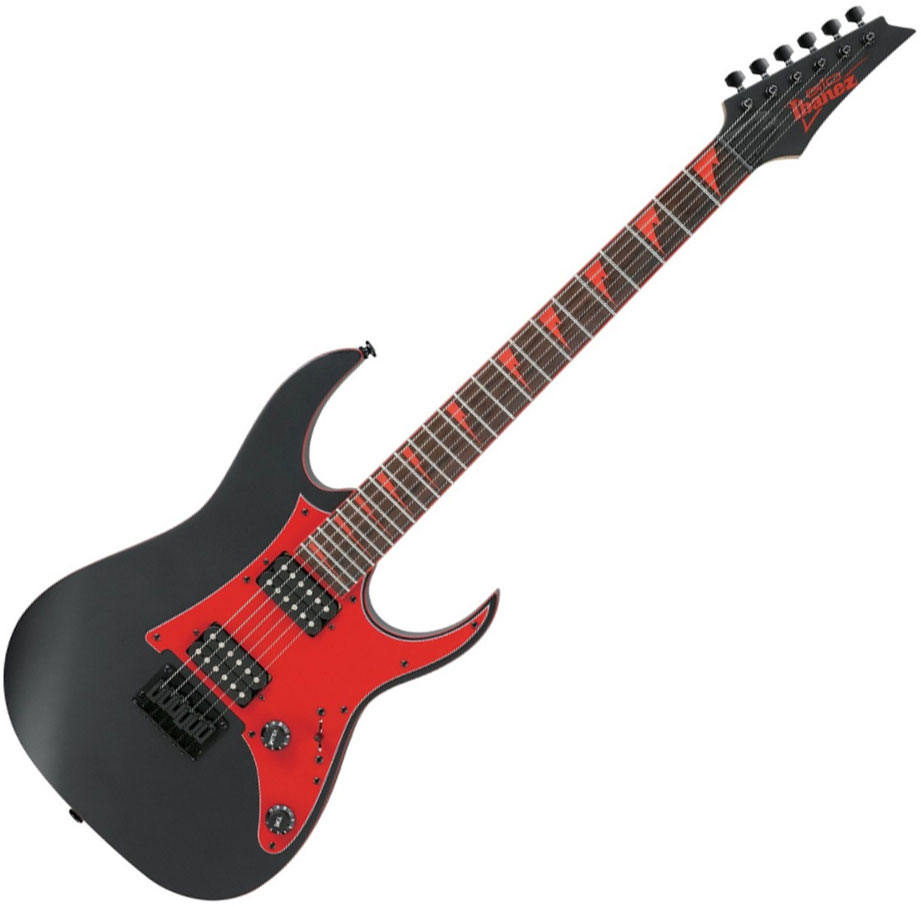 So, for this review, I've chosen the Ibanez GRG 131 dx. This was not an impulse buy, I have been looking at Ibanez guitars for a while trying to find one that fits me.
There are many things that go into finding the right guitar for you, and it all depends on what style of play you are wanting. Some key things would be the comfortability, price, sound variety, and looks. There are some features that are must-haves as well. If your budget is around 400$ then stay away from having active pickups(pickups with their own batteries) Ibanez makes great guitars but they put active pickups in them so they can sell them at a higher price tag which gets people who don't know any better to buy them.
This guitar is perfect for an intermediate player, it has a ton of features that some guitars almost twice as much don't have. The body is basswood. Basswood is not as heavy as it sounds and is very resonant.It makes the string vibration more efficient allowing those lower frequencies to really come through. It also increases sustain(how long notes ring) which is great for palm muting and rumble chords.
The neck of this guitar is made from maple with a rosewood fingerboard. Maple gives a nice bright tone while rosewood adds smoothness to the overall sound giving it a richer tone. Not only does maple give you a brighter tone but it can also give you a little more attack to your sound, especially if you are playing with distortion. The neck features jumbo frets for comfortable chording and shredding licks.
The nut is graphite which allows the strings to sit very close together giving it no slippage when you play allowing you to have faster playing, more accurate leads, and stable tuning.
This guitar has 24 jumbo frets which give you more room for quick chord changes as well as soloing. It also makes higher fret access much easier.
Guitars in this price range don't always have string-thru-body design but that's something I feel every guitar should have because of how stable they are. Strap locks are an option even on guitars in this price range so if you are on stage they will keep your guitar from slipping off your strap.
So far I have only mentioned the hardware this guitar comes with, but let's go more in-depth with some of these features. The pickups are Ibanez INF3(neck) and INF4(bridge). INF stands for integrated noise reduction. The advantage of having noiseless pickups is that they give you a cleaner sound, more headroom, and less feedback due to the removal of the ground wire.
For electronics, this has an Ibanez standard five-way switch which makes switching between pickups easier but most importantly it gives you three different pickup combinations instead of just one or two like most guitars. These are called a single-coil, humbucking, and humbucking single coil.
The first position gives you a standard single-coil sound like any other guitar, the second position uses both pickups together to give you that rich full tone that is great for power chords or rumbling palm mutes, third position is just the bridge pickup giving you more bite and responsiveness, the fourth position is the neck pickup with some overdrive from your amp adding even more richness to your overall sound, the fifth position uses both pickups together which is great if you are playing some funk licks or soloing.
Now let's talk about how this thing plays out of the box without any set-up work done on it. The action was very nice. If you are not sure what I'm talking about when I say action then just think of it as the way the strings play over the neck. Some people like very high necks while some like them lower, what you want to look for is how easy it goes up and down the neck without any resistance.
The neck felt great, it had a nice feel to it. It was not too thick or thin, this makes playing quick chord changes much easier on your fingers. Also with 24 frets, there is more room to move around on making your life on stage easier getting all those cool licks into your solos that only expand on what you can do musically.
This guitar comes stock with 9-42 gauge strings which are good but if you really want the most out of this guitar then I would suggest putting some 11-50 gauge strings on it. The thicker the string is then the more tension or pressure will be put on the neck. This means that when you are playing lead you can bend your notes with even more accuracy giving you a better soloing experience.
Now let's compare this to another guitar in its price range. First off Ibanez also has a model called GIO which has basically all of the same features but no string-thru-body design, no locking nut, and only one tone knob. Also if you want to get different color options it will cost more money for not much of an aesthetic difference.