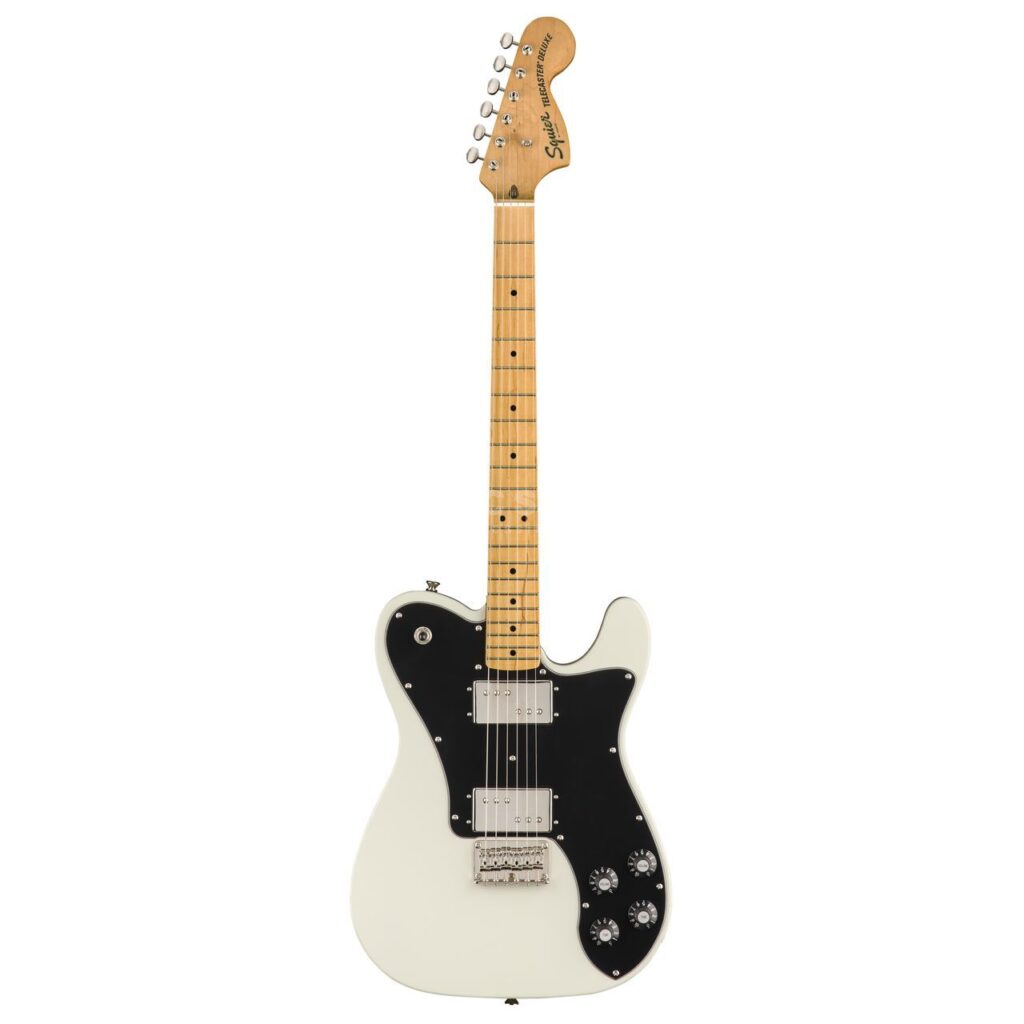 The Squier Affinity Series Telecaster Deluxe is a part of the Squier Affinity Series electric guitars. The series consists of affordable instruments that still maintain quality and playability.
The body:
The body is made from solid alder, which gives this Telecaster a nice and full sound and also makes it heavy but not too heavy. Solid alders aren't used often for telecasters so this is an advantage over other brands where you can find more expensive telecasters with similar features but made from lighter woods like maple or basswood. One thing I was very impressed about were how good the sides of the body were finished! Usually on guitars in this price range I have found that the sides are usually put under much less time and effort because it's not very visible, but Squier didn't cut any corners here. The finish is absolutely flawless!
The neck:
The neck is made from maple with a small "modern C" shape. It has 21 medium sized frets. The fretboard radius isn't listed in the specs on the website but to me it feels like 12″ which is quite big for a telecaster, especially at this price point. This makes bending notes much easier than other guitars I've played. And even though I prefer thinner necks I can still play fast legato passages with ease on this one due to the well-rounded profile of the neck. This guitar doesn't have a vintage tinted neck finish but the matte satin finish feels nice to play.
The hardware:
The tuners are pretty impressive for an instrument in this price range, they are very accurate and smooth when you tune up your guitar. I was surprised with how nice these were actually. When playing tremolo notes or bending them behind the nut it is noticeable that the tuning tends to go out of tune faster than other guitars do but this can be easily fixed by adjusting the screws on your bridge saddles so this isn't really a "con" in my eyes because you can fix it- It's just something to pay attention to when changing strings.
One thing I was not impressed about with this instrument is that the finish chips very easily. I don't know if it was a bad luck or a common issue, but after a few months of owning the guitar the finish started to wear off on the sides and even on some areas where it shouldn't be! This can also happen with other guitars in this price range so you have to take good care of your instrument!
The pickups:
When buying an electric guitar you should always pay attention to what kind of pickups come stock with it because that's basically what you will play through most of the time. The ones that Squier put into this Affinity Series Telecaster Deluxe are nice and they do their job very well! They provide decent cleans and really cool sounding distorted tones. For leads I usually boost the mids on my amp and use a thin-medium gain sound which works really well.
For the price it's great, you get all the features of a good telecaster with an upgraded set of pickups that actually sound good! If you're on a budget this is one of those guitars that I would recommend for beginners or just as a second guitar to have around.