Top Best Bass Guitars For Funk
It doesn't matter if you are a beginner or a professional musician, you are one hundred percent aware of a brand like Fender. It was this brand that created the first mass-produced electric guitar. What's more, since the brand released its first Fender Precision Bass, the bass market standard ESP is a Japanese guitar manufacturer that mainly makes electric guitars and basses. The company is currently based in Tokyo and Los Angeles and is owned by Hisatake Shibuya – the owner of one of the largest collections of guitars in the world. Moreover, most likely you do not know that he is also the owner of the Musician's Institute and Schecter. ESP and ESP LTD offer an extensive catalog of bass guitars, where every musician can find something for themselves.
Funk is a musical genre that combines boldness, pressure and rhythm. This is a fairly popular style, originating in the African American musical tradition. At first, jazz musicians called the word "funk" an energetic style of playing. She became the antithesis of the "flattened" performance of commercial jazz. At the moment, funk is quite easy to distinguish from any other musical movement. Its main features include a "gurgling" bass guitar, which sets the rhythm of the entire composition, as well as bold and hysterical vocals, which periodically calm down, as well as energetic and jerky wind instruments.
However, the main thing in funk is a special rhythmic pattern of compositions, powerful, inconsistent and heterogeneous. This is the so-called groove – a rhythm that inevitably makes the listener want to move to the music. It is thanks to him that you really want to dance to funk. And, as already mentioned, it is the bass guitar that sets the tone for the entire composition, so choosing the right model to get the right sound is very important. That is why today we will give you some tips on how to pick a good bass guitar for this genre, and also introduce you to the best bass guitars for funk.
How to Choose the Right Bass Guitar?
If you want to choose one of the best funk bass guitars, you should pay attention to the main features of bass guitars. We have listed the main ones below.
Pickups. There are 3 main types of magnetic pickups. Precision (P-style), aka split, which consists of two coils connected in series, perfectly suppresses noise, gives a rich timbre and deep sound. A pickup of this design is used by bassists of all musical directions. Jazz (J-style), commonly known as single, consists of a single coil and produces a natural, clean sound that is great for soloing. However, it is not well suited for overdriven sound. It is used in all genres where a clear bass sound is needed. The humbucker has two anti-phase coils connected in parallel, which successfully cancel each other's interference. It offers depth and dimension, as well as good reproduction of growling overdriven sound and is popular in heavy music genres.
Electronics. The bass guitar preamp (preamp) can be active or passive. Passive basses function without a power supply, have 2-3 controls and have fewer options for adjusting the sound. Active basses work only with a power supply, which makes the output signal more powerful, and the instrument itself has a three-band equalizer for tone adjustment.
Neck and methods of its fastening. The neck is one of the most important and there are now three main ways of fastening the neck – bolt-on, set-neck and neck-through. Bolt-on one is attached to the body with screws, and such instruments have a clear sound, and in case of any breakdown of the neck, it can be easily replaced with another one. The set-neck is not screwed to the body of the bass, but is inserted into a special socket and put on glue. The construction is reliable and durable, and such basses have excellent sustain. The downside is the impossibility of replacing the neck in the event of defects. The neck-through is an integral part of the bass body, making up a single whole with it. This design gives the neck extra strength, great sustain and good tone, but it also cannot be replaced if it breaks.
Scale. The standard version of the bass has a scale of 34 inches. There are also varieties with reduced scale of 30.32 inches and increased (36 inches). This setting greatly affects the sound of the instrument.
Frets. The number of bass frets for different models can be different, from 19 to 24 frets. As a rule, even a smaller number of them is quite enough for a successful full-fledged bass playing.
Wood. Basses made from higher density woods tend to sound brighter, clearer and cleaner, while less dense woods tend to sound richer and richer in overtones. Light woods tend to sound brighter than dark ones.
Top Best Bass Guitars For Funk
Now that you've got an idea of what to look out for in bass guitars, it's time to talk about the good funk sound bass guitars that are currently available.the options hoping to find a good model, our top picks are what you need.
Here are our top picks: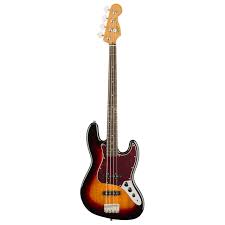 1)Squier by Fender Classic Vibe 60's Jazz Bass
Today we decided to start our top with a model that is one of the best bass guitars for jazz, funk and rock – Squier by Fender Classic Vibe 60's Jazz Bass. Whether you are a beginner or an intermediate bass player, this model will be a great option for you.
First of all, we would like to note that this instrument has a solid poplar body, as well as the original Fender design, which will not leave you indifferent. A separate advantage of the model, which makes it one of the best funky bass guitars, is the slim C-shaped neck profile, which provides the most convenient access to all frets.
We would like to pay special attention to nickel hardware with a gloss body finish, as well as Fender Alnico single-coil pickups, which have the richest sound for low frequencies.
The tuning stability of this model is also great, so you don't have to constantly think about how to tune your bass guitar. So, if you're looking for a good quality bass that has all the specs you need for funk, the Squier by Fender Classic Vibe 60's Jazz Bass is the way to go.
2)Ibanez SR375EF 5-String a Fretless Bass
Many five-string bass players find it difficult to find the right guitar, so today we're introducing the Ibanez SR375EF 5-String a Fretless Bass. This model will be a good choice whether you are starting your journey in music or already have experience playing a five-string bass guitar.
The versatility of Ibanez does not make anyone indifferent! Moreover, this brand has long established itself as a good and high-quality manufacturer of electric and bass guitars.
First of all, we would like to note that the Ibanez SR375EF has a maple body with a gloss finish, which already provides a good sound for this model. The instrument also features a maple neck with a fretless rosewood fingerboard and a slim C-shaped neck profile.
Thus, it will be as easy and comfortable for you to play this bass as possible, even if you have never held a guitar in your hands. Another great feature of this model is the ability to split your humbucker pickup. You can also experiment with your sound with independent volume and tone controls for each pickup. So, if you're looking for a good quality five-string funk bass that gives you room to experiment, check out the Ibanez SR375EF.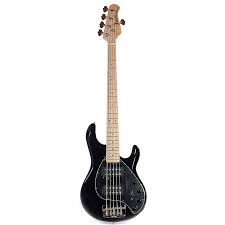 3) Ernie Ball Music Man StingRay
Ernie Ball Music Man StingRay is a bass guitar perfect for funk. Moreover, a huge number of popular funk bassists have played this guitar, so if you are a beginner and want to get into this musical style, there is nothing better than the Ernie Ball Music Man StingRay.
The main features of this instrument are a 3-band active EQ (which allows you to adjust the lows, bass and mids of the sound) as well as an MM humbucker and an active preamp.
Also noteworthy is the maple neck with a thin profile that allows you to easily access all the frets. Thus, Ernie Ball Music Man StingRay will not only allow you to comfortably experiment with different musical styles, but will also offer you an incredibly high-quality sound, perfect for funk.
4)Sandberg California II TM4
Sandberg is another great brand that makes high quality guitars suitable for beginners and professionals alike. So, even if you don't know anything about bass guitars, you can safely get Sandberg California II TM4 and be sure that you will get a good sound, perfect for funk.
First of all, we want to note that this bass has an incredible sound thanks to European Ash tonewood in combination with Delano pickups in a Single-coil/humbucker configuration.
There's also the ability to choose between a single-coil and a humbucker, giving you the flexibility to get exactly the sound you want. In addition, you can also experiment with the controls and match the tone you need. The slim neck profile will also add extra comfort to your playing and make the Sandberg California II TM4 one of the best basses available on the market.
5)Fender American Ultra Jazz Bass
Most likely you have heard at least once about the Fender American Ultra Jazz Bass – a versatile guitar that is well suited for both beginners and experienced bass players.
This model has an Adler body and D-shape maple neck with rosewood frets, which is very comfortable to play. Once you get your hands on this model, you'll never want to part with the Fender American Ultra Jazz Bass again.
While reviewing this model, we couldn't help but draw your attention to two ultra noiseless single-coil pickups that offer you the purest and clearest possible tone. What's more, with the Fender American Ultra Jazz Bass, you'll also get a pre-amp on the instrument, allowing you the ultimate in tone control as you like.
Thus, this model has a comfortable design, incredible playability and offers you a great Fender tone that is perfect for funk.