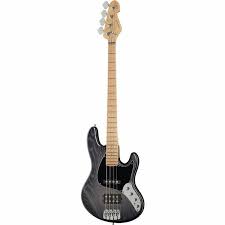 Sandberg California II TM4 Electric Bass Guitar: A Comprehensive Review
Introduction
In the realm of electric bass guitars, one instrument that has caught the attention of both novices and professionals alike is the Sandberg California II TM4 Electric Bass Guitar. This guitar harmoniously blends traditional design with modern technology, making it a preferred choice for musicians of varying skill levels. In this article, we will delve into the various aspects of this remarkable instrument, discussing its construction, sound, performance, and the viewpoints of both professionals and beginners.
The Construction and Design
The Sandberg California II TM4 Electric Bass Guitar is a testament to fine craftsmanship. The body of the guitar is constructed from Ash, a material known for its balanced tonal characteristics. The neck is crafted from Maple, adding a bright and clear tonal quality to the instrument.
The bass features a 34″ long scale length with 22 frets, which is the standard for most bass guitars. It also boasts mother-of-pearl dot fretboard inlays, adding a touch of elegance to the overall design.
The guitar is available in different finishes, including hardcore reserve tobacco or black matte, allowing musicians to choose based on their individual aesthetic preferences.
Sound and Performance
When it comes to sound, the Sandberg California II TM4 does not disappoint. It is equipped with a Delano J-Style and a Delano Power humbucker pickup. These pickups are renowned for their warm, punchy tones and versatility, making them suitable for a range of music genres.
The guitar's tone is further enhanced by its Rosewood fretboard. Rosewood is known for its rich, warm tone and smooth playability, making it a preferred choice for many bass players.
Professional Viewpoint
From a professional standpoint, the Sandberg California II TM4 is appreciated for its superior build quality and exceptional sound. The combination of an Ash body and a Maple neck results in a balanced tonal output, making it ideal for both studio recordings and live performances.
The Delano pickups are highly praised for their ability to produce a wide range of tones, from deep lows to crisp highs. This versatility makes the guitar suitable for playing different music styles, be it jazz, blues, rock, or funk.
Beginner's Perspective
For beginners, the Sandberg California II TM4 offers an excellent platform to learn and grow. Its standard scale length and 22 frets make it comfortable to play, while the high-quality construction ensures durability.
The guitar's versatile tone range allows beginners to explore different music genres and develop their unique sound. Furthermore, the inclusion of a gig bag provides beginners with a convenient way to carry the guitar to lessons or practice sessions.
Conclusion
The Sandberg California II TM4 Electric Bass Guitar is a remarkable instrument that offers a great balance of design, sound, and playability. Its top-notch construction, coupled with its versatile sound range, makes it a worthy investment for both professionals and beginners. Whether you're a seasoned musician looking for a reliable instrument for your gigs or a beginner eager to learn the ropes, the Sandberg California II TM4 is a guitar that won't disappoint.