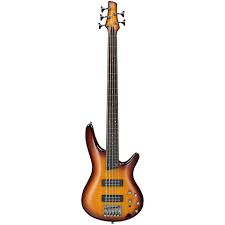 Comprehensive Review of the Ibanez SR375EF 5-String Fretless Bass
Introduction
The Ibanez SR375EF 5-String Fretless Bass is an instrument that has been making waves in the music industry. Known for its superior sound quality, aesthetic design, and comfortable structure, it has been lauded by both professional musicians and beginners. This review will delve into the features, performance, and overall value of this exceptional bass guitar.
Design and Build
The SR375EF is a stunning 5-string bass designed with the experienced musician in mind. However, its sleek and lightweight body makes it a suitable choice for beginners looking for a comfortable instrument to kickstart their musical journey.
The bass has a meticulously finished Maple body, which contributes to its visual appeal and tonal characteristics. The neck of the SR375EF is a standout feature. Its profile is a thin and flat 'D' shape, which users find incredibly comfortable. This design allows for easier and faster playing, making it a versatile choice for various music styles.
Moreover, the five-piece neck features a fast and slim SR-5 profile at the back and a fretless fingerboard on top, enhancing its playability and aesthetic appeal.
Performance and Sound Quality
In terms of performance, the Ibanez SR375EF 5-String Fretless Bass does not disappoint. Users have reported the bass's action to be far superior to many other brands in the market. The pickups produce a rich and well-rounded sound that can enhance any musical piece.
Despite being fretless, the fingerboard has classic fret and position markers, which can be a helpful guide, especially for beginners. This design allows musicians to achieve a smooth, 'mwah' sound that is characteristic of fretless basses, without the challenge of intonation control.
Value for Money
The Ibanez SR375EF is not just about aesthetics and performance; it's also about providing value for money. It is a value-packed electric bass with a comfortable feel that's great for beginners. The 5-piece maple/rosewood neck adds to its durability, providing extra strength for sustain and resistance to warping.
The heart of the SR375EF is the same – it continues to excite with its smooth, fast neck, lightweight body, and perfectly matched electronics.
Conclusion
The Ibanez SR375EF 5-String Fretless Bass is a remarkable musical instrument that delivers in terms of design, performance, and value. Its sleek and comfortable build, combined with its superior sound quality, makes it a favorite among both professional musicians and beginners.
Whether you are a seasoned player looking for an upgrade or a beginner seeking a reliable and user-friendly instrument, the SR375EF could be a perfect choice. It's worth noting that while this review provides a comprehensive overview of the Ibanez SR375EF, the best way to appreciate this bass guitar's qualities is to experience it firsthand. After all, music is a personal journey, and the right instrument can make all the difference.