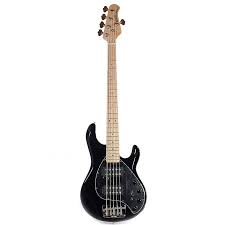 Review: Ernie Ball Music Man StingRay Special 5 HH
The Ernie Ball Music Man StingRay Special 5 HH is a testament to the brand's commitment to innovation and quality. This bass guitar is a modernized rendition of the classic StingRay design, featuring some impressive upgrades that make it a compelling choice for professional bassists and passionate hobbyists alike.
Design and Build Quality
The first thing that catches one's attention about the StingRay Special 5 HH is its impeccable design. The guitar has a sleek, streamlined look that is both modern and timeless, a nod to its predecessor's iconic design. It is available in an array of colors, including classic natural and black, as well as more vibrant options like burnt apple and aqua sparkle.
The body of the StingRay Special 5 HH is made of high-quality ash, which imparts a warm and resonant tone. The neck is built from roasted maple, a material known for its stability and resistance to changes in humidity and temperature. The fretboard is also made of roasted maple or rosewood, depending on the variant you choose.
The build quality is top-notch, as you would expect from Ernie Ball Music Man. The company has a reputation for crafting instruments that are durable and reliable, and the StingRay Special 5 HH is no exception.
Sound and Performance
When it comes to sound, the StingRay Special 5 HH truly stands out. The bass comes equipped with two humbucking pickups, which offer a wide range of tonal possibilities. These new neodymium magnets give the pickups a hotter output and a wider frequency range, resulting in a sound that is rich, punchy, and incredibly versatile.
The 18-volt 3-band preamp is another standout feature, offering enhanced headroom and superior tonal sculpting capabilities. Whether you're looking for a fat, growling bass tone or a clean, crisp sound, the StingRay Special 5 HH can deliver.
The instrument's playability is also worth noting. The redesigned neck joint provides better access to higher frets, making it easier for bassists to explore the full range of the instrument. The stainless steel frets feel smooth under the fingers, and the lightweight tuning machines ensure the bass stays in tune while reducing the overall weight of the instrument.
Final Verdict
In conclusion, the Ernie Ball Music Man StingRay Special 5 HH is a superb bass guitar that combines classic design elements with modern upgrades. Its excellent build quality, versatile sound, and enhanced playability make it a worthy investment for any serious bassist.
It is clear that Ernie Ball Music Man has put a lot of thought into every aspect of this instrument, from the selection of materials to the inclusion of innovative features. The result is a bass guitar that not only looks great but also sounds fantastic and plays beautifully.
While the StingRay Special 5 HH may be on the pricier end of the spectrum, its performance and quality justify the cost. If you're a professional bassist looking for a reliable, versatile, and high-performing instrument, or a dedicated enthusiast ready to take your playing to the next level, the StingRay Special 5 HH is well worth considering.
Rating: 9/10
Pros:
Excellent build quality
Versatile sound
Enhanced playability
Modern, attractive design
Cons:
High price point
May be too heavy for some players
Overall, the Ernie Ball Music Man StingRay Special 5 HH is an impressive instrument. It embodies the brand's commitment to quality and innovation, and it sets a high standard for other bass guitars in its class. Whether you're a long-time fan of the StingRay design or a newcomer to the brand, this bass is sure to impress.
Please note that this review is based on personal opinion and individual experiences may vary.