Top Best PRS Bass Guitars
Do you want to select and order PRS bass guitars online? Our top will introduce you to this brand and its history in more detail, as well as offer a top of the best PRS basses at the moment.
Bass lovers know how difficult it can be to find the right musical instrument. The choice of bass largely depends on your personal preferences, the style you prefer, the body shape, the number of strings you need, the design, and so on. In addition, of course, the bass should produce a good and high-quality sound.
Now there are a huge number of different companies and models on the market, among which it is quite easy to get lost even if you are an experienced musician. A beginner will no doubt need help choosing their first bass guitar, as it is easy to make a mistake due to the variety in the market. Today we will talk about PRS bass guitars, their distinctive features, and also offer you the best models that you can buy at the moment.
Whether you're a beginner with a minimum amount of money or a professional with an unlimited budget, ESP will offer you a ton of models, from traditional to exclusive.
What Should You Know About PRS Guitars?
PRS Guitars (also known as Paul Reed Smith Guitars) is an American guitar and amplifier manufacturer based in Stevensville. This company was founded back in 1985 and specialized in guitars with high quality electronics.
Paul Reed Smith started the brand on his own and then formed a partnership to set up a factory in Annapolis. The first noteworthy date for the company was the 1985 NAMM Show where it introduced the PRS custom, which is celebrated all over the world today. This guitar reflected an incredible balance between old and new and became a new word in the world of high-tech guitars. The main features of this model were mahogany neck and body with a maple cap, a patented vibrato. In addition, the guitar had customized tuning pegs and rotary pickup switching with high quality electronics. It should also be noted that in addition to the incredible appearance and good build quality, this model produced an amazing sound.
It was on that day that the career of the PRS brand began, as in just a few years the company already had more than 40 people and was producing about 15 guitars a day. Until now, PRS is very popular and high-quality electric and bass guitars.
What's Special About PRS Guitars?
As already mentioned, the guitars of this brand are largely replaceable due to their high quality construction. We want to pay special attention to two aspects – hardware and pickups.
First of all, we would like to mention the synthetic nuts and tuners, which have their own original PRS design. However, we also want to draw your attention to the fact that some models still use Korean-made Kluson-style tuners. A standout feature is that PRS guitars have three original bridge designs: a one-piece pre-intonated stoptail, a vibrato, and a wrapover tailpiece.
Separately, we would like to talk about the pickups of this brand, as they are designed and wound in-house. It should be noted that thanks to a unique rotary pickup selector switch, PRS pickups offer 5 different sounds. Speaking of the standard bass pick ups, they use magnetic pole pieces in the non-adjustable inner coil, and a rear-placed feeder magnet. This is what helps PRS guitars achieve a more vintage and acoustic sound.
Top Best PRS Bass Guitars
Now that you've gotten a little familiar with the history of the brand and its distinctive features, it's time to take a look at the best PRS bass guitars on the market right now.
Here are our top picks: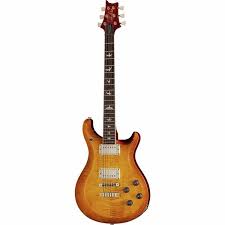 1)PRS McCarty
Price: $4,560
Body: Mahogany/Carved Figured Maple
Neck: Mahogany
Scale: 25″
Fingerboard: Rosewood
Frets: 22
Pickups: 58/15LT
Controls: Volume and Push/Pull Tone Control w/ 3-Way Toggle Selector
Finish: 18 Core Finish Options Available
If your budget is not limited and you want to get one of the best Paul Reed Smith bass guitars, then PRS McCarty will definitely be your favorite. You probably know Ted McCarty as the former president of Gibson Guitars.
It was he who largely influenced not only the formation of the rock and roll style, but also music in general, and also became Paul's mentor in his projects. That is why in 1994 the PRS company created a guitar, in honor of the man who over the years managed to become not only a mentor, but also a friend.
Speaking about PRS McCarty, it should be noted that it perfectly combines vintage and modern style. The instrument is not only visually beautiful, but also has an incredible quality mahogany body.
Although it is slightly thicker than other traditional guitars, and has a carved figure maple top, the model is not much different from the Gibson Les Paul. What's more, the Pattern neck profile is also based on the original neck that was designed by Paul before PRS was officially founded.
A distinctive feature of this guitar is its 58/15 pickups, thanks to which bassists can achieve an incredible retro tone. In addition, the guitar has a push-pull control, which makes it even more versatile. So, if you are looking for an incredibly high quality PRS guitars bass with a unique retro sound, you will not find anything better than PRS McCarty.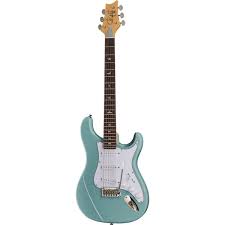 2)PRS SE Silver Sky
Launch Price: $849
Body: Popular
Neck: Maple
Scale: 25.5″
Fingerboard: Rosewood
Frets: 22
Pickups: 3 x 635JM "S" single coil
Controls: Volume and Two Tone Controls with 5-Way Blade Pickup Switch
Finish: Dragon Fruit, Ever Green, Moon White, Stone Blue
Recently, many bass players are interested in PRS SE bass guitars, so our top could not do without PRS SE Silver Sky. Moreover, if you do not have enough budget to buy other brand guitars, this model is perfect for you.
Many musicians have been waiting for an affordable version of the SE series, and finally it can be purchased, but before that it is important to pay attention to the changes made.
The first thing we want to note is that the body is now made of poplar instead of alder, but the guitar does not lose any of its sound. Moreover, this model still has that characteristic S-shaped tone in peaks, whatever the wood.
Also the 635JM "S" pickups are also different from the expensive model and are less crisp, but again this doesn't affect the sound as much. Thus, if you are looking for PRS bass guitars for sale, you simply cannot miss the PRS SE Silver Sky.
3) PRS CE24
Price: $1,999/£2,525
Body: Mahogany/Maple
Neck: Maple
Scale: 25″
Fingerboard: Rosewood
Frets: 24
Pickups: 85/15
Controls: Volume and Push/Pull Tone Control w/ 3-Way Toggle Selector
Finish: Charcoal Burst
Chances are you've heard of the original Custom 24, which is a lot like a Fender/Gibson combo. However, if you don't have the finances to buy the original version of the famous Custom 24, then you should definitely go for the PRS CE24.
Speaking about this model, first of all we want to note that it is equipped with a bolt-on maple neck, thanks to which you get a completely unique tonal character.
It should also be noted that the guitar fully lives up to its CE (Classic Electric) name, which means you get the classic PRS bass sound.
Moreover, the neck of this model will not leave you indifferent in many respects due to the fact that it is incredibly smooth and has a matte surface, as well as a Pattern Thin profile. So, if you're looking for a classic quality bass, be sure to check out the PRS CE24.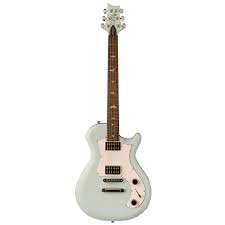 4)PRS SE Starla Stoptail
Price: $699
Body: Mahogany
Neck: Mahogany
Scale: 25″
Fingerboard: Rosewood
Frets: 22
Pickups: PRS-Designed DS-02
Controls: Volume and Push/Pull Tone Control with 3-Way Blade Switch
Finish: Black, Powder Blue
As you most likely noticed, all guitars of this brand have their own characteristics and aesthetics, and the model we will talk about now is no exception. The first thing we'd like to point out about the PRS SE Starla Stoptail is its massive mahogany body, which comes in jet black.
Also, speaking about this model, one cannot but pay attention to its electronics, and in particular to the DS-02 pickups developed by PRS. It is thanks to this pickup that you will get a completely different sound palette and will be able to experiment with sound at your discretion.
You will get a bright sound that cannot be achieved using other models of this brand. Thus, if you are a fan of pure tone, this guitar will most likely appeal to you.
Another distinguishing feature of the PRS SE Starla Stoptail is its wide, thick mahogany neck. Since it is solid enough, it is best suited for players who like a fuller neck profile.
However, for people of short stature or with small hands, it is best to choose a different PRS model. But believe me, by purchasing PRS SE Starla Stoptail – you will not regret it, as it will amaze you both with its tone and incredible appearance.