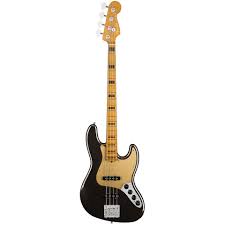 Review: Fender American Ultra Jazz Bass
There's a reason why Fender is a household name in the music industry, and that reason is their relentless pursuit of quality and innovation. The Fender American Ultra Jazz Bass, a flagship model in Fender's line-up, is no exception. This bass guitar speaks volumes about Fender's commitment to delivering top-tier musical instruments that are as aesthetically pleasing as they are performance-oriented.
Design and Aesthetics
The first thing that strikes you about the Fender American Ultra Jazz Bass is its sleek, modern design. It's a beautiful instrument that carries the classic Fender Jazz Bass silhouette but with a few modern touches. The body is made of alder or ash, depending on the color option you choose, with a high-quality gloss polyurethane finish that gives it a polished, sophisticated look.
The neck is a "Modern D" shape, made from maple, and features a satin urethane finish on the back with a gloss urethane headstock face. The fingerboard, available in rosewood or maple, depending on the variant, has rolled edges, making it incredibly comfortable and easy to play.
This model comes with a range of color options, including Mocha Burst, Texas Tea, Cobra Blue, and Ultraburst – all of which give the bass a distinctive personality. The chrome hardware and pearloid dot inlays add to the overall aesthetic appeal of the instrument.
Sound and Performance
However, the Fender American Ultra Jazz Bass isn't just about looks. It's a powerhouse when it comes to sound and performance. The bass comes equipped with newly designed Ultra Noiseless™ Vintage Jazz Bass pickups. These pickups deliver all the vintage warmth and crisp, clear sound that Fender Jazz Basses are known for, without any hum.
The real game-changer here is the introduction of the active/passive switch and a three-band EQ when in active mode. This feature offers players immense versatility, allowing them to switch between a modern, punchy tone with enhanced treble and bass (active) and a more classic, vintage tone (passive).
Playability
Fender has outdone itself in terms of playability with the American Ultra Jazz Bass. The tapered neck heel and the high-quality compound-radius fingerboard make fast playing and reaching for higher frets a breeze. The 21 medium-jumbo frets are well-dressed and easy to navigate, and the ultra-precise 18:1 ratio tuners offer excellent tuning stability.
The redesigned preamp with Treble, Mid, and Bass Boost/Cut offers players an extensive range of tonal possibilities, ensuring that this bass can cater to virtually any musical genre.
Durability and Craftsmanship
In terms of durability and craftsmanship, the Fender American Ultra Jazz Bass is second to none. The build quality is exceptional, with attention to detail evident in every aspect of the instrument. The premium materials used ensure that this bass will stand up to the rigors of gigging and regular use.
Conclusion
In conclusion, the Fender American Ultra Jazz Bass is a testament to Fender's ability to evolve while staying true to their roots. The blend of classic aesthetics with modern features results in a bass that is versatile, comfortable to play, and simply sounds fantastic. Whether you're a professional musician looking for a reliable workhorse or an amateur seeking a high-quality instrument, the Fender American Ultra Jazz Bass is a solid investment.
Yes, it comes with a hefty price tag, but considering the craftsmanship, sound, playability, and versatility it offers, it is worth every penny. With the Fender American Ultra Jazz Bass, you're not just buying a musical instrument; you're buying a piece of Fender's legacy that promises to deliver for years to come.