Top The Most Expensive Bass Guitars
Bass guitar is one of the most important instruments when it comes to music production. Being a popular instrument that finds its way to almost everything we listen to these days, and there being a huge market for them brands try to come up with higher quality or limited editions of such guitars to one-up their competitors. This race towards the top results in some spectacular guitars that we guitar enthusiast would dream to own one day. But what are some of the most expensive, most rare guitars out there? We gathered some of the most expensive bass guitars in this list for you to enjoy.
Numerous artist have played the bass guitar ever since the 1950s. Its a common instrument used in many musical genres including jazz, funk, blues and rock. It serves as the ideal link between melody and beat. There are many different kinds of bass players, from people who casually pluck simple notes to keep up with the band to innovators akin to Viktor Wooten.
Top The Most Expensive Bass Guitars
Here are our top picks: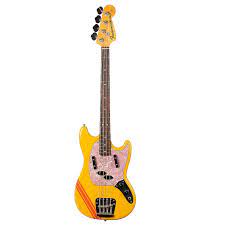 1)1969 Fender Mustang Bass
We are pretty sure you ever heard of the band The Rolling Stones ? The bass player for this world renowned band, Bill Wyman himself was using this exact guitar on Rolling Stones recordings between 1969 and 1970.
When this guitar got sold in an auction back in 2020 it broke the previous record of Paul McCartney Hofner bass which was sold at another auction for 204,000$ back in 2013. The number that broke this previous record was a whopping 384,000$. The buyer not only received this amazing bass guitar but also other gear that belonged to Wyman like his amp.
The guitar had more to offer than just its story. The amazing orange finish and stripes on the side gave it a distinct look. The model was aimed at younger players, having bright colors and stripes but as we know, it instead attracted one of the most famous bass guitar players of all time.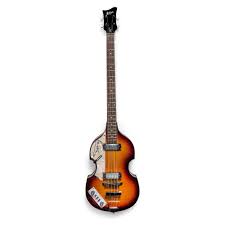 2)Paul McCartney's Hofner 5001 Violin Bass
The most recognizable guitar of all time, the Hofner 5001 Violin Bass famously used by Sir Paul McCartney. The world known artist got his hands on this bass guitar right after he moved on from playing the piano.
After it got stolen, he got his second bass in 1963 and still plays it. The Hofner 5001 was originally a right handed bass. Since Sir Paul McCartney was left handed, he decided to flip it upside down to be able to play it.
This bass now has a new owner, after getting auctioned off for 204,000$. A notable fact is that the musician himself purchased the guitar for less than $50, but it was sold at auction for more than $200,000.

3)The Ritter Royal Flora Aurum Bass Guitar
Another one of the legendary basses that should definitely be on our list of the most expensive models is the incomparable The Ritter Royal Flora Aurum Bass Guitar. As you probably know, Jens Ritter is one of the most famous luthiers specialized in electric instruments.
He is most knows for his custom guitars and basses with their standout designs but this one, the Royal Flora Aurum, is special. The current price of this model is even higher than that of the previous guitar –
$225,000. Moreover, this babe was the record holder for the most expensive bass guitar until Wyman's guitar got auctioned off for $382,000. It's hard to guess who this guitar is made for, but it's safe to say that the model is made from premium materials, the maple neck and its quilted design and the craftmanship that went to produce this guitar makes us bass enthusiast drool.
However, despite all the premium material, is this guitar really worth a quarter of a million dollars? In fact, this model still has something to surprise you. From the flower features on its fingerboard to the knobs this guitar is dripping in gold.
Also the flowers we talked about, their leaves have platinium dipped black diamonds on top of everything else. The diamonds make another appearance on the knobs, each of them to be clear. The position marks of each button also have green diamonds.
But the exclusivity of the materials doesn't end here, Ritter went all out on this one. The nut of this bass is made of ivory from a 10,000 year old Siberian Mammoth (the ones that went extinct thousands of years ago). I think we can all agree this makes it one of the fanciest basses ever.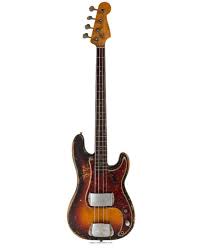 4)James Jamerson's 1961 Fender Precision Bass
Is there any bass player who has never heard of a Fender Precision Bass in their life? Most likely not. Therefore, it is not at all surprising that James Jamerson's 1961 Fender Precision Bass is also on our list of the most expensive guitars in the world. You probably know that James Jamerson (from Motown) is among the most legendary bass players in the world. Moreover, his name is associated with the best Motown's songs, specifically the ones produced between 1960 and 1970. His work earned him a place in the famous Rock n' Roll Hall of Fame.
Of course, Jamerson has been playing this Fender Precision Bass starting all the way back in 1961. This guitar gave him musical masterpieces that the whole world still enjoys today. The sunburst finish on it which has faded due to years of use is another thing that makes this one special and unique. His bass got sold at an auction in 2017 for a little over $68,000.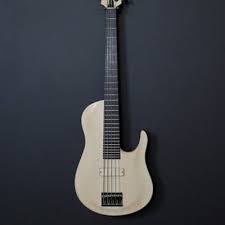 5)Fodera's Antony Jackson Presentation II Bass
If you're not new to music and have been interested in bass guitars for a while, you've probably heard of Fodera's Antony Jackson Presentation II Bass. Fodera Guitars is a Brooklyn-based company that specializes in handmade guitars and basses. The brand was assigned to make a guitar for the "Bass Master" Antony Jackson to match his skill level.
Perhaps you know that Jackson was known as a true innovative artist, which is why the Fodera brand faced a difficult, but at the same time interesting task – to create something unique for him. Years of alterations and modifications went into this six-string bass before it met Jackson's requirements.
Presentation II features. It was a hollow body guitar made of hybrid alder wood with a heel-less attachment to the neck and body. The top surface and the back are made of hand-carved holly. This guitar has been in the making for years and is therefore one of a kind. According to fodera.com, "the starting list price for a Anthony Jackson Presentation II is $35,200."
6)Alembic Double-Neck John Judge "Goliath Bass"
We've decided to finish our top-of-the-line bass guitar that doesn't go unnoticed and is not suitable for the average classical bass player, the John Judge "Goliath Bass". Just looking at this model, you will understand that it lives up to its name.
The very feature of this model is that it has a double neck, as the name suggests. This bass, played by bassist John Judge, was the only one for him. If someone were to buy this custom model from Alembic now, it would cost them about $30,000.
Zebrano, mahogany, maple, ebony and purple heart are among the woods used in this guitar. The inlay depicts a monster imprisoning a young woman. No wonder Judge designed it himself, being a man who loved mythology. This guitar is a real monster for experienced bass players and true virtuosos, which opens the door to a world of unexplored functionality.
Conclusion
Fender is a brand that has been surprising musicians around the world with its guitars for many ESP is a brand that has a specific reputation, but at the same time offers a huge variety of quality m
As you may find, the bass guitar market has a huge number of models of its kind available. Whether it's a bass from a legendary musician or a guitar with diamonds, each model has a great story behind it, which is important and worth listening to. However, of course, every bass guitar, even the cheapest one, will be unique and special to its owner. Moreover, if you buy a guitar for just a couple of hundred bucks and soon become a popular musician, be sure that your model will also go for tens of thousands of dollars at auction.
These guitars are among the most coveted by bass players around the world. I think our top of the most expensive bass guitars was useful to you and inspired you to new musical achievements. Good luck!