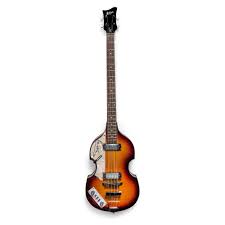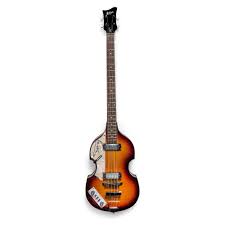 Paul McCartney's Iconic Hofner 5001 Violin Bass Guitar: A Deep Dive
Paul McCartney, a name synonymous with the Beatles and the evolution of rock music, has become an icon not only for his musical talent but also for his instrument of choice – the Hofner 5001 Violin Bass guitar. This article will journey through the history of this iconic instrument, its features, and why it became such a significant part of McCartney's musical identity.
The Origins of McCartney's Hofner 5001
Paul McCartney acquired his first Hofner 5001 Violin Bass in 1961 during the Beatles' early years in Hamburg, Germany. Interestingly, McCartney didn't initially own a bass guitar, which could have posed a problem for the budding musician. However, his crew were able to locate a left-handed 1967 500/1 for him, which he began to use extensively.
The Hofner 5001 model was introduced in 1955 and gained celebrity status during the 1960s as the primary bass used by McCartney. Being left-handed, McCartney had custom ordered his first bass through the Steinway shop during a two-month residency at the Top Ten Club in Hamburg.
Design & Features of the Hofner 5001
The Hofner 5001, often referred to as the "Beatle Bass," is noted for its unique violin-like shape, lightweight design, and distinctive tone. This acoustic instrument is tuned G, D, A, E like the last four strings of a guitar but an octave lower, providing a rich and resonant sound. McCartney's 1963 500/1 quickly became his primary bass, superseding the 1961 model he initially used.
The Significance of the Hofner 5001 in McCartney's Career
Over 60 years into his career, McCartney has remained faithful to his Hofner 5001 model bass, using it both during his time with the Beatles and throughout his solo career. The Hofner pairs exceptionally well with McCartney's melodic and fluid playing style, contributing significantly to the unique sound of the Beatles.
The Hofner 5001 from a Professional's Perspective
From a professional standpoint, the Hofner 5001 Violin Bass stands out for its distinctive sound, iconic design, and the rich history associated with it. Its lightweight structure and ease of handling make it a preferred choice for many musicians. The tone of McCartney's Hofner bass is incredibly well-suited to his playing style, offering a warm, deep, and resonant bass sound that professionals appreciate.
The Hofner 5001 from a Beginner's Perspective
For beginners, the Hofner 5001 may seem like an ambitious choice given its iconic status and unique design. However, its lightweight feature makes it relatively easier to handle, especially for those just starting their musical journey. The Hofner 5001 offers a great opportunity for beginners to experiment with and learn the nuances of bass playing.
The Legacy of McCartney's Hofner 5001
The Hofner 5001 Violin Bass guitar has become much more than an instrument; it's a symbol of McCartney's musical journey and an iconic piece of rock history. Today, various versions of the Hofner 5001, including limited editions and vintage originals, are sought after by collectors and enthusiasts worldwide.
In conclusion, Paul McCartney's Hofner 5001 Violin Bass guitar is more than just an instrument; it's a testament to his musical genius and a crucial component of the Beatles' legacy. Whether you're a professional musician, a beginner, or a passionate fan, the Hofner 5001 holds a unique charm and significance that transcends generations.