Top Best Fender Jazz Bass Guitars
The bass guitar is the musical instrument that no musical group can do without. It has been popular for decades for its unique, inimitable sound. If you're an experienced musician and have been playing the bass guitar for a while, chances are you know how important it is to find the right instrument. The more attention you put into buying your bass guitar, the more likely you are to spend a lot of time on the instrument and practice, reaching the heights of musical excellence.
Fender is a company that has established itself as a reliable and high-quality manufacturer of electric and bass guitars. Even if you are a beginner and choose your first bass guitar, you still most likely heard about this brand at least once. Today we will turn your attention to jazz guitars from Fender, which are also very popular among musicians around the world. We will tell you about their distinguishing features and then provide you with the top 5 Fender bass guitars jazz that can be found on the market at the moment.
Why Fender Jazz Bass Guitars Are So Popular?
Jazz guitars from Fender are the most recognizable instruments of all time, as they offer a versatile sound and distinctive design. Moreover, although these guitars are made for jazz, they are also suitable for many other musical genres. However, which tool is right for you? There are countless options on the market right now, and even if we're only looking at Fender guitars, you'll have to spend a lot of time picking the best one. Let's take a look at the main features of this brand's bass guitars, and then explore the most popular options on the market.
Design. A very important component of any guitar is its design, as it will affect how much time you want to spend on a musical instrument. The main advantage of Fender jazz bass guitars is their offset design. For example, if you compare it to the Precision bass, you will notice that it is more curved and ergonomic.
Neck profile. Speaking of Fender j-bass guitars, one cannot help but pay attention to the relatively thin neck of these models. It is the profile of the neck that will give you extra comfort and more room for experimentation.
Pickups. Considering jazz guitars from Fender, we would like to pay special attention to the fact that most of them have 2 single-coil pickups in the bridge and middle positions.
Sound. Of course, the most important part of any guitar is the sound it produces. Thanks to the pickup, Fender Jazz bass guitars have higher frequencies, as well as fairly rich mids. All in all, the sound of the Fender is unique, and you won't get such an incredible sound with any other bass guitar.
Top Best Fender Jazz Bass Guitars
Now that we've covered the hallmarks of Fender Jazz Basses, it's time to take a look at the top of the best models on the market right now.
Here are our top picks: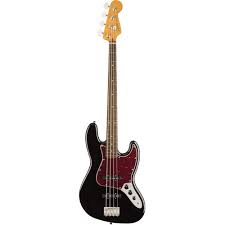 1)Squier Classic Vibe Jazz Bass 60s FB
We decided to start our list of jazz bass guitars from Fender with a model that is recognized by many musicians around the world – the Squier Classic Vibe Jazz Bass 60s FB. Squier is a subsidiary of Fender that makes quality and affordable guitars.
Even professional jazz musicians call this model one of the best jazz basses ever made. Moreover, this model is also suitable for both beginners and professional players due to its incredible sound quality.
This guitar has a poplar body and maple, 34" neck with Indian fretboard and 20 frets. A distinctive feature of this model is its bolt-on slim neck, which becomes narrower towards the nut and provides incredible comfort during the game.
Also, speaking about the Squier Classic Vibe Jazz Bass 60s FB, it should be noted that it has passive electronics, namely 2 Fender-designed Alnico single-coil pickups, which provides incredible sound quality that impresses even professionals.
On top of that, the body design provides extra brightness and sharpness to your tone, as well as incredible articulation to your playing. Thus, each note will be heard not only loudly, but also clearly. The shape of this model is also very comfortable, whether you play standing or sitting.
So, if you are looking for an inexpensive, but at the same time high-quality jazz bass guitar, regardless of your level, be sure to pay attention to the Squier Classic Vibe Jazz Bass 60s FB.
2)Fender Mustang Bass PJ
If you're looking for an incredibly high quality bass guitar that combines the best of Fender's bass offerings, you should definitely get the Fender Mustang Bass PJ. We believe that this model is one of the best in terms of price, versatility and ease of play.
Fender Mustang Bass PJ features and Adler body and bolt-on maple neck with 9.5" Pau Ferro fretboard. Also, if you've played the bass before, it will take some time to get used to its 30" scale length as opposed to the traditional 34", but it will give you easier and smoother access to all frets. What's more, it also provides a greater tonal difference with tighter highs and more pronounced lows.
Of course, we couldn't help but draw your attention to the PJ pickup configuration, which includes a huge range of tones. You also get a split vintage-style Precision Bass single-coil pickup in the middle pickup position and a vintage-style single-coil Jazz Bass pickup in the bridge pickup position for a variety of tones.
A notable feature of this model is that you can select any of the pickups individually or combine them using the 3-way pickup selector switch for great tonal variety. The wood of the Fender Mustang Bass PJ is also of the highest quality, providing a resonant and articulate tone. So, if you're looking for a quality professional bass at an affordable price, check out the Fender Mustang Bass PJ.
3) Fender Player Jazz Bass MN
Another one of the Fender bass guitars that simply cannot be ignored is the Fender Player Jazz Bass MN. This model has become one of the most iconic bass guitars in the history of music, completely changed our understanding of the sound of the bass, and also marked the beginning of the formation of the disco movement.
What's more, the Fender Player Jazz Bass MN has provided jazz players with brighter, richer mids and incredible playability. Also, this model is an affordable option for those who wanted to buy a Fender Jazz.
Fender Player Jazz Bass MN has an Adler body with maple neck and fretboard and features 20 frets. Electronically speaking, this model has the standard single-coil bass pickup at the bridge and single-coil bass pickup at the neck.
It is with these pickups that you can get a great sound, as well as smooth, rich low frequencies and a sharp growl in the high frequencies if you need it. We would like to pay special attention to the "C" shape neck, which not only adds resonance, but also provides incredible comfort during playing.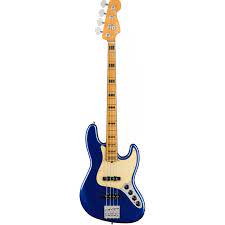 4)Fender American Ultra Jazz Bass Guitar
The latest Fender model we'd like to introduce you to today is the incredible Fender American Ultra Jazz guitar, which is built for the pro, or for those looking for a model that does it all.
The great thing about this model is that it combines the iconic features and design of the original guitars from the late 60-s, but adds a touch of modernity. Don't worry either, as the playability is still on par, and the typical jazz sound is even better, providing a nice solid sound.
Speaking about the distinctive features of this model, first of all, we want to note two brand new Ultra Noiseless Single Coil J-Bass pickups, which will allow you to experiment with sound and enjoy crisp, clean tones. In addition, check out the 18-volt built-in preamp, which is great for gigs, as it allows you to go from smooth and clean tones to dull sound.
This is made possible by a 2-position mini toggle switch. The playability of this bass has also been improved, such as the American Ultra featuring a new modern "D" profile shape and covered with a super-fast 10″ to 14″ radius maple fingerboard. This way you will have better access to the upper frets and will be able to practice comfortably for a long time.
Conclusion
Whether you're looking for an expensive Fender bass or one of the bass jazz guitars for sale, the decision is likely to be tricky. With the sheer variety of options on the market, it's easy enough to get lost, so heed the advice of the pros. We hope our list of the best Fender basses has been helpful and you have found a model for yourself.that you were able to find the perfect model for you.