Top Best Steinberger Bass Guitars
It doesn't matter if you are a beginner or a professional musician, you are one hundred percent aware of a brand like Fender. It was this brand that created the first mass-produced electric guitar. What's more, since the brand released its first Fender Precision Bass, the bass market standard ESP is a Japanese guitar manufacturer that mainly makes electric guitars and basses. The company is currently based in Tokyo and Los Angeles and is owned by Hisatake Shibuya – the owner of one of the largest collections of guitars in the world. Moreover, most likely you do not k
The bass guitar is exactly the musical instrument that captivates millions of people around the world with its sound. Moreover, for a good and harmonious sound of any musical group, a bass is necessary, since it is he who makes the music as full and voluminous as possible. Even if you are just starting your musical journey, most likely you understand that the right musical instrument has a direct impact on whether you go further into music. And if you are a professional musician, then you are most likely just looking for a good quality model that will meet all your desires and needs.
Steinberger is a brand that is suitable for both the beginner and the experienced bass player. It offers a large number of different models for every budget and musical genre. Keep reading to learn more about Steinberger and check out their top bass models on the market.
What Is Worth Knowing About Steinberger?
Before moving on to the models, we would like to draw your attention to the history of this brand. First of all, we would like to point out that Steinberger is a series of unique electric guitars and basses designed by Ned Steinberger. A notable fact is that the very name Steinberger is used both for the company that originally produced these instruments, and for the instruments themselves. Moreover, although it has been applied to a huge number of instruments, it is primarily associated with a design that goes by the name of "headless".
The first bass guitars of this brand were made back in 1979. Another interesting fact is that Ned Steinberger made them by himself, but one day while looking for materials in an industrial area of New York, he met with engineer Bob Young. Despite the fact that he had no experience with musical instruments, the men joined forces and got a fairly good result. It was they who together achieved the attractiveness of the design of their bass guitars.
Steinberg Sound was originally formed to produce good quality basses, but soon began to produce guitars on a large scale. However, already in 1987, the company was sold to Gibson, which still retains the right to the Steinberger name. This is the main reason why Ned Steinberger does not use this name when making other musical instruments.
In the mid-1990s, Gibson stopped selling Steinberger guitars due to difficult production and high prices, which no doubt scared off buyers. What's more, guitar fashion was changing, and for guitars to regain their former glory, innovation was needed.
However, to everyone's surprise, in recent years, Steinberger has become popular again, so these guitars are being made and sold again, although they do not have much in common with the original design. The latest line of Steinberger guitars is made in South Korra and includes two guitars and one bass.
Top Best Steinberger Bass Guitars
Now that you know the main features of this brand, it's time to talk about specific models. Whether you're looking for ESP bass guitars for sale, ESP basses for metal, or just looking through Now that you know more about the brand's history, it's time to move on to the best and most popular Steinberg bass guitars. We carefully analyzed the market and tested various guitars, after which we chose models that will definitely not leave you indifferent.
Here are our top picks: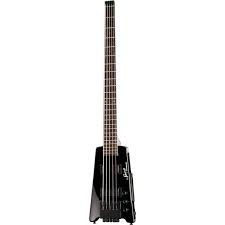 1)Steinberger Spirit XT-2 Bass
The first model from Steinberger, which we will talk about today, not only has an incredible design, but also several distinctive features that any bass player will love – the Steinberger Spirit XT-2 Bass. First of all, we would like to point out that this model has the same body shape as the Steinberger XL series.
As soon as you see it, you will understand that the Steinberger Spirit XT-2 is designed to attract attention. Moreover, at a relatively low price, this model has a large number of quality components that are ideal for a beginner bassist.
We want to pay special attention to the fact that the body and neck of this model are made of maple, which greatly enhances the brightness of the sound, and the rosewood fretboard complements the maple with beautiful dynamics.
Apart from this, the Spirit XT-2 also features the traditional headless design that made this brand recognizable and popular. The guitar also features a patented double-ball tuning system renowned for its features and performance, ideal for on-budget musicians.
Speaking about the electronics of this model, it is worth noting that the guitar is equipped with two Steinberger humbuckers that will help you create an incredibly powerful tone.
Also, thanks to separate volume controls and the main tone control, you can shape the tone as you like. If you love to travel, the Steinberger Spirit XT-2 will be your best friend. Not only is she the perfect size of 38.5 inches, but she also comes with a hard-wearing gig bag.
Separately, we would like to note that despite the fact that the guitar was created for musicians with a limited budget, it has a fairly good quality and is not inferior to even more expensive models of this brand.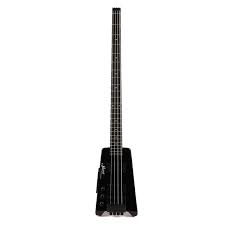 2)Steinberger XT-2 Standard BASS Outfit Left Handed
A huge number of left-handed musicians are struggling with finding a decent musical instrument. That's why we decided to give the second best Steinberger bass to the Steinberger XT-2 Standard BASS Outfit Left Handed.
It is this model that will offer you a modern and powerful sound with a huge amount of tonal diversity and playability. Like the previous model, this bass guitar has a "headless" design and a small, smooth body, which is also ideal for traveling.
Steinberger XT-2 Standard has a basswood body and 3-pc hard maple neck with 34" scale length. In addition, the model is equipped with two powerful humbuckers in the neck and bridge. We want to pay special attention to the ergonomic design of this model, which provides comfort when playing.
The smooth neck of this model will help you comfortably play even the most complex bass parts. What's more, the neck also features instant, bright resonance and plenty of sustain, while the patented DoubleBall bass bridge delivers precise string tone. Exceptional sound. The XT-2 humbucking pickups will also help you get a powerful and round sound.
3) Steinberger Spirit XT-25 5-String Bass
Since bass guitars with five countries are currently very popular, we decided to draw your attention to the Steinberger Spirit XT-25. This inexpensive model shares the same design as the Spirit XT-2, and the fifth string gives this bass the fullest sound.
The body and neck of the guitar are made of maple, which is known to increase the brightness of the bass. Also worth noting is the rosewood fingerboard, which perfectly complements the maple. Like the rest of the models on our list, this bass comes with a carrying case and is easy to transport, especially given its 38.5″ length. If you're dreaming of a typical headless design, you'll also find it in the Steinberger Spirit XT-25.
The electronics of this model is also quite high quality, as the bass is equipped with two Steinberger humbuckers to create the most powerful sound. It also has separate volume controls and a master tone control, so you can experiment with your sound endlessly.
What's more, if you're a bass player on a budget, this model is the one for you. Although inexpensive, you'll find everything from a traditional design to a tight, clean sound in this bass.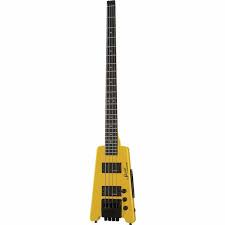 4)Steinberger Spirit XT-2DB Standard Bass
The latest model from this brand, which we will consider today, is the Steinberger Spirit XT-2DB Standard Bass. This is a four-string bass that has the traditional design of this company and is affordable even for a novice musician.
The body is made maple and has a 3-piece hard maple neck. This model is truly called a breakthrough for modern bassists, as it has one interesting feature. We would like to point out that the Steinberger Spirit XT-2DB features the patented Steinberger DB-Tuner, which extends the range of the E-string from Eb to B, which already sets this model apart from other options on the market.
In addition, this electric bass also features a thru-neck construction with the patented Steinberger Double-Ball Tuning System. So by choosing this model, you will get not only incredible tuning, but also good stability and a unique tone. Traditionally, the short 38.50″ length makes the game perfect for people on the road.
So if you're looking for a traditional Steinberger model that features the brand's familiar design and incredible sound, plus a comfortable size, then you won't find anything better than the Steinberger Spirit XT-2DB Standard Bass.
Conclusion
Steinberger is a unique brand with an incredible history behind it. What's more, Steinberger basses are unmistakable with any other in the world. Their incredibly whimsical body shape and headless design attracts the attention of millions of bassists around the world, and the sound captivates even beginners. We hope our top was useful to you and you were able to find the model you were looking for.