Top Best Yamaha Bass Guitars
When it comes to bass guitars, there are several brands that come to mind that make the best instruments in the world. And, of course, Yamaha is one of them. This company has been on the music market for several decades and still remains one of the most popular in the world. Not only do they produce durable quality instruments, but also great-sounding models that impress both beginners and professionals around the world. Over the years, Yamaha guitars have undergone modifications and innovations in woodworking and electronics, which is why this brand remains one of the leading ones – at the moment.
In our today's guide, we would like to highlight the features of this brand and provide you with top Yamaha electric bass guitars that will meet all your desires and needs.
What Should You Know About Yamaha Bass Guitars?
A little-known fact is that the Yamaha brand was founded back in 1887 in Japan. However, they did not start making their own instruments until the 1940s. It was at this time that they created their first model of an acoustic guitar and presented it to the world. This guitar was inspired by Spanish and Portuguese designs that the brand considered unique.
The company continued to develop within the country until the 1960s, after which the brand entered the foreign market. The main export country at that time was the United States, and the Yamaha brand achieved great success by introducing its model to the world. Yamaha did well in the US because it was able to offer competitive prices compared to any American counterpart. However, of course, the success of this brand did not stop in America, and Yamaha began to spread and grow rapidly, as well as produce other instruments such as pianos, bass guitars, synthesizers, drums and much more.
Today, Yamaha is a world-class brand, respected throughout the world. It is this company that produces a huge number of different tools and has an excellent value for money.
What to Look for When Choosing the Best Yamaha Bass Guitar?
Now there are a huge number of various questions on the Yamaha brand on the Internet, such as Yamaha 6 string bass guitars, cheap Yamaha bass guitars, Yamaha bass guitars for sale and so on. This means that this brand is still very popular among bass guitarists to this day. However, if you are a beginner, what factors should you pay attention to when choosing the right model? Here you can talk endlessly about preferences, but the main ones are tone, size, sound, price, and so on. Moreover, each model has a common key and different wood species, so it is important to consider these characteristics before choosing a Yamaha guitar. Let's take a closer look at some points:
Sound and Tone
First of all, we'd like to say that the sonic qualities of most Yamaha basses are quite versatile. Thus, no matter what musical style you prefer, you can get it from bass guitars of this brand. However, if you want to know what musical styles will sound the most vivid with these musical instruments, then we would single out Soul and RnB.
However, do not forget that each series of Yamaha basses offer different tones and sound qualities, as it was designed with a certain level in mind.
Price
Another important fact that should be considered when choosing a bass guitar from Yamaha is undoubtedly the price of a musical instrument. In general, Yamaha is a mid-range brand, but at the same time, it offers some of the most expensive professional bass guitars. Thus, depending on your budget and level, you can choose the tool that suits your needs. On average, prices for Yamaha basses can range from a few hundred dollars to several thousand.
Size
When talking about the size of Yamaha guitars, it is worth noting that it is as similar as possible, as they adhere to their well-known formula and shape for their musical instruments. However, often the size will depend on the series. For example, the RBX series of instruments has a smaller body compared to the BB, which is wide and heavy. Thus, the choice of guitar body will directly depend on your physiological characteristics.
Other points that you should pay attention to, we would also include the number of strings. Do you want classic 4 strings? Or maybe you are looking for Yamaha bass guitars 5 string, or even 6? Only by answering these questions, you can choose the perfect tool for yourself.
Top Best Yamaha Bass Guitars
Now, after you have received some information about the company and the things you need to pay attention to when choosing a model, we will present to your attention the top best Yamaha basses on the market.
Here are our top picks: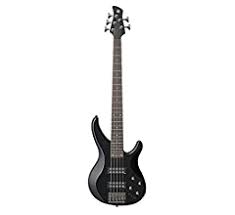 1)Yamaha 4 String Bass Guitar TRBX174EW TBL
Size: 47.83 x 17.91 x 3.74 inches
Weight: 8.82 pounds
Material & Finish: Mahogany body, Maple neck, Translucent Black finish
Sound: Mellow and clean
Best For: Beginners
While reviewing all Yamaha bass guitars, we decided to start with a model that would be a great option for a beginner looking for a first guitar. Yamaha 4 String Bass Guitar TRBX174EW TBL is a good budget model which is made of mahogany.
This is what gives it an even deep tone that will not leave you indifferent. In addition, this model is famous for its universal tonality, which means no matter what style you prefer, you can reproduce it on this guitar.
Another advantage of this model is its accessibility, which is a very important factor when choosing a guitar for beginners. This guitar offers a simple elegant design, a pleasant sound and comfortable playing for long periods of time.
Thus, if you are looking for electric Yamaha bass guitars for sale and you are a beginner, then this budget model will be a great solution.
2)Yamaha BB734A Bass Guitar
Size: 50 x 18 x 4.1 inches
Weight: 8.93 pounds
Material & Finish: Alder and Maple body, Mahogany and maple neck, Translucent Matte Black finish
Sound: Warm and balanced
Best For: Intermediate
The Yamaha BB734A Bass Guitar is a model that has a fairly high level, so it is best suited for intermediate players. Even if you are a professional who has many requirements for his tools, the BB734A will not disappoint you.
This bar guitar is not only beautiful, but also has a high quality alder and maple construction that provides extra sustain.
Other distinguishing features of the Yamaha BB734A Bass Guitar include well-balanced tones, as well as a thin and comfortable neck for maximum playing comfort. Also, you should definitely pay attention to the active preamp with 3-band EQ.
Thus, if you are looking for one of the best Yamaha guitar basses for the advanced level, you should definitely consider the BB734A.
3) Yamaha BBNE2 Nathan East 5 String Electric Bass Guitar
Size: 128 x 45 x 12 inches
Weight: 22 pounds
Material & Finish: Maple and alder body, maple neck, White finish
Sound: Balanced tone
Best For: Professionals
We couldn't help mentioning the BBNE2 Nathan East in our list of the best Yamaha models. This is a top notch guitar that offers incredible build and high quality sound. This top-notch bass guitar with neck-through construction is extremely versatile, no matter what style you prefer.
In addition, it is important to note that this model is a calling card for Nathan East, an elite Jazz and Soul bass player. We ranked it among the best Yamaha bass guitars, as it has high-quality construction, an incredibly beautiful finish and a unique sound that will please even a professional.
4)Yamaha BB234 Bass Guitar
Size: 50.1 x 18.4 x 4 inches
Weight: 8.92 pounds
Material & Finish: Alder body, maple neck, Gloss Black finish
Sound: Deep and smooth
Best For: Beginners
If you are looking for a modern interpretation of an old classic, then among all the Yamaha bass guitars, the BB234 Bass Guitar is the one to look out for. The original version of this model was released back in 1976 and gained popularity thanks to innovative neck-through construction and active pickups.
At the moment, BB234 is also popular due to modern methods of construction and wood treatment. In addition, this guitar is affordable and has excellent playability.
5)Yamaha TRBX305 Bass Guitar
Size: 126 x 44 x 12 inches
Weight: 21 pounds
Material & Finish: Mahogany body, maple and mahogany neck, Mist Green finish
Sound: Balanced tone
Best For: Beginners and intermediate
Another five-string guitar from Yamaha that we would like to introduce you to is the TRBX305. This model has gained popularity not only due to its balanced sound, but also due to active electronics.
Since this model has five countries, it has a slightly wider neck, but at the same time is incredibly light. In addition, the guitar features the most comfortable body, so you can rehearse for hours without fatigue.
Other highlights of the Yamaha TRBX305 include versatile tone, 2 humbucker pickups with active EQ, and a quality durable construction.