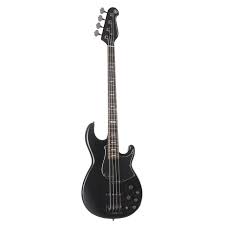 Yamaha BB734A Bass Guitar: A Review
The Yamaha BB734A Bass Guitar is a versatile, high-quality instrument that effortlessly combines comfort, style, and an abundance of tone. With its sleek Dark Coffee Sunburst finish and solid build, the BB734A is not only aesthetically pleasing but also a dream to play.
Design and Construction
The BB734A is part of Yamaha's BB series, which has been renowned for over 40 years for its robust construction and exceptional sound quality. The body and neck of the BB734A receive a rating of 4.9 out of 5 stars, reflecting the high regard users have for the guitar's physical attributes.
This bass guitar features a comfortable neck, reminiscent of a Fender Jazz, that fits snugly in the player's hand, making it ideal for extended playing sessions. The neck's smoothness and playability contribute significantly to the overall comfort of the instrument.
The BB734A is equipped with a "convertible" bridge, characterized by a special diagonal loading angle. This innovative design provides the bass with enhanced sustain and resonance, contributing to the guitar's rich and full-bodied sound.
Sound and Performance
The Yamaha BB734A is praised for its tonal versatility, scoring an impressive 4.9 out of 5 stars for sound quality. This bass is fitted with alnico 5 magnet YGD Custom V7 pickups paired to active electronics, which offer a wide range of tones suitable for various genres and playing styles. Whether you're laying down grooves in a jazz trio or holding down the low end in a rock band, the BB734A delivers consistently high performance.
Many users have described this instrument as the most versatile bass they've ever played, requiring no upgrades right out of the box. The intonation and action are set perfectly from the factory, allowing players to start jamming immediately after unpacking the instrument.
Value for Money
With a value rating of 4.8 out of 5 stars, the BB734A provides excellent value for its price point. Considering its top-notch build quality, playability, and sound versatility, this bass guitar offers a fantastic return on investment for both beginners and more experienced players.
Final Thoughts
The Yamaha BB734A Bass Guitar merges quality and versatility in a package that's hard to resist. Its rock-solid construction, coupled with its comfortable playability and wide tonal range, makes it a reliable workhorse suitable for various musical contexts.
Whether you're a beginner looking for a high-quality starter bass or a seasoned pro seeking a versatile addition to your collection, the BB734A is a worthy contender. As one reviewer aptly put it, if they were to open a studio, the BB734A would be one of the first things they'd acquire.
In conclusion, the Yamaha BB734A Bass Guitar is a testament to Yamaha's more than 50 years of experience in handcrafting electric basses. Its superb build quality, excellent playability, and remarkable sound versatility make it an outstanding choice for bass players of all levels.