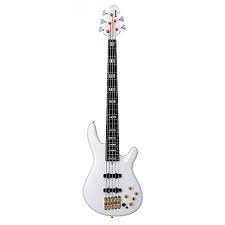 The Yamaha BBNE2 Nathan East 5 String Electric Bass Guitar: A Review
The Yamaha BBNE2 Nathan East 5 String Electric Bass Guitar is more than just a musical instrument—it's a testament to the enduring partnership between Yamaha and one of the most respected bassists in the music industry, Nathan East. Endorsed by East himself, this signature model has been crafted with precision and attention to detail that truly sets it apart. In this article, we aim to provide an in-depth review of this remarkable bass guitar.
Design and Physical Characteristics
The Yamaha BBNE2 stands out for its superb physical characteristics. It boasts a solid and double-cut five-stringer based on the BB series, which is a testament to Yamaha's commitment to quality and innovation.
The guitar is slightly over 10 pounds, but don't let the weight fool you. This bass guitar balances nicely on the strap and doesn't feel heavy at all, making it comfortable and non-fatiguing to play. The action is in the comfort zone (low), which is a testament to the thoughtful design of this instrument.
A key highlight of the BBNE2 is its thru-body maple and mahogany neck, offering the ultimate in tone and stability. Its ebony fretboard adds to the luxurious feel of the instrument, providing a smooth violin-type feel.
Sound Quality and Versatility
When it comes to sound quality, the Yamaha BBNE2 does not disappoint. This bass guitar has been described as the best some musicians have ever played, thanks to its versatility. It's as versatile as Nathan East himself, who is known for his ability to play in every genre of music.
The BBNE2 features active electronics and sophisticated EQ settings. With both boost and cut on offer, the EQ is impressively voiced with a powerful bottom end, strong mids, and a tight, crisp treble response. The mid sweep is excellent for shaping the tone in ways that no other bass can match.
The low end is described as "insane", while the treble is rich and sparkling. This combination allows the BBNE2 to sit nicely in the mix, enhancing overall sound quality.
Conclusion
In conclusion, the Yamaha BBNE2 Nathan East 5 String Electric Bass Guitar is a high-quality instrument that justifies its price tag. It feels like a $5,000+ instrument, with its comfortable design, superior sound quality, and versatility. Whether you're a professional musician or an aspiring bassist, the BBNE2 is a worthwhile investment that promises to deliver outstanding performance in any musical setting.