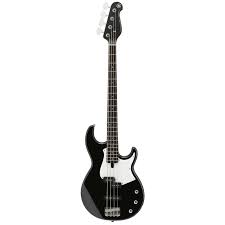 Yamaha BB234 Bass Guitar: A Comprehensive Review
Yamaha, a name that resonates with quality and trust, has been a major player in the music industry for decades. Their instruments have always been a favorite among musicians worldwide due to their exceptional craftsmanship and high-quality sound production. Among their vast range of musical instruments, the Yamaha BB234 Bass Guitar stands out as an impressive instrument, particularly for bass players at the beginner and intermediate level.
Design and Build Quality
The Yamaha BB234 is a sturdy, well-built instrument which is immediately apparent upon first glance. Its solid Alder body, coupled with a bolt-on maple neck and rosewood fingerboard, gives it a sleek, professional look that belies its relatively modest price tag. Weighing in at a comfortable 8.4 pounds, it's neither too heavy nor too light, striking a nice balance which makes it easy to handle during long gigs or practice sessions. The guitar comes in three finishes – Black, Yellow Natural Satin, and Raspberry Red, each giving it a distinct personality.
Playability
The playability of the Yamaha BB234 is where the guitar truly shines. The neck of the BB234 is slim and fast, making it incredibly easy to navigate. The smooth rosewood fretboard with 21 medium frets allows for a wide range of tones and styles, making it a versatile instrument suitable for various genres of music. The action is set fairly low out of the box, reducing the amount of pressure needed to fret the strings and making it easier for beginners to play.
Sound Quality
Sound is, of course, the most critical aspect of any musical instrument, and the Yamaha BB234 does not disappoint. The bass features two custom V5 pickups (a split-coil P-style pickup at the neck and a single-coil J-style pickup at the bridge) which provide a robust, punchy tone with plenty of clarity. The combination of these pickups offers a wide palette of tonal options, from warm and mellow to bright and aggressive, making it suitable for a wide array of musical styles.
The control layout is straightforward, featuring a master volume and tone control, along with a pickup balancer. This allows you to blend the output of the two pickups to your liking, offering even more tonal flexibility.
Value for Money
Considering its build quality, playability, and sound, the Yamaha BB234 offers excellent value for money. It's a reliable, versatile, and high-performing bass guitar that can cater to a broad range of musical demands. Given its price point, it's an excellent choice for beginners and intermediate players alike, and even professionals on a budget will find a lot to like about the BB234.
Conclusion
In conclusion, the Yamaha BB234 is a fantastic entry-level bass guitar that punches way above its weight. It combines excellent build quality, superior playability, and a versatile sound, all at a very affordable price point. Whether you're a beginner just starting your musical journey, an intermediate player looking to upgrade your gear, or a seasoned pro in need of a reliable backup instrument, the Yamaha BB234 Bass Guitar is a choice you won't regret.
Yamaha has once again proven why they are a trusted name in the music industry by delivering a product that is both high in quality and affordable. The Yamaha BB234 is more than just a bass guitar; it's an instrument that encourages musical exploration and growth. It's a testament to Yamaha's commitment to providing quality instruments for musicians at all levels. So, if you're in the market for a new bass guitar, the Yamaha BB234 should definitely be on your shortlist.