Top Best ESP Bass Guitars
It doesn't matter if you are a beginner or a professional musician, you are one hundred percent aware of a brand like Fender. It was this brand that created the first mass-produced electric guitar. What's more, since the brand released its first Fender Precision Bass, the bass market standard ESP is a Japanese guitar manufacturer that mainly makes electric guitars and basses. The company is currently based in Tokyo and Los Angeles and is owned by Hisatake Shibuya – the owner of one of the largest collections of guitars in the world. Moreover, most likely you do not know that he is also the owner of the Musician's Institute and Schecter. ESP and ESP LTD offer an extensive catalog of bass guitars, where every musician can find something for themselves. Whether you're a beginner with a minimum amount of money or a professional with an unlimited budget, ESP will offer you a ton of models, from traditional to exclusive.
What Should You Know About ESP Bass Guitars?
You probably know that ESP and ESP LTD offer versatile tools with a good tone, however, they are still underestimated. This is largely due to the fact that they are considered "fake" tools. However, is this true?
In fact, this statement is not so far from the truth, since many of the brand's models are redesigned designs from other brands or models. However, the fact that ESP basses are well built and affordable cannot be ignored. Moreover, most popular brands somehow copied each other or adopted some elements.
Another misconception that beginners run into when they hear about LTD ESP bass guitars is that these guitars are only good for metal. This judgment also has its basis, since bands such as Metallica and Slayer used the brand's guitars. However, ESP still produces versatile instruments that are good for a variety of musical styles.
Although this brand may not have the same recognition as other popular companies, it still produces quality instruments with a distinctive sound and an affordable price of around $300.
What About ESP Construction and Playability?
ESP guitars are famous for their attention to detail and incredibly good construction. Moreover, no matter how you feel about this brand, playing their bass guitars is as comfortable as possible thanks to the wide and spacious bridge. On top of that, their choice of wood and natural finish is not to be missed, making the instruments look stunning. While the LTD basses are a bit heavier, they are well worth it as they offer great playability and a comfortable neck. Moreover, the neck profile, width, and playability on the F and B series are really worth the money, especially considering that the neck-to-heel transition is very smooth.
Top Best ESP Bass Guitars
Now that you know the main features of this brand, it's time to talk about specific models. Whether you're looking for ESP bass guitars for sale, ESP basses for metal, or just looking through the options hoping to find a good model, our top picks are what you need.
Here are our top picks: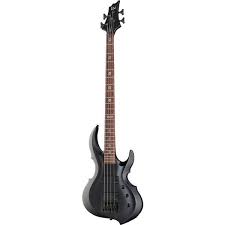 1)ESP LTD TA-604 FRX Black Satin Tom Araya Signature Electric Bass Guitar
The first model that we will talk about clearly cannot be attributed to cheap ESP bass guitars, since it costs about €1500, but believe me, it is worth it. First of all, we want to note that ESP LTD TA-604 FRX is the signature model of Slayer frontman and bassist Tom Araya.
The first thing you will notice about this model is the body shape, which is unique and somewhat aggressive. The black maple body houses two active humbuckers, with matching black knobs. Also noteworthy is a 24-fret neck which provides the lowest notes and authenticity.
The sound of this bass is also special, as it often produces low and dark tones, but also a clear way. In addition, the TA-604 FRX is famous for its accurate sound reproduction thanks to the two active EMG 35DC humbuckers in the TA-604 FRX, which are easily controlled by buttons.
One knob controls the volume, the other the tone and the last one takes care of the balance. So, this bass with maple body and rosewood fingerboard will definitely not leave you indifferent.
We would like to pay special attention to the shape of the body, which is as metallic as possible. The neck of the guitar consists of a three-piece maple with a rosewood fingerboard and has the thin U-shape.
Thanks to this and 24 extra jumbo frets, all notes are easy to reach. In addition, the bass will always remain tuned thanks to the LTD BB-604 bridge. Thus, if you have the money and want to buy a professional quality musical instrument, pay attention to the ESP LTD TA-604 FRX.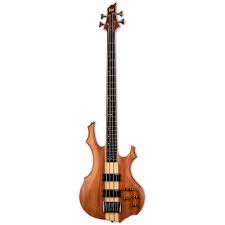 2)ESP LTD F-4E Mahogany Natural Satin Electric Bass Guitar
The next bass we want to talk to you is in the more affordable price range of 595€ – ESP LTD F-4E Mahogany Natural Satin Electric Bass Guitar. This is a 4-string bass that can dispel the myth that ESPs are only good for metal. It all starts with her appearance.
Unlike the previous model, which had an aggressive flashy design, the ESP LTD F-4E is a more restrained, but at the same time spectacular model. This model is made from mahogany and has a natural matte finish. Combined with a solid maple neck and interesting styling, this results in an exquisite mix of different woods.
Speaking about the electronics of this model, we want to pay special attention to the ESP Designed humbuckers with active 3-band EQ, which offer a wide range of powerful bass sounds.
What's more, this bass will give you room to experiment as you can fine-tune it to your liking. With a long 35″ scale and neck-thru design, you can count on a high level of playing comfort, and the bright, powerful sound is sure to impress.
3) ESP LTD Deluxe Phoenix-1004 Black Electric Bass Guitar
The ESP LTD Deluxe Phoenix-1004 Black Electric Bass Guitar is another €1000 model that offers incredible design and stunning sound. This 4-string electric bass guitar features a 5-piece mahogany and walnut neck-through.
It features through-body construction which is also mahogany which provides an extremely stable base. In addition, all 21 extra jumbo frets on the Ebony fingerboard are readily available, making this guitar a joy to play. Also an interesting detail is that the back of the neck is finished in satin for a higher playing comfort.
Another feature of this bass is the solid Gotoh 201B-4 bridge. It also features a set of LTD Vintage EMG elements to ensure a J-style sound. This guitar is also renowned for its fast bass response and bright tone, as each pickup has its own volume control, allowing for a wide range of sounds.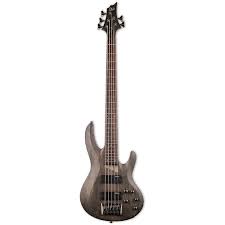 4)ESP LTD B-204SM See Thru Black Satin Electric Bass Guitar
You probably know that LTD B Series basses are especially popular. Moreover, the series has a special maple from which the top of the case is made. The body itself is made of ash, which guarantees good resonance along with a 5-piece slim maple neck.
We would like to pay special attention to the resonance of this instrument, which is achieved by two ESP Designed SB humbuckers in combination with a three-band equalizer (developed by ESP).
It is thanks to this electronics that you will get the widest sound palette that will give you the opportunity to experiment with sound. In addition, this model's versatility means it's perfect for most musical styles and not only metal.
5)ESP LTD B-10 Kit Black Satin Electric Bass Guitar
The last model from ESP with which we will introduce you today is the four-string ESP LTD B-10 Kit Black Satin Electric Bass Guitar. This bass will be perfect for you if you are looking for an affordable bass guitar from this brand as it only costs 276€. In addition, if you are a fan of music styles such as rock and metal, the ESP LTD B-10 will be your best friend.
In our testing of this bass, the first thing we noticed was that it offered incredible comfort while playing. The long basswood body ends not only look solid, but also provide good bass balance.
Despite the fact that the design of the case is somewhat aggressive, at the same time it is close to the classics, ideal for metal. In addition, a slim U-profile neck has been chosen that immediately fits comfortably in the hand.
The sound comes from two ESP-designed elements, each with its own volume control, plus you get active Tone Boost. Also, if you like to travel, you will be glad to know that this model comes with a case included!
Conclusion
Fender is a brand that has been surprising musicians around the world with its guitars for many ESP is a brand that has a specific reputation, but at the same time offers a huge variety of quality models for any budget. We hope that our list of the best ESP bass guitars was useful for you and that you were able to find the perfect model for you.