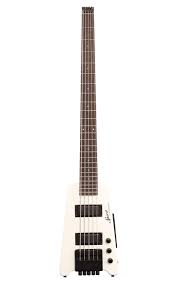 Steinberger Spirit XT-25 5-String Bass: A Detailed Review
In the realm of bass guitars, few brands command the same level of respect and admiration as Steinberger. Known for their groundbreaking designs and innovative features, Steinberger has consistently pushed the boundaries of what a bass guitar can be. One such instrument that perfectly encapsulates this spirit of innovation is the Steinberger Spirit XT-25 5-String Bass.
The Steinberger Legacy
Before delving into the specifics of the Spirit XT-25, it's essential to understand the Steinberger legacy. Renowned for their unique headless designs and cutting-edge materials, Steinberger has always been a pioneer in the world of stringed instruments. The Spirit XT-25 continues this tradition, offering a unique blend of design, performance, and playability that sets it apart from its contemporaries.
Design and Features
Body and Neck
The Spirit XT-25 features the iconic Steinberger body design, constructed from Basswood for a robust build and warm, balanced tone. The 3-piece hard maple neck provides a solid foundation for the strings, ensuring superb sustain and tonal clarity. The instrument's compact size, at only 38.5″ in length, makes it incredibly portable and convenient for gigging musicians.
Sound and Performance
Sonically, the Spirit XT-25 delivers in spades. It offers an impressive sustain and a delightfully warm sound when both pickups are fully engaged, and the tone knob adjusted halfway. The bass also features a 5th string tuned to Low B, expanding the instrument's range and versatility.
The Spirit XT-25's pickups, while somewhat weaker than those on a Fender P bass or Squier Jaguar, still deliver a clear, bright, and solid sound. The neck pickup, in particular, is brighter than the P, adding an extra layer of tonal depth to the instrument's sound.
Playability
When it comes to playability, the Spirit XT-25 truly shines. Despite being a full-sized bass, it's incredibly easy to carry and play, thanks to its compact size and ergonomic design. Furthermore, it's easy to access all 24 frets with no restrictions, making it a joy to play for both beginners and more seasoned players alike.
Professional and Beginner Viewpoints
Professionals
Professionals appreciate the Spirit XT-25 for its innovative design, exceptional sound, and reliable performance. The compact size and portability make it an excellent choice for gigging musicians, while the unique design adds a touch of intrigue to any performance. The impressive sustain and warm sound also make it a versatile addition to any professional's gear collection.
Beginners
For beginners, the Spirit XT-25 is an excellent starting point. Its user-friendly features and easy accessibility make it a great choice for those just starting their musical journey. The bass's compact size and light weight make it easy to handle, and its sturdy construction ensures it can withstand the rigors of learning to play.
Conclusion
In conclusion, the Steinberger Spirit XT-25 5-String Bass is more than just a bass guitar. It's a testament to Steinberger's commitment to innovation, quality, and design. Whether you're a seasoned pro looking for a unique new addition to your gear or a beginner searching for the perfect instrument, the Spirit XT-25 is a worthy contender.
Combining a distinctive design, impressive sound, and exceptional playability, the Spirit XT-25 stands out in the crowded field of bass guitars. It truly embodies the spirit of Steinberger – a spirit of innovation, boundary-pushing, and uncompromising quality. With the Spirit XT-25, you're not just getting a bass guitar – you're becoming part of the Steinberger legacy.