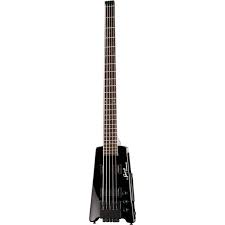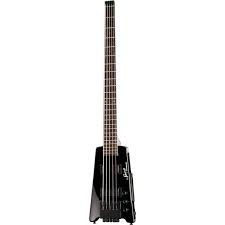 Steinberger Spirit XT-2 Bass: A Travel-Friendly Companion for Musicians
Introduction
In the world of music, the right instrument can make all the difference. Among the myriad of options available to a bassist, one stands out for its unique design and unparalleled convenience – the Steinberger Spirit XT-2 Bass.
Unique Design and Build
The Steinberger Spirit XT-2 Bass is an electric bass that sports a distinctive body shape, reminiscent of the award-winning Steinberger XL series. This 4-string bass features a headless build, making it one of the most travel-friendly basses ever made. With a length of 38.5 inches and a weight of just 7.5 pounds, it's designed to be easy to carry around, especially for traveling musicians.
The main body of the bass is crafted from basswood, giving it a lightweight yet robust structure. The neck, a 3-piece neck-thru-body construction, is made from maple. This combination ensures durability and a balanced tone.
The fretboard is made from satinwood and houses 24 medium jumbo frets. The scale length is 34 inches, with a radius of 14 inches, providing a comfortable playing experience. The neck has a 1960's style SlimTaper-D profile which contributes to the overall playability of the instrument.
Impressive Hardware and Electronics
The Steinberger Spirit XT-2 Bass comes equipped with a patented double-ball bass bridge and 40:1 ratio direct-pull tuning system. These features ensure excellent tuning stability and intonation across the entire fretboard.
The bass is powered by two Steinberger humbucker pickups. These pickups are known for their warm, rich tones and excellent clarity. Whether you're playing reggae or experimenting with other genres, you can expect a diverse range of sounds from this instrument.
Professional's Viewpoint
Professionals often remark on the versatility of the Steinberger Spirit XT-2 Bass. It's praised not only for its compact size and lightweight design but also for its heavy, diverse sound. The high-quality humbucker pickups allow for a wide tonal range, satisfying the needs of professional musicians across various genres.
The comfort offered by the SlimTaper-D profile neck is another feature admired by professionals. The ergonomic design of the instrument allows for extended periods of playing without causing shoulder or hand fatigue.
Beginner's Perspective
For beginners, the Steinberger Spirit XT-2 Bass offers an excellent entry point into the world of bass guitars. Its lightweight design and compact size make it less intimidating and more accessible for new players. The comfortable neck profile and medium jumbo frets provide an easy playing experience, encouraging practice and improvement.
Additionally, the diverse range of sounds that this bass can produce allows beginners to experiment with different genres and styles, fostering musical growth and understanding.
Conclusion
The Steinberger Spirit XT-2 Bass is indeed the Ultimate Travel Bass™, offering convenience, versatility, and quality in one package. Its unique design, coupled with impressive hardware and electronics, makes it a favorite among both professionals and beginners.
Whether you're a touring musician looking for a travel-friendly companion or a beginner seeking a comfortable and versatile instrument, the Steinberger Spirit XT-2 Bass could be your perfect match. Embrace the revolution and join the ranks of musicians who have discovered the allure of this incredible bass guitar.
While every effort has been made to provide accurate information, it's always best to check with the manufacturer or a trusted music store for the most current details about specific models and products.