Top Best Ibanez Bass Guitars
The bass guitar is an incredible musical instrument that has been popular for decades. Despite the complexity of its development, people continue to play the bass guitar and develop their professional skills. If you are choosing your first guitar or want to replace an existing one with a new, better instrument, then most likely you are faced with a dilemma – which guitar should you choose?
It's no secret that one of the most popular guitar brands on the market at the moment that produces reliable and quality instruments is Ibanez. This company originated in Japan and has many years of experience in the music industry. They have built quality tools over the years and built a solid reputation that makes them one of the best tool manufacturers in the world. Thus, whether you are a beginner or an experienced guitarist, Ibanez bass guitars will not leave you indifferent. However, among the huge variety, it can still be quite difficult to choose the right model for yourself. That is why we decided to make a list of the best Ibanez bass guitars that you should pay attention to. Each of these options looks great, sounds great, and is reasonably priced, so we hope they help you find the guitar you've been dreaming of.
What Is The Best Ibanez Bass Guitar?
Unfortunately, there is no answer to this question, as it will largely depend on your personal preferences. No one knows whether you will like a bright defiant guitar or a the general model. The sound also differs depending on the model, and will largely be based on what kind of sound you are looking for.
However, all that there is a number of factors that can influence your decision. This might include the type of music you play, the features you are looking for in a bass guitar, and your budget. In our top list, we consider both cheap ibanez bass guitars and more expensive instruments with more features. Keep reading to find out the details.
Top Best Ibanez Bass Guitars
Here are our top picks: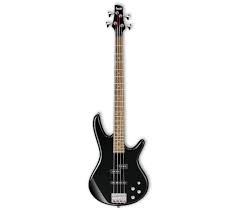 1)Ibanez GSR200
However, from the available Ibanez electric bass guitars, the one you should look at is the Ibanez GSR200. It costs only $200, but it has amazing sound quality.
This is not at all surprising, since the company has chosen to use a mixture of three types of wood for this model – maple, rosewood and agathis. Other than that, it is also available in multiple colors so you can choose the one you like best.
The Ibanez GSR200 is a guitar that combines everything from design to quality sound to an attractive price. This model also features a one-piece maple neck, rosewood fretboard, and a split-coil and single-coil pickup combination.
In addition, this model is equipped with active EQ with Phat II Bass Boost Chrome hardware. So, if you are looking for one of the best Ibanez bass guitars that have excellent value for money, then the Ibanez GSR200 model is exactly what you need.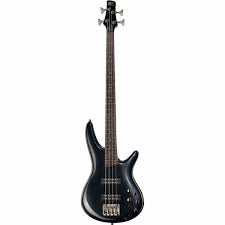 2)Ibanez SR300E
Another high-quality and affordable model that we would like to introduce you to is the Ibanez SR300E. It's important to note that the SR Series has been around for over 30 years and is still one of the best and most popular bass series Ibanez has ever made.
The Ibanez SR300E combines everything you could want from a bass guitar – great looks, clear sound and a decent price. However, we believe that this model is more suitable for more advanced players who want to improve their bass playing.
This bass guitar features 2 humbucking pickups – Cerulean Aura Burst, 4-string electric bass with nyatoh body, jatoba fingerboard and maple/walnut neck. So, if you already have some bass playing experience and want to keep improving your skills, then the Ibanez SR300E is exactly what you need.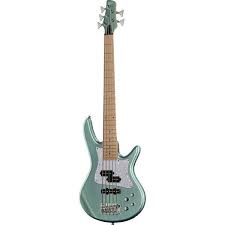 3) Ibanez SRMD205
The Ibanez SRMD205 is a 5-string electric bass with poplar body that will impress you with both its sound and looks. Yes, you correctly noted that this guitar has 5 strings instead of the usual 4, which means it will be somewhat more difficult to master it.
That is why we do not recommend this model for beginning bass players. However, if you already have some experience and want to upgrade to 5 strings, then you should start with this model. Also, if you have always dreamed of learning how to play a five-string bass, then the Ibanez SRMD205 is your best choice.
It should also be noted that the Ibanez SRMD205 has a shorter scale than the regular SR series models, however this will also be a big advantage for bass players with small fingers.
Other distinctive features of this model are 2-b EQ, maple fingerboard, P-J pickups and maple neck. So, if you were planning to buy a five-string bass guitar and did not know which model to start with, then the Ibanez SRMD205 will be your best choice.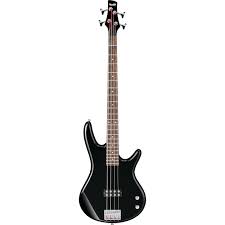 4)Ibanez GSR100
If you've been looking for Ibanez bass guitars for sale, you'll be happy to know that the Ibanez GSR100 is one of the cheapest on our list. Of course, it will not be the best in terms of sound quality, but it will still provide you with everything you need to play.
Also, if you are just starting out in the world of music, then we would strongly recommend that you start with this model, as it is quite light, which will allow you to practice both now and standing up without any problems.
The Ibanez GSR100 has a poplar body, maple neck and rosewood fretboard. Also noteworthy is its smooth and fast neck, which will make the game as comfortable as possible.
Another distinctive feature of the Ibanez GSR100 is the Ppd4 pickup. So, if you want to get the most inexpensive, but at the same time good bass guitar from this brand, without a doubt, choose the Ibanez GSR100.
5) Ibanez SR306
We'd like to round out our list of the best Ibanez guitars with a model that's great for both advanced players and professionals. This is a handsome 6-string bass designed for maximum phosphate practice. As with the five-string bass, we would not recommend a six-string bass for a beginner.
It should also be noted that this model is equipped with two PowerSpan Dual Coil pickups, which provide an incredible feeling of the game. The bass starts with an immaculately finished Mahogany body and also has an electric operation mode.
Other distinguishing features of this model include a sturdy 5-piece Maple/Rosewood SR4 neck, a Rosewood fretboard, and an Accu-cast B125 bridge for superior string vibration transfer and precise intonation. If you are an intermediate to professional level reader and are looking for a good quality guitar from Ibanez, then the SR306 will be your best bet.
Are Ibanez Basses Good Quality?
As already mentioned, Ibanez is one of the leading guitar brands in the world. This company is widely known not only for its a build quality, but also for its good playability. It should also be noted that many professional musicians also use guitars of this particular musical brand, for example, Robert Tujillo from Metallica.
Most bass guitars from Ibanez are distinguished by their design, transparent tone and lightning-fast neck. Thus, if you decide to purchase your first bass guitar from this brand, you will not regret it. Ibanez has several popular series that you may want to take a look at. These include GSR, which provides high-quality, but at the same time affordable entry-level tools from $150 to $300. However, the SR series is one of the most popular from Ibanez in this price range. In addition, it should be noted that the guitars from this brand show themselves perfectly in a variety of musical styles, such as rock, blues, funk and many others.
If you want to compare Ibanez with other guitar brands, then you should know that their quality is not inferior even to such giants as Epiphone, ESP and Fender. Bass guitars from Ibanez are available in a wide range of designs, so there's no doubt you can pick the one that's right for you.
Many people who are not familiar with this guitar brand continue to wonder which musicians it is best suited for. However, we would like to point out that the Ibanez is an excellent choice for both the beginner and advanced musician and even the professional guitarist. Of course, the price range for each of the musicians may be different, as professional guitars are usually more expensive, but everyone can find something for themselves from Ibanez. Whether you're looking to get your first musical instrument or are looking for a new guitar to improve your skills, Ibanez is a good choice.