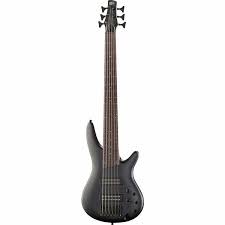 Ibanez SR306 Electric Bass Review: A Versatile and Powerful Six-String Beast
The Ibanez SR306 electric bass guitar is an impressive six-string instrument that offers a wide range of sonic possibilities, making it ideal for bass players who want to explore new musical territories. In this in-depth review, we will discuss the features, construction, sound, and overall value of the SR306 to help you decide if this is the right bass for your needs.
Overview
Ibanez has a long-standing reputation for producing top-quality guitars and basses suitable for various skill levels and budgets. The SR306 is part of their renowned Soundgear (SR) series, which has been a popular choice among bassists for over 30 years due to its sleek design, versatile sound, and comfortable playability. The SR306 takes all these attributes and adds the versatility of a six-string configuration, providing an excellent option for those looking to expand their playing style and sonic palette.
Construction and Design
The Ibanez SR306 features a double-cutaway body shape with the signature slim and contoured design of the SR series, making it both visually appealing and comfortable to play. The body is made from mahogany, a tonewood known for its rich and warm tone with excellent sustain and resonance. This choice of wood gives the SR306 a powerful sound that can easily fill a room or cut through a mix.
The neck is a five-piece construction made from maple and walnut, providing strength and stability while maintaining a fast and smooth playing feel. The neck is topped with a 24-fret jatoba fingerboard adorned with white dot inlays for easy navigation. The SR306 features a 34-inch scale length and Ibanez's signature SR6 neck profile, which provides a comfortable and ergonomic playing experience for bassists of all hand sizes and skill levels.
The hardware on the SR306 is solid and reliable, featuring an Accu-cast B306 bridge that allows for easy adjustments and precise intonation. The die-cast tuning machines are smooth and accurate, ensuring that the bass stays in tune even with the added tension from the extra strings.
The SR306 is available in a variety of finishes, including Pearl White, Brown Burst Flat, and Sapphire Blue Flat, allowing players to choose the look that best suits their personal style.
Electronics and Sound
The Ibanez SR306 comes equipped with a pair of PowerSpan Dual Coil pickups, one at the neck position and one at the bridge position. These passive pickups are designed to deliver a powerful and punchy sound with excellent clarity and definition, making them perfect for a six-string bass. The SR306 also features Ibanez's custom electronics, which include a 3-band EQ with a mid-frequency switch, allowing players to fine-tune their tone to suit various genres and playing styles.
The versatile electronics of the SR306 provide a wide range of tonal possibilities, from deep and growling lows to bright and articulate highs. The six-string configuration adds even more versatility, enabling bassists to explore chordal playing, soloing, and extended-range techniques that are not possible on a traditional four-string bass.
Playability
One of the key selling points of the Ibanez SR306 is its playability. The slim and comfortable neck profile, combined with the 34-inch scale length, makes it easy for players to navigate the fingerboard and perform complex techniques with ease. The six-string configuration may be intimidating for some, but the SR306's design makes it surprisingly accessible, even for those who are new to extended-range basses.
The contoured body shape and ergonomic design ensure that the bass is comfortable to hold and play for long periods, while the double-cutaway allows for easy access to the higher frets. The medium-sized frets and smooth fingerboard make playing the SR306 a breeze, even during extended practice sessions or performances.
Value for Money
Considering its features, construction, and sound quality, the Ibanez SR306 offers excellent value for money. The six-string configuration and versatile electronics make it a powerful and adaptable instrument that can handle a wide range of musical styles and genres. While it may be slightly more expensive than some entry-level basses, the SR306 provides a level of quality and performance that justifies its price tag.
Final Thoughts
The Ibanez SR306 electric bass is an outstanding choice for bassists who want to expand their playing horizons and explore the possibilities offered by a six-string instrument. Its combination of quality construction, versatile electronics, and exceptional playability make it a powerful and inspiring tool for creative musicians.
Whether you're a seasoned pro looking for a new challenge or a beginner who wants to dive straight into the world of extended-range basses, the SR306 is an excellent option that delivers impressive performance and value for money. With its wide range of tonal possibilities and comfortable playing experience, the Ibanez SR306 is a six-string beast that is well worth considering for your next bass guitar purchase.