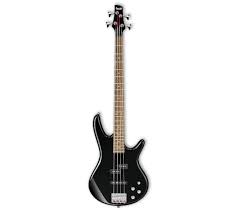 Ibanez GSR200 Electric Bass Review: A Versatile and Affordable Option for Bass Players
The Ibanez GSR200 is an electric bass guitar that has been gaining popularity among bass players of all levels in recent years. Known for its versatility, playability, and affordability, the GSR200 is a perfect option for those looking to expand their musical arsenal without breaking the bank. In this review, we will delve into the key features, sound quality, and overall performance of this electric bass to help you decide if it's the right choice for you.
Key Features
Body and Neck
The GSR200 boasts a solid Agathis body, which is known for its lightweight properties and balanced tonal characteristics. This makes it an excellent choice for those who play for extended periods, as it reduces the strain on your shoulder and back. The body features a double-cutaway design, allowing for easy access to the higher frets.
The neck is made from maple and features a 34-inch scale length, providing a comfortable playing experience for most hand sizes. The fingerboard is crafted from treated New Zealand pine, which offers a smooth and fast playing surface. With 22 medium frets, the GSR200 provides ample room for exploring different playing styles and techniques.
Hardware
The Ibanez GSR200 is equipped with two passive pickups – a split-coil neck pickup (PSNDP) and a single-coil bridge pickup (PSNDJ). This combination allows for a wide range of tonal options, making it suitable for various genres and playing styles. The pickups are controlled by a master volume knob, a pickup blend knob, and an active two-band EQ (bass and treble controls), giving you even more control over your tone.
The bridge on the GSR200 is a B10 model, which is a simple yet effective design that ensures solid intonation and tuning stability. The tuners are standard Ibanez die-cast models, which provide reliable tuning stability and make string changes a breeze.
Phat II EQ
One of the standout features of the GSR200 is the Phat II EQ, an active bass boost circuit that adds extra depth and punch to your sound. This is particularly useful for those who want to achieve a more aggressive tone or cut through the mix in a live setting. With the turn of a knob, you can dial in just the right amount of low-end boost to suit your playing style and musical preferences.
Sound Quality
The Ibanez GSR200 delivers an impressive range of tones, thanks to its versatile pickup configuration and active EQ. The split-coil neck pickup provides a warm and fat tone, reminiscent of classic P-bass sounds, while the single-coil bridge pickup offers a brighter and more aggressive tone with increased attack. By blending the two pickups using the blend knob, you can create a wide variety of sounds to suit any genre or playing style.
The active Phat II EQ allows you to further shape your sound by boosting the low-end frequencies. This feature is particularly useful for genres such as metal, rock, and funk, where a powerful bass presence is crucial. However, even with the bass boost disengaged, the GSR200 still delivers a well-rounded and balanced tone that works well for a variety of styles.
Playability
One of the main selling points of the Ibanez GSR200 is its playability. The slim and comfortable neck profile, combined with the smooth fingerboard, makes it easy to navigate the frets and play intricate bass lines with ease. The lightweight body and ergonomic design ensure that you can play for extended periods without experiencing discomfort or fatigue.
The double-cutaway design allows for easy access to the higher frets, making it suitable for more advanced techniques, such as slapping and tapping. The 34-inch scale length provides a balanced string tension, making it comfortable to play both fingerstyle and with a pick.
Pros and Cons
Pros:
Affordable price point, making it accessible to players of all levels
Versatile sound, suitable for various genres and playing styles
Lightweight and comfortable body design
Smooth and fast-playing neck
Active Phat II EQ for added tonal flexibility
Cons:
Some players may prefer a more traditional wood choice for the body, such as alder or mahogany
The stock strings may not be to everyone's liking, so you may want to replace them with your preferred brand
Conclusion
The Ibanez GSR200 electric bass offers a fantastic combination of versatility, playability, and affordability, making it an excellent option for bass players of all levels. With its wide range of tones, comfortable playing experience, and lightweight design, this bass is perfect for those looking to expand their musical horizons without breaking the bank. Whether you're a beginner just starting out or a seasoned player in need of a reliable backup instrument, the Ibanez GSR200 is well worth considering.