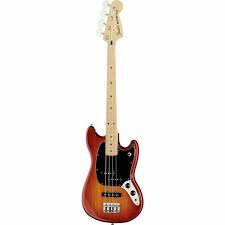 Fender Mustang Bass PJ: A Comprehensive Review
The Fender Mustang Bass PJ is a name that resonates with both professional musicians and beginners alike. Known for its versatility and unmistakable tone, this short-scale bass has carved a niche for itself in the world of music. This article will delve into the details of what makes this instrument so popular.
Overview
The Fender Mustang Bass PJ is a classic short-scale bass that effortlessly combines comfort, versatility, and a punchy bass sound. It's part of Fender's Player Series, which is renowned for offering high-quality instruments at an affordable price point.
Design and Build Quality
The design of the Fender Mustang Bass PJ is a blend of tradition and innovation. It pays homage to the classic Mustang Bass while incorporating modern features that enhance playability and sound quality.
One of the first things you notice about this bass is its short scale. With a length of only 30″, it's easier to reach the lower frets, making it a comfortable choice for players of all sizes and skill levels.
The craftsmanship of the Mustang Bass PJ is impeccable. From the smooth fretwork to the perfect setup, every detail is meticulously handled. The "C"-shaped maple neck is designed for comfort, making it easy to play for extended periods.
The bass also features a 9.5″-radius Pau Ferro fingerboard with 19 medium-jumbo frets, further enhancing its playability. The smaller body size contributes to its lightweight and comfortable feel, which is appreciated by many players.
Sound Quality
When it comes to sound quality, the Mustang Bass PJ truly shines. It blends the timeless versatility of a PJ pickup configuration with the distinctive tone of a short-scale bass. This combination allows for a wide range of tones, from deep and punchy to bright and articulate.
The bass features a P Bass split single-coil middle pickup and a J Bass single-coil bridge pickup. This setup offers a blend of precision and jazz tones, hence the name PJ. The result is a rich and versatile sound that can adapt to various music genres and playing styles.
Performance
In terms of performance, the Mustang Bass PJ has received rave reviews from both professionals and beginners. The short scale neck is comfortable to play, allowing for smooth transitions and easy access to all frets. This makes it an excellent choice for intricate bass lines and fast-playing styles.
Even with a light set of strings, the Mustang Bass PJ delivers a powerful and robust sound. This is testament to the quality of its pickups and the overall design of the bass.
Value for Money
The Fender Mustang Bass PJ offers exceptional value for money. Despite its high-quality build and sound, it is reasonably priced, making it accessible to beginners and those on a budget.
However, don't be fooled by the price tag. The Mustang Bass PJ can hold its own against more expensive models. Its performance, sound quality, and durability make it a worthy investment for any bass player.
Conclusion
To sum up, the Fender Mustang Bass PJ is a remarkable instrument that offers a blend of comfort, versatility, and excellent sound quality. Whether you're a professional musician or a beginner, this bass is sure to meet and exceed your expectations.
With its impeccable craftsmanship, comfortable playability, and rich, versatile sound, the Mustang Bass PJ is a testament to Fender's commitment to quality and innovation. It offers great value for money, proving that you don't have to break the bank to own a high-quality instrument.
If you're looking for a bass that can deliver in terms of both performance and aesthetics, the Fender Mustang Bass PJ is a fantastic choice. It encapsulates the essence of what a good bass should be, offering a playing experience that is both enjoyable and inspiring.