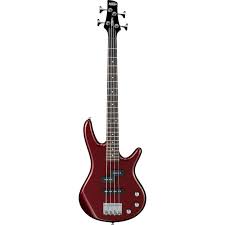 Ibanez GSRM20RBM 4 String: A Comprehensive Review
Introduction
The world of electric guitars is vast and varied, with countless models to choose from. Among them, the Ibanez GSRM20RBM 4 String bass guitar stands out as an attractive option for both beginners and professionals. In this review, we will delve into the details of this unique instrument, exploring its features, sound quality, design aesthetics, and overall value for money.
Build and Design
Ibanez has a reputation for making solidly built guitars, and the GSRM20RBM 4 String is no exception. The first thing you notice about it is the sleek, compact design. The body is made from poplar, a lightweight wood known for its balanced tonal qualities. It comes in a stunning Root Beer Metallic finish that adds a touch of class to the overall look.
The neck is a short-scale (28.6″), which is perfect for beginners or players with smaller hands. Made from maple, it provides a comfortable playing experience. The fretboard is made of rosewood with white dot inlays, enhancing the visual appeal while also aiding in navigation.
Sound Quality
The Ibanez GSRM20RBM 4 String delivers a rich, full-bodied sound that exceeds expectations for its price range. It's equipped with Dynamix P neck pickup and Dynamix J bridge pickup, a configuration that offers a wide range of tones. From deep, rumbling lows to bright, punchy highs, this bass guitar can handle it all.
For beginners, the simplicity of the two-knob control (volume and tone) is a significant advantage. It allows for easy manipulation of the sound without the complexity of multiple EQ settings. Professionals, on the other hand, might find this limiting but can appreciate the purity and rawness of the sound produced.
Playability
The playability of the Ibanez GSRM20RBM 4 String is one of its most impressive aspects. The short-scale neck and narrow nut width make it highly playable, particularly for those with smaller hands or shorter fingers. The action is smooth and fast, allowing for easy movement up and down the fretboard.
Professionals who are used to standard or long-scale basses might need some time to adjust to the shorter scale. However, many find that the compact size adds to the instrument's versatility and portability, making it a great choice for gigging musicians.
Value for Money
Given its high-quality build, versatile sound, and excellent playability, the Ibanez GSRM20RBM 4 String offers excellent value for money. It's an affordable option that doesn't compromise on quality, making it ideal for beginners looking to invest in their first bass guitar. For professionals, it serves as a reliable backup or travel bass.
Conclusion
In conclusion, the Ibanez GSRM20RBM 4 String bass guitar is a well-crafted instrument that delivers on all fronts. Its compact size, versatile sound, and easy playability make it an excellent choice for both beginners and professionals. Whether you're just starting your musical journey or looking for a reliable addition to your gear collection, this bass guitar is worth considering.
As a beginner, you'll appreciate the straightforward controls and comfortable playability. As a professional, you'll love the wide range of tones and the convenience of a compact, portable instrument. Whichever category you fall into, the Ibanez GSRM20RBM 4 String is sure to exceed your expectations and provide ample value for your investment.