Top Best Short Scale Electric Guitars
What Is A Short-Scale Guitar?
If you're new to me guitars, you should know that a full size guitar has a scale of 24.5 inches and longer. There are also so-called baritone guitar scale length of which is 27 or more. So, a short-scale guitar features a shorter scale which is 24 inches or less.
The guitar is one of the most popular instruments on earth. While some people know only a couple of chords to show off in front of their friends around the fire, others have turned the guitar playing into an art. If you're one of those people who's always dreamed of an electric guitar to impress your loved ones (or even the whole world) with your skills, but don't know where to start, this top will definitely suit you.
The first problem that beginners, and sometimes experienced musicians face, is the size of the guitar. The thing is, a full-sized guitar might not be the best and most comfortable choice for some people. Fortunately, the market for musical instruments now offers guitarists a huge number of models with a shorter scale. In case you don't know, scale length affects not only the size of the fretboard and instrument, but also the distance between the frets. This is why shorter scales are best for beginners, but are sometimes bought by experienced players who prefer smaller instruments. Also, another advantage of such tools is the price, which is most often the most affordable.
Top Best Short Scale Electric Guitars
Now that you understand the difference, it's time to share with you the different options that will help you master guitar playing or make it easier. Below you can explore the best short scale electric guitars and choose the model that best suits your desires and needs.
Here are our top picks: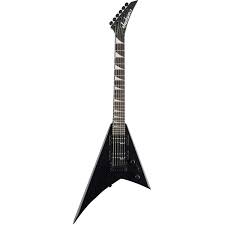 1)Jackson JS Series RR Minion JS1X
We decided to start our top with a guitar that is best suited for rock and metal – the Jackson JS Series RR Minion JS1X.
This model has an asymmetric V-shaped body made of poplar. This guitar has a 22.5 inches scale length which certainly makes it easier to access the frets thanks to the body design as well. Among other advantages, it is still quite powerful, and the price for it is more than acceptable – only $170.
The Jackson JS Series RR Minion JS1X has two humbuckers, tone and volume pits and also a 3-way toggle switch. She is versatile thanks to her double humbuckers although she also has high-output stock pickups.
Both the shape and appearance of this model attracts the attention of a large number of guitarists around the world. Therefore, if you are looking for a shirt scale electric guitar – JS1X will be your best option.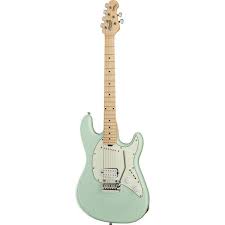 2)Sterling by Music Man Cutlass CTSS30HS
The Sterling Cutlass CTSS30HS takes pride of place in our list of the best short scale electric guitars thanks to the comfortable and beautiful Stratocaster body with a double cutaway, 24 inches scale length, Fulcrum Tremolo bridge type and a single-coil in the neck.
Although Music Man is a company that specializes in inexpensive guitars, don't underestimate them. And that's why.
The Cutlass CTSS30HS allows guitarists to achieve both heavy and soft tones through an interesting combination of pickups.
It comes with knobs for volume and tone and also a 3-way pickup selector switch. Also worth noting is the Fulcrum Tremolo bridge of this model, which, by the way, is very similar to the Fender-style tremolo, which can be an advantage for many guitarists. The body is made of poplar, ant the neck is entirely maple.
This model is also distinguished by the fact that it can be used for different genres, which makes it one of the best short scale guitars at the moment. The price is also quite small and affordable for any consumer – only $300.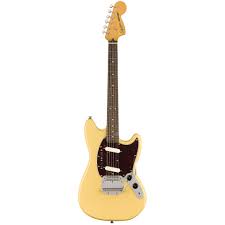 3) Squier Classic Vibe 60's Mustang
This guitar from Squier is in a more expensive price range than the previous two options, but the price of $430 is quite low and, moreover, justified. It has a sort of vintage style and 24 inches scale length, making it a good choice if you are looking for an inexpensive yet quality instrument.
Aside from its looks, the Squier Classic Vibe 60's Mustang has some interesting controls such as two single-coil pickups and separate controls die turning the bridge and neck pickups on and off. In addition, this model has a phase switch that gives you the opportunity to diversify your sonic output.
Speaking of construction, the body is made of poplar and has a maple neck with an Indian laurel fingerboard.
Another distinguishing feature of this guitar is the floating tremolo, which has a dual-action tremolo tailpiece and allows you to go both ways.
Moreover, this tremolo gives you the opportunity to get a lot of interesting and unique tones.
Not to mention the convenience of the Squier Classic Vibe 60's Mustang, as well as the ability to play in different musical genres.
It has some vibe of the 1950s-60s, but at the same time adapted to the present. If you're looking for somewhere between a short scale and a full-size guitar, this $430 Mustang is perfect for you.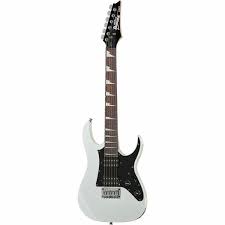 4)Ibanez GRGM21
If you are not new to the world of guitars, then you have probably heard of Ibanez at least once. Although they are fairly well known in the full size guitar world, few people know that they were also one of the first brands to develop a short-scale series of guitar back in the 2000s. The GRGM21 is a good sounding instrument that features an RG series silhouette, 22.2 inch scale and a NATO-wood body.
Not to mention that its body is very compact and has a double cutaway for upper fret access. What's more, the ultra-thin maple neck is perfect for small-handed guitarists.
Among other things, the Ibanez GRGM21 has F106 hardtail bridge and trapezoid Ibanez tuners for steady tuning.
The Ibanez Infinity Passive dual humbuckers sound very tight and decent. For $169, it will be hard enough to find a guitar that will be a good competitor both in quality and sound.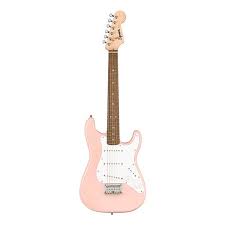 5) Squier Mini Stratocaster
The price of $190 seems sweet but at the same time somewhat repulsive, as it tells many buyers that the instrument will be inferior to others in quality. However, this is a separate series of guitars called the Mini Stratocaster, which is perfect for people who are looking for a short scale guitar.
You probably don't know, but the average Squier Strat has a scale length of about 25.5 inches while this little one is only 22.75 inches long. In terms of frets difference, it has 21 instead of the standard 22.
Another difference in this line of guitars is that they have a hardtail instead of a tremolo bridge. The guitar also features a poplar body and a maple neck with an Indian laurel fingerboard.
It is impossible not to notice that when using the instrument, it is surprisingly comfortable in the hands and is quite reliable, which is important for both the pro and the novice musician.
Squier Mini Stratocaster has 3 single-coil pickups, but unfortunately no tremolo. But, nevertheless, this model will be a good option for those who want to play a lighter guitar for a small price.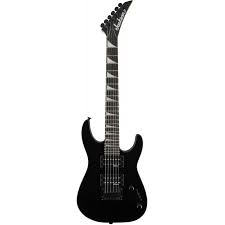 6)Jackson Dinky Minion JS1X
This guitar will be a favorite among teenagers and students due to not only its aggressive metal appearance, but also a decent sound. This 2/3 scale guitar was originally created for shredders and remains popular to this day.
Not to mention that she has all the classic Jackson features and a double-cut Superstrat body. Jackson Dinky Minion JS1X has a poplar body and a maple neck with a 22.5-inch scale length.
Also the guitar has the stock cost-effective Jackson humbuckers which are great for the price. If you like hard rock then you will definitely like the high output buckers. The control panel has two knobs of tone and volume.
The Scale length of 22.5" is perfect for small hands, yet has enough weight to make even an adult guitarist feel comfortable. What's more, the Jackson Dinky Minion JS1X has a wide range of vibrant colors to suit every taste, and the $179 price tag will suit any user.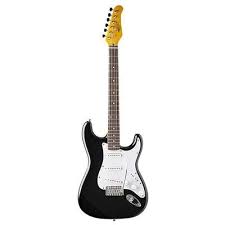 7)Oscar Schmidt OS-30
Oscar Schmidt is a fairly old company, whose creator was initially focused on making affordable and lightweight instruments, which to this day makes this model one of the best for beginners.
This is a classic 3/4 Stratocaster which has a 22.5 inch scale length. The OS-30 is famous for its comfortable maple neck and a 6-in-line headstock. The guitar features are pretty standard, like three single-coil pickups and a 5-way pickup selector switch.
However, the difference is that this guitar only has one tone and one volume control. Among other things, it also has a tremolo bridge.
In general, the tool is quite simple, but at the same time powerful. 5 different pickup combinations allow guitarists to cover a wide range of genres for only $150.