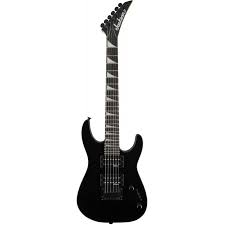 Jackson Dinky Minion JS1X Electric Guitar Review
The world of electric guitars has seen a lot of innovation and creativity over the years. From the classic Fender Stratocaster to the versatile Gibson Les Paul, every brand has its own unique story to tell. One such brand that has consistently produced high-quality guitars is Jackson. In this review, we'll be taking an in-depth look at one of their most popular models: the Jackson Dinky Minion JS1X electric guitar.
Overview
The Jackson Dinky Minion JS1X is a 2/3-scale guitar designed for musicians who are looking for a smaller and more portable instrument without compromising on sound quality or playability. This guitar is perfect for beginners, young players, and even experienced musicians who want to add a unique piece to their collection. With its striking design, versatile sound, and easy playability, the Jackson Dinky Minion JS1X is a guitar that truly stands out from the rest.
Design and Construction
When it comes to design and construction, the Jackson Dinky Minion JS1X does not disappoint. The body is made from poplar, which is known for being lightweight and resonant. This wood choice gives the guitar a balanced tone with a good mix of warmth and brightness. The neck is constructed from maple, which provides stability and a smooth playing surface. The fingerboard is made of amaranth, a durable and sustainable alternative to rosewood.
The guitar features a bolt-on neck construction, which contributes to its overall durability and ease of maintenance. The neck is slim and fast, with a 12″ radius fingerboard that makes it comfortable for players of all levels. The 24 jumbo frets are well-spaced and easy to navigate, making it a breeze for beginners to learn on and seasoned guitarists to enjoy as well.
One of the most striking features of the Jackson Dinky Minion JS1X is its unique and eye-catching design. The guitar is available in several vibrant finishes, including Neon Green, Pavo Purple, and Satin Silver. The iconic Jackson pointed headstock adds to the overall aesthetic, making this guitar a standout on stage or in the studio.
Hardware
The Jackson Dinky Minion JS1X comes equipped with quality hardware that ensures reliable performance and tuning stability. The guitar features a sturdy 6-saddle hardtail bridge, which provides excellent sustain and intonation. The die-cast tuners are precise and easy to use, ensuring that your guitar stays in tune even during long playing sessions.
The guitar is fitted with two Jackson high-output humbucking pickups, which deliver a powerful and versatile sound suitable for various music styles. The bridge pickup provides a tight and aggressive tone, while the neck pickup offers a warm and smooth sound. The three-way pickup selector switch allows you to choose between the bridge, neck, or both pickups, giving you a wide range of tonal options.
The master volume and master tone controls are easy to access and provide a simple way to shape your sound. The black hardware adds a sleek touch to the guitar's overall appearance, complementing its modern design.
Playability
The Jackson Dinky Minion JS1X is designed with playability in mind. Its smaller 2/3-scale size makes it perfect for players with smaller hands or those who prefer a more compact instrument. The slim neck profile and 12″ radius fingerboard provide a comfortable playing experience, allowing for fast and effortless movement across the frets.
Despite its smaller size, the guitar does not compromise on sound quality or performance. The high-output humbucking pickups provide a powerful and versatile sound that can handle various music genres, from rock and metal to blues and jazz. The guitar's lightweight construction also makes it easy to play for extended periods without causing fatigue.
Conclusion
The Jackson Dinky Minion JS1X electric guitar is an excellent choice for players looking for a compact and portable instrument without sacrificing sound quality or playability. Its unique design, quality construction, and versatile sound make it a standout in the world of electric guitars. Whether you're a beginner looking for a comfortable and easy-to-play guitar or an experienced musician seeking a unique addition to your collection, the Jackson Dinky Minion JS1X is a solid option that won't disappoint.