Best Guitars For Small Hands (Electric)
The guitar is that musical instrument that never loses popularity and is suitable for any generation. However, our time is the most special, as the market adapts more and more to the needs of the consumer and tries to take into account all the necessary nuances. Until a few decades ago, guitarists with small hands faced difficulties in learning to play this musical instrument, which led not only to a negative experience, but also to a reluctance to play music. Fortunately, today this problem can be forgotten, as the market is full of a huge number of proposals.
If you are looking for the best electric guitars for people with small hands, then this guide is what you need. Today you can not only get answers to questions about what distinguishes guitars for small hands from other guitars and whether this affects the sound, but also our top best electric guitars for small hands.
How to Choose the Best Electric Guitars For Those With Small Hands?
If you, or the person you're buying the guitar for, has smaller than average hands, you're probably wondering how to pick the right instrument for you. Most often, guitars for small hands are most often bought for women, children, and some men. If you are new to music, then choosing an instrument on your own will be quite difficult, so you should look at reviews and comparisons on YouTube, read our guide or ask a consultant in the store. If you are planning to purchase a guitar online, then our article is exactly what you need.
Best Guitars For Small Hands (Electric)
Now it's time to take a look at our top. Here we have collected 5 best electric guitars for smaller hands that will make playing the guitar enjoyable and as comfortable as possible.
Here are our top picks: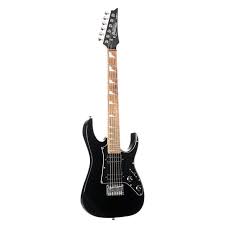 1)Ibanez Micro GRGM21
It's a known fact that guitars built for people with small hands have often sacrificed some of their characteristics in order to reduce the body and neck, but now manufacturers have learned to deal with this, and the Ibanez Micro GRGM21 is a direct confirmation of this.
This instrument is a classic favorite of most guitarists, super strat, which plays exactly like a full-sized instrument without sacrificing quality.
This Ibanez model costs less than $200, but the quality far outweighs the price. She weighs only 9lb but still looks impressive. She has a 22.2" scale but still squeezes 24 medium frets.
It's also worth noting that the nut is pretty slim, which doesn't leave much room between the strings, but also works well for small hands. In terms of neck profile, it is closer to the D type. Although it may not be as thin as other models, it still offers a comfortable and fast playing for guitarists with small hands.
The body of the guitar is made of basswood and is equipped with a pair of ceramic humbuckers and also a 5 way selector switch which gives a lot of good tones. So, the Ibanez Micro GRGM21 is great value for money, great for people with small hands and makes playing easy and comfortable.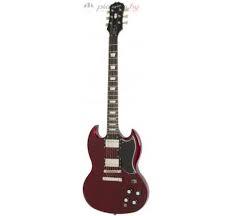 2)Epiphone G-400 Pro Electric Guitar
The Epiphone G-400 is a good choice for small hands as it is smaller than a regular guitar and fits easily in any hand. The neck has a rosewood fingerboard with 22 frets which makes it very comfortable to play.
Worth noting is the D shape neck profile which is well suited for those with less chords reach from their fingers. In addition, the guitar is equipped with the two humbucking pickups and has a tune-O matrix bridge that helps to make the tuning of this guitar stable.
Among other things, the Epiphone G-400 Pro electric guitar has solid tuning pegs, which greatly increases the stability of the instrument's tuning. It also has a pickup selector, two tone and two volume.
This model is one of the easiest guitars to use due to its comfort and nice cutaway for easy reach of higher frets. It is also quite light, which means your back and arms will be less strained when playing. The Epiphone G-400 is perfect for metal, rock, and country, but it's also great for other styles of music.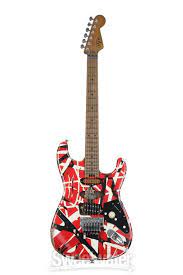 3)EVH Frankenstein Relic
If you're not a beginner and would like to get a high-end guitar at a low price, then the EVH Frankenstein replica would be a great option for you. You may know that EVH stands for Eddie Van Halen, which already indicates that the guitar will be aimed at convenience and speed.
The original Eddie is considered to be one of the fastest playing guitars ever, so this replica would also be a great choice for players with small hands looking to improve their playing.
Of course, it is worth noting that the pickup selector is not that good in comparison to the original one, but its other characteristics may surprise you.
Perhaps we should start with the fact that its weight is just over 7lb, which will allow you to feel great both standing and sitting.
Moreover, it is worth noting that this guitar is full size and has a 25.5" scale and 22 nickel frets. The nut wild is also quite narrow which is good for small hands, and the 12" – 16" radius is perfect for both chords and solo.
The neck profile has a super slim C shape which allows excellent access to the entire neck. The body is made of basswood which reduces weight and has great sonic benefits.
It is impossible not to notice that EVH Frankenstein is equipped with a Floyd Rose trem! This option will be a great solution if you are looking for a full scale guitar for small hands.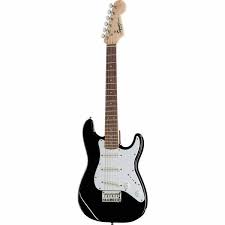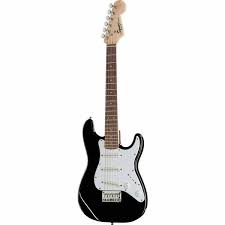 4)Squier by Fender Mini Strat Beginner Electric Guitar
For Fender lovers, we also have good news, as the company has several 3/4 size guitars that are great for beginners or those with small hands.
The neck is smaller due to the string scale with is only 22.75, so playing this instrument is as simple as possible. What's more, the C shaped neck is also great for fingers, and the small size of the guitar is perfect for little players.
This guitar has the fretboard made of rosewood with 21 frets which is less than usual. Speaking of the pickups, these are three standard Fender style single coil pickups.
The guitar also has a hartal bridge which is ideal for keeping the tuning stable. This model could easily top the list of best electric guitars for beginners with small hands.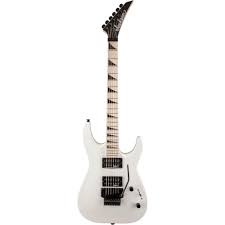 5)Jackson JS32 Dinky DKA-M
If you are looking for the best electric guitars for small hands for lead solo, then we advise you to pay attention to this model from Jackson. This guitar has many features and is included in the line of guitars for small hands called the Dinky. First of all, we want to mention that this guitar has a great double cutaway, which gives small hands the most convenient access to the higher frets. Also, the neck is reinforced with graphite and made with maple, which makes playing the instrument as simple and convenient as possible. In addition, the guitar is equipped with new high-output ceramic-magnet humbucking pickups made by Jackson. The Floyd Rose tremolo allows the guitar to stay in tune for a long time. It also has a blunt volume knob, a tone control and a selector switch.
If you are looking for a Mateo style guitar for small hands then the Jackson JS32 Dinky DKA-M is a good choice. It is comfortable to play, fits well with small fingers and has a pleasant sound.
What's the Difference Between Small Hand Guitars and Regular Guitars?
Many beginners think that small-handed guitars may lack some important features, so they are wary of studying this issue. But, today we would like to dispel this myth, because a guitar for small hands is almost the same as any other guitar. However, what is the difference?
The main difference in these musical instruments will be the size of some components, most often the neck or body. This is done so that people with small hands have more convenient access to the tool. Thus, guitars for small hands often feature a slimmer neck and a shorter scale length, which does not affect the sound quality or the instrument itself.
When choosing the best small electric guitars, pay attention to:
1. Neck profile
If you've ever played a guitar, you know that the neck profile has a big impact on playability. A wide neck will not provide easy access to all the frets for people with small hands, so they should look for a slim or fast neck that will allow them to comfortably use the instrument. If you are looking for a suitable model, then pay attention to D and C neck neck profiles.
2. Body size
Also, the smaller body will fit people with small hands more than the standard one. Of course, it all depends on you and your physiological characteristics, but having a guitar with a small body will allow you to get more enjoyment from the game, since access to the strings will be more comfortable.
3.Scale length
Experienced guitarists know that scale length refers to how much a string vibrates when played open, so it's important to note that the measurement is taken from the nut to the saddles. Thus, for people with small hands, a guitar with a shorter scale length is more suitable, as it will mean less stretching out to play chords.
Conclusion
Hollow or semi hollow body guitar has long ceased to be considered only a jazz instrument, as with the passage of time and the improvement of models, new guitars acquire more and more interesting look and less and less jazzy sound. Now these guitars can suit different styles, whether it's the Gretsch G5420t with a big name and warranty, or the Ibanez Artcore AG75G for small hands but big potential.
We hope that our top best hollow and semi hollow body electric guitars will help you choose the instrument you have been dreaming of for so long.
qualities are key for you. This is how you can find the right tool for you and your needs.