Top Best Lightweight Electric Guitars
Now the world of guitars is replete with a huge number of different models, from light to heavy. If you are reading this guide, then you are probably one of those guitarists who understand that lighter guitars put less strain on the back and shoulders, so they can simply be played longer (which is very important if you are playing on stage). However, many manufacturers sacrifice sound quality or necessary features in order to make guitars lighter, which is why many guitarists prefer to go with standard models.
Of course, weight can have a direct impact on both the playability and sound of a musical instrument. That's why it's important to choose your guitar carefully, especially if you're looking for a lighter model. However, the market now also offers a huge number of guitars that are not only lightweight, but also provide decent sound for a reasonable price. It's also worth noting that more often than not, lighter guitars have a particular subtle sound that you might also like.
Why Choose Lightweight Guitar?
Of course, each guitarist has his own reasons why he chooses a lighter guitar. Most often, people buy such models because they are simply easier to transport. In addition, such guitars are much more useful for posture, as they tire much less than standard ones.
Also, lighter guitars offer their own unique sonic capabilities that you won't find on standard models. It is also worth noting that hollow body guitars are much lighter than the solid bodies, however, not every musician likes the hollow body tone. Also not to mention that hollow bodies work worse with high-gain music but are still great for classic rock and pure sound.
So, if you have definitely decided to pick up the best lightweight electric guitar for yourself, then our top 5 will help you explore the unique features of the best models on the market and help you choose the instrument that is right for you.
Top Best Lightweight Electric Guitars
Here are our top picks: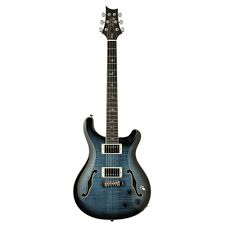 1)PRS SE Hollowbody II Piezo
Our top light weight electric guitars will open a model that is suitable for almost any musical genre – PRS SE Hollowbody II Piezo. It was originally conceived as an affordable model, so almost any musician can get it.
First of all, I would like to draw your attention to the fact that this is a hollowbody guitar, so the sound is quite clear. The tone is also quite full, but the hollow body gives extra resonance and amplifies the sound.
On top of all this, the PRS SE Hollowbody II Piezo has exceptional sound thanks to its piezo pickups. If you are a fan of distortion, then this model will appeal to you as it sounds amazing.
PRS was trying to create a versatile guitar and they did a pretty good job at that. Thus, no matter what genre you prefer, rock or blues, the guitar will provide you with a clean, decent sound.
The playability of this musical instrument is also on top, largely due to the bridge which is very easy to set up. However, before buying a guitar, we would recommend paying attention to its weight. Although it has a hollow body, it is not much lighter than a standard guitar and weighs 7lbs.
However, the body is made of mahogany, so it is quite high quality. So, if you are looking for a good sounding guitar that is somewhat lighter than conventional electric guitars, then the PRS SE Hollowbody II Piezo is definitely your choice.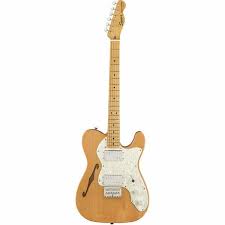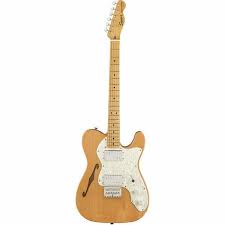 2) Squire Classic Vibe Thinline Telecaster
Another guitar that has proven to be a good quality model is the Squire Classic Vibe Thinline Telecaster. This is a classic telecaster design that has been proven over the years and has gained popularity around the world.
The weight of this guitar is 3 kg, which means it is clearly one of the lightest guitars on our list. The updated lightened version has the thin line variety.
This guitar was specifically designed to be as light as possible, which is why the traditional solid body has been replaced with a hollowed-out Poplar body. This is what provided an improved resonance and a lighter feed. This makes this guitar very comfortable to play standing up.
Among other things, this model has a professional sound, which is quite close to the Fender. However, both the price and quality are still somewhat lower. So, if you're looking for the ultimate in lightweight, good quality guitar that has a clean, professional sound, we suggest you buy the Squire Classic Vibe Thinline Telecaster.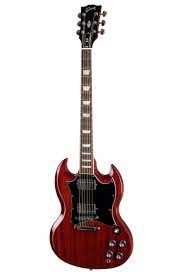 3)Gibson SG Standard
If you're still wondering what are the best lightweight electric guitars, then you should definitely check out the Gibson SG Standard. This is the most classic guitar on this list and made famous by AC/DC. If you love vintage rock sounds this guitar will be your absolute favourite, but it will also help you get a heavy sound when you need it.
All SG series guitars are famous for their punchy sound. In addition, they are quite easy to operate and have a fast sound. Another great feature to look out for is the volume and tone knob, which gives you even more control over the tone of the guitar.
Also, this feature is even more useful if you often use both pickups at once. As already mentioned, the Gibson SG Standard has a reasonably good sound, but it is at its best when being played through distortion. That is why the sound of this guitar is much tighter than one would expect from such a relatively light model.
The weight of this guitar is 7lbs, but despite this, it is still quite light and extremely comfortable. So, SG is an undoubted classic with vintage sound and beautiful appearance, which will not leave anyone indifferent.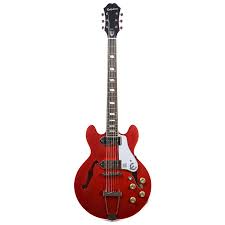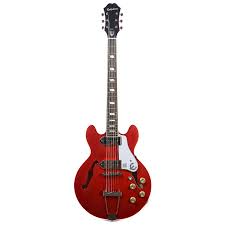 4)Epiphone Casino Coupe
If you are looking for the best thin solid body electric guitars, then the Epiphone Casino Coupe is definitely worth checking out. First of all, you should know that it was one of the basic guitars of John Lennon. Thus, if you are looking for a classic model with a rock sound, then this guitar will be your best buy.
First of all, it is worth noting that the Epiphone Casino Coupe has a warm blues tone (especially on the neck pickup) that will not leave you indifferent.
However, the bridge pickup will give you a more jangly tone. We also can't help but mention that the P90 pickups give her the ability to handle higher levels of gain. The design of the guitar is also quite close to the original – it looks vintage, has the same elevated pickguard and old-school bridge and tailpiece.
The body of the Epiphone Casino Coupe is slightly thinner than the original, which is definitely an advantage of this guitar. The guitar itself weighs just under 6 lbs.
Speaking of drawbacks, the design of bridge could be a bit more modern as there is no adjusting the action, but the playability is still quite good. So, if you're looking for an affordable model with good classic rock sound, the Epiphone Casino Coupe is exactly what you're looking for.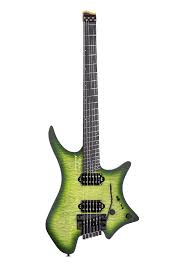 Stranberg Boden Prog (NX65)Stewart Electric Travel Guitar
Even if you are not new to the music world, it is unlikely that you have heard of this music brand. Despite being relatively new to the market, Stranberg has already established itself as one of the best brands of guitars with smaller bodies and headstockless design.
Stranberg Boden Prog NX 6 is the newest version of their original Boden guitar. Importantly, Stranberg's compact design makes the guitars as easy to carry as possible. What's more, because of their light weight, these guitars are extremely comfortable to play. The Stranberg Boden Prog NX 6 weighs in at 4.5lbs making it one of the lightest electric guitars on the market.
Many people think lighter guitars are inferior to standard guitars, but Stranberg is ready to prove them wrong. Moreover, this brand is known for its rather unexpected sound.
It is important to mention that the Stranberg Boden Prog NX 6 is a versatile guitar that offers both clean and warm tones and handles high levels of distortion. Thus, this model will perfectly cope with any genre and style.
However, before you buy this musical instrument, you still need to pay attention to the shortcomings. First of all, you still need to get used to its compact size, and if you are not a beginner, then most likely it will give you some discomfort.
You also need to consider the lack of a headstock and missing tail of the body. In addition, for some guitarists, this guitar can still be quite expensive.