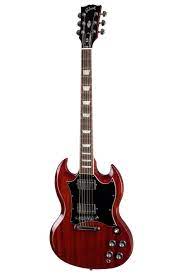 Gibson SG Standard Electric Guitar Review
The Gibson SG Standard electric guitar is an iconic instrument that has been a staple in the world of rock music for decades. It has been played by countless musicians over the years, including some of the most famous guitarists in history, such as Angus Young of AC/DC and Tony Iommi of Black Sabbath. In this in-depth review, we will explore the various features, specifications, and characteristics of the Gibson SG Standard that make it such a beloved instrument among guitar enthusiasts.
Overview
The Gibson SG, which stands for "Solid Guitar," was first introduced in 1961 as a replacement for the Les Paul model. The new design featured a thinner, lighter body and a double-cutaway shape, which allowed for easier access to the higher frets on the neck. Since then, the SG has gone through several iterations and variations, but the basic design has remained largely unchanged.
The Gibson SG Standard is the flagship model of the SG range and is known for its distinctive looks, powerful tone, and unparalleled playability. It is a versatile instrument that can handle a wide variety of musical styles, from blues and jazz to hard rock and metal.
Construction and Design
The Gibson SG Standard features a solid mahogany body, which provides a warm, resonant tone with plenty of sustain. The slim taper mahogany neck is set into the body and is topped with a 22-fret rosewood fingerboard, providing a smooth and comfortable playing experience. The neck joint is designed to provide maximum access to all frets, making it ideal for lead players who need to reach the highest notes with ease.
One of the most recognizable aspects of the Gibson SG Standard is its double-cutaway body shape, which not only looks great but also allows for easy access to the upper frets. The body is finished in a glossy nitrocellulose lacquer, which enhances the natural resonance of the wood and allows it to breathe.
The headstock features the classic Gibson logo and the "crown" inlay, as well as Grover Rotomatic tuners that ensure stable tuning and easy string changes. The truss rod cover also bears the SG Standard designation, letting everyone know that this is a top-of-the-line instrument.
Electronics and Hardware
The Gibson SG Standard comes equipped with a pair of humbucking pickups: a 490R in the neck position and a 490T in the bridge position. These Alnico II magnet-powered pickups are designed to provide a versatile range of tones, from warm and smooth to aggressive and biting. They are controlled by two volume knobs, two tone knobs, and a three-way pickup selector switch, allowing for a wide variety of tonal options.
The bridge on the Gibson SG Standard is a Tune-O-Matic style, which provides excellent intonation and stability. The stopbar tailpiece ensures optimal sustain and resonance, while the aluminum construction keeps the weight down.
Playability
One of the standout features of the Gibson SG Standard is its playability. The slim taper neck profile is incredibly comfortable and allows for fast, effortless playing. The double-cutaway body design makes it easy to access the highest frets, making it an ideal choice for lead guitarists.
The 12-inch fingerboard radius is a comfortable middle ground between vintage-style rounder radii and modern flatter ones, providing a great balance for both chord work and single-note playing. The medium jumbo frets offer a smooth playing experience, while the hand-rolled fingerboard binding ensures there are no sharp edges to interfere with your playing.
Sound and Tone
The Gibson SG Standard is known for its powerful, punchy tone, which can be attributed to its solid mahogany construction and humbucking pickups. The 490R and 490T pickups are capable of producing a wide range of tones, from warm and smooth to aggressive and biting.
The neck pickup offers a rich, warm sound that is perfect for blues and jazz, while the bridge pickup provides a more aggressive, cutting tone that can handle hard rock and metal styles with ease. When used together, the pickups create a balanced sound that works well for a variety of genres.
Conclusion
The Gibson SG Standard is a legendary instrument that has stood the test of time, thanks to its iconic design, comfortable playability, and powerful tone. Whether you're a professional musician or an aspiring guitarist, the Gibson SG Standard is a versatile and reliable choice that will serve you well in any musical situation.
With its rich history and impressive roster of players who have used it throughout the years, the Gibson SG Standard is a must-have for any serious electric guitar enthusiast. Its combination of top-notch construction, electronics, and playability make it an instrument that is well worth the investment.