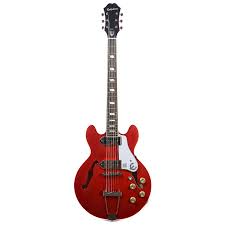 Epiphone Casino Coupe Electric Guitar: A Comprehensive Review
The Epiphone Casino Coupe is an electric guitar model that has captured the hearts and imaginations of countless musicians since its introduction in the mid-20th century. It has been a popular choice among rock and roll legends, including The Beatles, The Rolling Stones, and Oasis. This article provides an in-depth review of the Casino Coupe, covering various aspects such as design, sound, playability, and more.
History and Background
The Epiphone Casino Coupe's history can be traced back to the 1960s when it was introduced as a scaled-down version of the original Epiphone Casino. The Casino Coupe's predecessor, the Casino, was launched in 1961 and quickly became a favorite among prominent bands and musicians of the time. The Casino Coupe's design and sound were heavily influenced by the Gibson ES-330, another iconic guitar model that debuted in the late 1950s.
Epiphone, originally founded in 1873, has a rich history in the world of musical instruments. The company started producing guitars in the early 20th century and soon gained a reputation for crafting high-quality instruments. In 1957, Gibson acquired Epiphone, and the two brands have since worked together to create numerous iconic guitar models.
Design and Construction
The Epiphone Casino Coupe features a double-cutaway, semi-hollow body made from laminated maple. This design gives the guitar its distinctive airy and resonant tone. The body is slightly smaller than the original Casino, measuring 339mm wide and 43mm deep, making it more comfortable to play for extended periods.
The neck of the Casino Coupe is made from mahogany and features a 24.75-inch scale length with a SlimTaper "D" profile, providing a comfortable grip for players of all hand sizes. The rosewood fingerboard has 22 medium-jumbo frets, adorned with pearloid parallelogram inlays.
The headstock boasts the classic Epiphone logo and is fitted with vintage-style machine heads that offer precise tuning stability. The guitar also features a LockTone Tune-o-Matic bridge and a traditional trapeze tailpiece, providing excellent intonation and sustain.
The Casino Coupe comes in several eye-catching finishes, including Cherry, Vintage Sunburst, and Turquoise, all of which are complemented by a white pickguard and chrome hardware.
Electronics and Sound
One of the most notable aspects of the Epiphone Casino Coupe is its P-90 pickups. These single-coil pickups are known for their bright and lively tone, offering a perfect balance between warmth and clarity. The guitar features two Epiphone Dogear P-90T Classic pickups, one at the neck and another at the bridge position.
The Casino Coupe's electronics include a three-way pickup selector switch, allowing players to choose between the neck pickup, bridge pickup, or both. Additionally, the guitar has individual volume and tone controls for each pickup, offering a wide range of tonal possibilities.
The semi-hollow design of the Casino Coupe contributes to its unique sound, which can be described as warm, resonant, and versatile. The P-90 pickups deliver a punchy and articulate tone that works well for various music genres, from jazz and blues to rock and indie.
Playability and Performance
The Epiphone Casino Coupe is known for its exceptional playability. The smaller body size and the SlimTaper "D" profile neck make it comfortable to play for extended periods, even for those with smaller hands. The 22-fret rosewood fingerboard allows for effortless movement across the frets, while the medium-jumbo frets ensure accurate intonation and smooth playability.
In terms of performance, the Casino Coupe holds its own against more expensive guitar models. The P-90 pickups produce a dynamic and responsive sound that can be easily shaped to suit various musical styles. The guitar's semi-hollow construction also lends itself well to live performances, as it provides a natural resonance and sustain that can be difficult to achieve with solid-body guitars.
Pros and Cons
Pros:
Unique and versatile sound due to the P-90 pickups and semi-hollow body
Comfortable playability with a smaller body size and SlimTaper "D" profile neck
Classic design and attractive finishes
Excellent value for money
Cons:
Some players may prefer humbuckers or other pickup configurations
Semi-hollow design may be prone to feedback at high volumes
May require some setup adjustments out of the box
Conclusion
The Epiphone Casino Coupe is an excellent choice for guitarists looking for a unique and versatile instrument with a rich history. Its combination of P-90 pickups and semi-hollow construction delivers a distinctive sound that can be adapted to various musical styles. The comfortable playability, classic design, and affordable price make it an attractive option for both beginners and experienced players alike.