Top Best Travel Electric Guitars
Do you travel a lot and can't live without music? In this case, you just need to take the guitar with you. Even though the acoustic guitar is lighter and the sled easier to travel, many musicians still prefer the electric guitar. Musicians who often travel due to touring also need an electric guitar for performances, which is why it is important to choose a model that will be comfortable to travel with.
If travel is an integral part of your life, then you might want to mr. prefer a full-sized guitar. These guitars are bulky, difficult to transport, and air travel becomes even more of a problem. However, fortunately, the market now offers a huge number of options that are lightweight and compact. These guitars are the easiest to travel with, but which one to choose?
In this guide, we'll take a look at the best travel guitars for you, looking at looks, weight, sound, portability, durability, and more. Once you have studied the best travel size electric guitars, you will no doubt be able to choose exactly the musical instrument that suits your desires and needs.
Top Best Travel Electric Guitars
Here are our top picks:
1)Traveler Guitar Ultra Light Solid-Body Electric Guitar
Our top travel electric guitars reveals a model that is sure to surprise you with features ranging from weight to sound. First of all, it's worth noting that this guitar has a small, compact body yet retains a full 24 3/4" scale length.
Both body and the through-body neck are made from American hard maple (with a natural finish). The Traveler Guitar Ultra Light has 22 medium frets and 1.75" nut width. It's also important to mention that this is a headless guitar that has its own traveler in-body tuning system that works thanks to the clever placement of the standard tuners (within the main body of the guitar).
This guitar is small and light (only 3lbs 2ozs) and features a single dual-rail humbucker and an adjustable Tune-o-Matic style bridge.
Importantly, its size makes it one of the smallest travel guitars on the market, making transport as easy as possible.
What's more, the company says it's up to 70% lighter than a regular full-size electric guitar, but that's most likely just a smart marketing ploy. However, this model is still quite powerful thanks to its Ultra-light, courtesy of the dual humbuckers.
Other than that, the power and tone of this musical instrument is also great. However, note that she only has one single humbucker. What's more, there's no tone or volume controls, but it's still the best lightweight electric guitars for travel.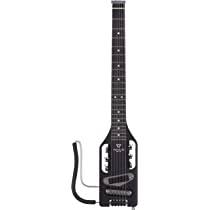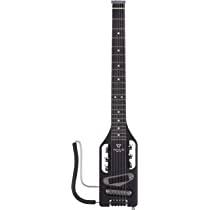 2) Traveler Guitar Ultra-Light Electric
Another of the best portable electric guitars is the Traveler Guitar ULE BKM, a model that is great for those musicians who often play standing up. However, in addition to this, it is also comfortable enough to play while sitting.
This model is made from one solid piece of maple and has a rather impressive appearance, which is very important for those people who perform on stage.
The Traveler Guitar ULE BKM was created by a brand that specializes in making portable models. That is why they, like no one else, take into account all the subtle nuances of transportation.
This wood is quite durable and well suited for electric guitar, while the sound is also quite clean and reliable. The neck is made of maple and the fretboard is walnut (scale length is 24 3/4"). Also Traveler Guitar ULE BKM has magnetic double coil pickups.
However, what should you pay attention to when buying? First of all, we want to point out that it can be quite difficult to get a stable tone and tuning from such an instrument. Also the guitar looks a little fragile, so we wouldn't like to drop it and see if it is unreliable.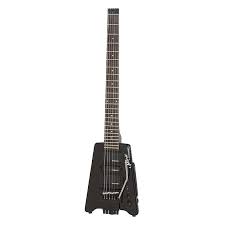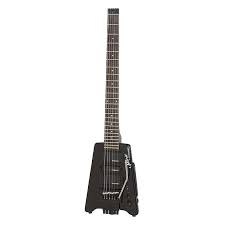 3)Steinberger GTPROBK1 Solid-Body Electric Guitar
Also, the Steinberger GTPROBK1 Solid-Body can be safely attributed to the top best electric travel guitars – a full-scale electric guitar that has a full-scale length 25 1/2" and 22 medium frets. Both body and through-neck are made from maple and have a gloss polyurethane finish.
Also this model has a C shaped neck with a fretboard radius of 14". This Steinberger GTPROBK1 Solid-Body Electric Guitar is headless and has the Steinberger system tuners. They are located at the base of the guitar and very easy to operate.
Among other things, it is important to note that the Steinberger GTPROBK1 has three pickups (the bridge and neck pickups are humbuckers and the middle pickup is single coil).
This model is also equipped with a Direct Drive R-Trem Tremolo system. It's also worth mentioning that on the body of the guitar there are the volume and tone controls and a five-way toggle switch.
If you're looking for a fairly light guitar, this is probably not the option for you, as the Steinberger GTPROBK1 weighs 7lbs. However, you should be aware that it has quite a lot of sonic flexibility, and the humbuckers provide a lot of heavy tones and attack.
And if you want a bright and clear sound, then the middle pickup will do just fine. What's more, the onboard tome and five-way toggle switch gives you plenty of options to shape the exact sound you want.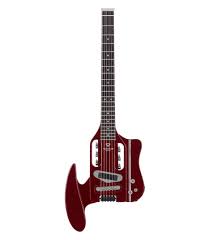 4)Traveler Guitar Speedster Electric Travel Guitar
The Traveler Guitar Speedster is a model that is larger than most of the guitars listed above, yet still light and small. It weighs 4.7lbs, a total length is 28" and a scale length is 24 3/4".
Speaking of construction, this guitar is made from American Maple and the neck is a through-body design. The fretboard is black walnut and has 22 medium frets. It's also important to note that the speedster uses the Traveler's own In-Body Tuning system, and the design uses standard tuning machines that are conveniently located.
The Traveler Guitar Speedster is also equipped with a dual-rail humbucker and an adjustable bridge. It is the humbuckers that provide enough power and allow the guitar to reproduce both clean and smooth sound.
This model has a fairly large number of advantages, such as the presence of a tone and control knob, which is very often absent in travel guitars.
While more and more manufacturers are trying to keep the weight down as much as possible, we still feel that on-board controls are essential. So, while this guitar isn't the lightest on our list, it's still pretty good and easy to transport.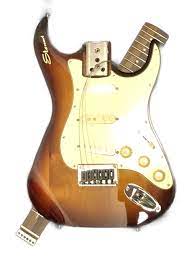 5)Stewart Electric Travel Guitar
Our list of the best travel electric guitars is completed by another quite interesting model – the Stewart Electric Travel Guitar, which is one of the first travel electric guitars.
It's worth noting from the outset that this is a full-sized guitar which has a full 648 mm scale length and 22 medium frets. The neck has a 14" radius and made from maple, and the nut width is 42 mm.
The Stewart Electric Travel Guitar has the typical Stratocaster look thanks to its alder body with traditional shape, the tone and volume controls, the five-way toggle switch and the slotted hardtail.
However, the most interesting and best feature of this guitar is the easily collapsible neck. Also, as mentioned, it has a full-sized scale length and body, so it's as comfortable to play as any other non-travel guitar.
The sound of the Stewart Electric Travel Guitar will also undoubtedly please you first of all thanks to the Alnico 3 low output pick-ups.
It is as clean and bright as possible and has many different tones thanks to the switching between pickups. So, if you want a travel guitar that feels like a regular electric guitar, then the Stewart Electric Travel Guitar is definitely the one for you.
How To Pick The Best Travel Electric Guitar?
However, when choosing an electric guitar, it is very important to pay attention to construction, which must be of high quality and durable. Beyond that, learn about electronics and hardware as they play a huge role in getting the sound you want. Of course, among other things, you should pay attention to the fact that the guitar has a good sound, since this factor is key.
Of course, there is no one-size-fits-all guideline that will help everyone choose the best travel guitar, as different guitarists look for different features. While some people want a guitar that is very reliable, another will look for the lightest model.